Before I unveil what we found at the Chicago Toy Show this April, I wanted to let you know that I did a guest post on the Ruby Lane Doll Blog! Read it here!  I had a blast searching through the sale posts on Ruby Lane while trying to pick my favorite Madame Alexanders on their site. If only I could afford all the goodies I wrote about in the post! (Maybe one day?) If you like the article, find Ruby Lane Dolls on Facebook and 'like' their timeline update about my guest post! Comment on the blog post or the timeline update with what's on your current grail list!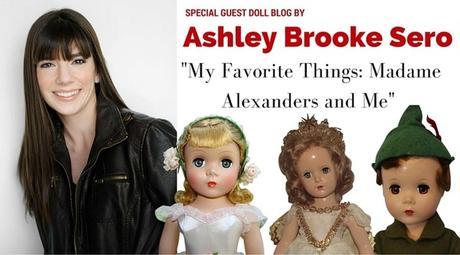 Now, onto the toy show!  Recently, my mom and I went to the Chicago Toy Show at the Kane County Fairgrounds. As far as shows go, this was a pretty good one. There weren't a ton of 'oh my goodness, I need to have this in my collection' moments, but we ended up finding some neat things!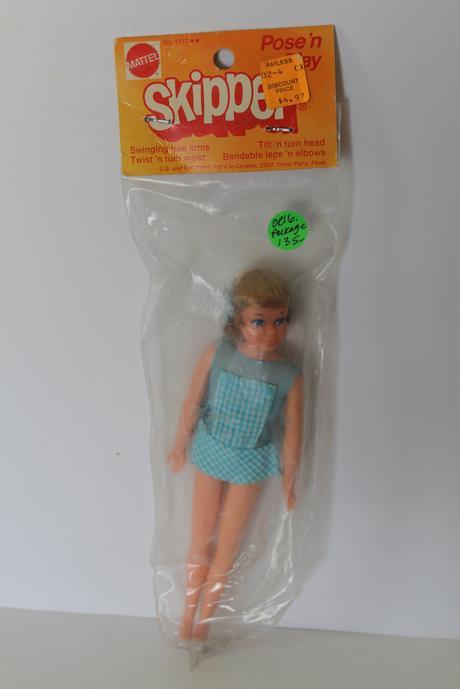 I splurged the most on a mint in bag Pose N' Play Skipper. Pose N' Play Skipper is one of my favorites. I love her cute face and hair style. This particular Skipper is usually found 'in the wild' with more poofy hair. It amazes me that her two pigtails and side swept bangs started out so close to her head!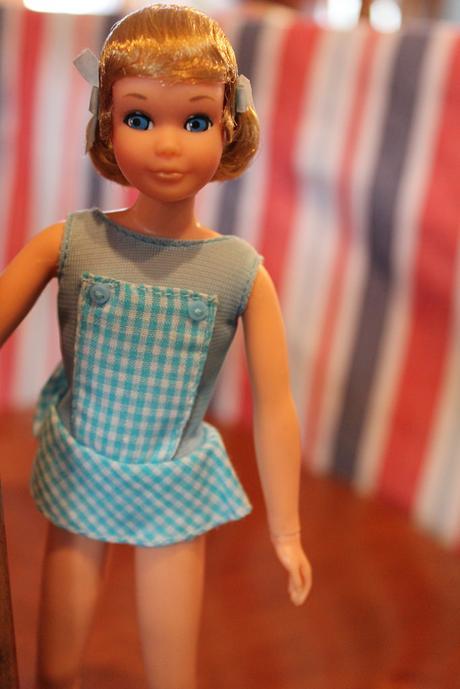 Now, you know me, so it should come as no surprise that I opened the bag she was in as soon as I possibly could! I had to free her from her plastic prison. I'm happy to report that her limbs aren't melted! I was worried about that, because Skippers with her body can easily have melted joints. Her face and hair are also perfect! The one thing that is slightly disappointing is that Skipper is missing her wrist tag. In retrospect, it looks like her bag had a hole in it that was then melted back together. The wrist tag must have fallen off then.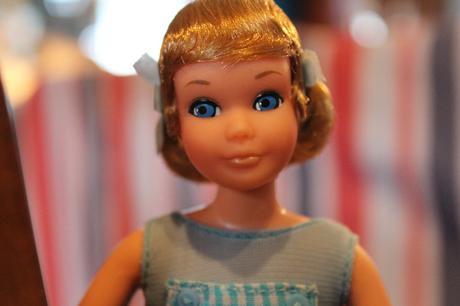 My second Skipper purchase turned out to be more exciting than originally anticipated! Vintage Skippers come in a variety of hair colors beyond Brunette, Titan and Blonde. I went to the show looking for a two-tone Skipper, but instead, came home with a unique looking blonde. Brunette's dominate my vintage Skippers, so adding a second blonde to the mix has been something I wanted to do for a while. This particular doll stood out to me for some reason. She looked different to me. I thought it was just a different shade of hair that made her standout, but it turned out to be much more.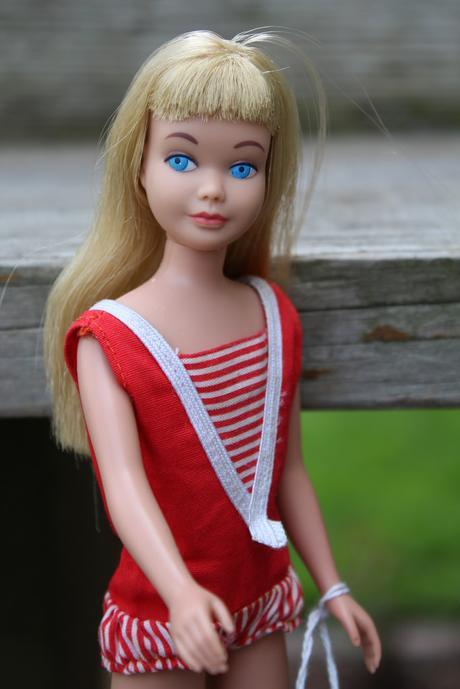 After going home, I realized she was a Sample/Test Market Skipper. Details are vague as to when and how they were distributed, but Test Market dolls are surprisingly different from traditional vintage Skippers. I'll go into mine in more detail later, but here's the quick rundown. One site suggested that Test Market dolls were given to Mattel employees and those in the industry at events like Toy Fair to test out the waters, so to speak, and see what the target market thought of Barbie's soon to debut Skipper. These dolls have a wider stance and a different weight to them. Their faces have a slightly different look to them and their bodies are actually shorter than your traditional Skipper. Even their faces look a little different to those who collect vintage Skippers. The price was great for this doll, too, as the seller (like me) didn't know she was a Test Market/Sample Skipper!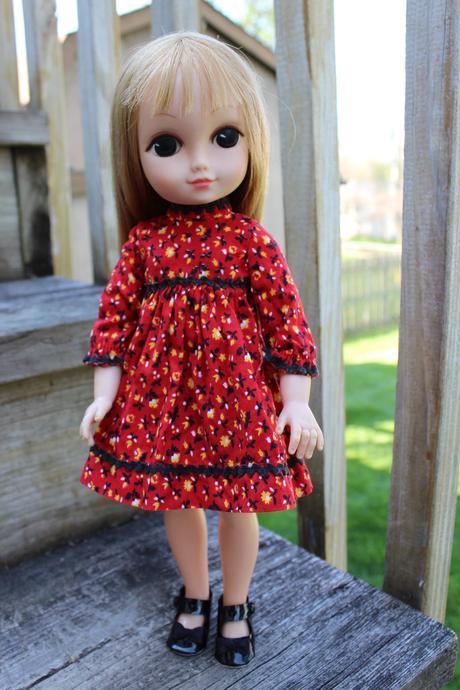 A total impulse buy was this adorable
Love Me Linda
. For those who don't know, I have always taken a liking to dolls that have that 'big eyed art print' sort of look to them. Love Me Linda was in a booth and caught my eye. It was 'must buy' at first sight! Love Me Linda is a doll made by Vogue in 1965. I love her big brown eyes! Her red outfit is original and looks great with her long blonde hair!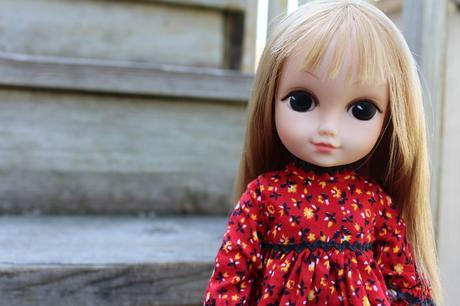 There weren't many Madame Alexanders at the show that made me want to lay down hundreds of dollars and I honestly thought I would be leaving without one. That is, until I saw this reasonably priced Little Women Beth with a Maggie face and a nearly perfect brown wig. Now, she needs a little fixing in the eye area, but for the most part, she's in great shape. As far as Little Women go, I have two 1950's Amy's, but no one else. I'm excited to add Beth to my collection.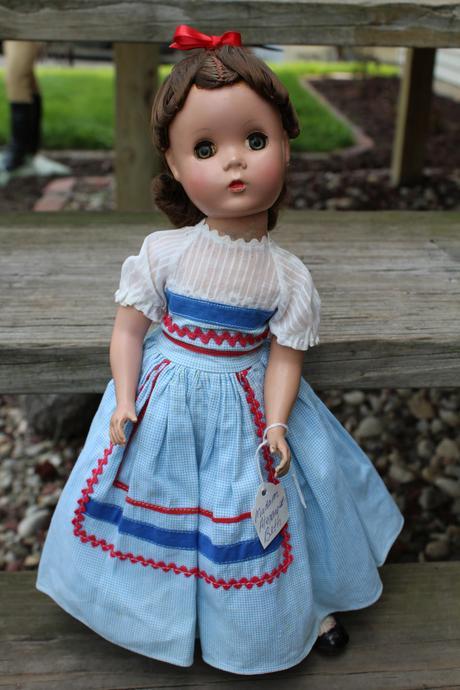 Last, but not least, one booth had a Totally Yo-Yo Skipper for a whopping $3.00 in box. I snapped that up. The actual gimmick, that Skipper can really yo-yo, works well and is kind of cool! My actual Skipper collection is lacking when it comes to Teen Skipper, so this is a welcome addition to my collection. I think I might try to actively add more Teen Skippers to my collection this year.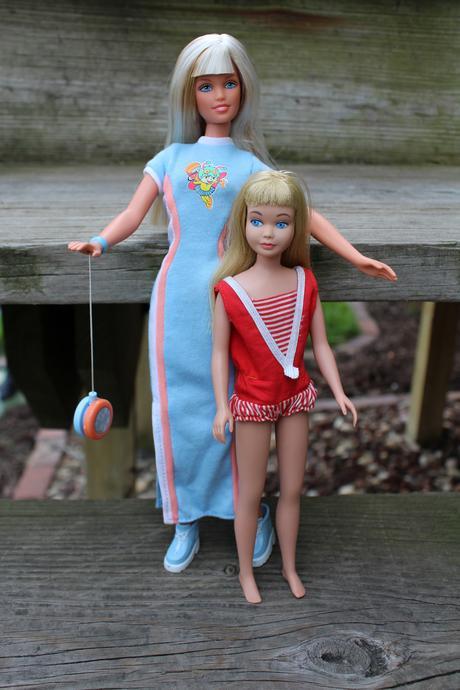 To see what Barbee00913 (my mom) picked up, as well as these lovely dolls listed above, watch the video linked below!
Have you found something really cool at a doll show recently? What do you think of these finds? Let me know in the comment area!
May 6, 2016. Tags: madame alexander, shows, skipper. Introductions & Reviews, Uncategorized.