Last Wednesday & Thursday London became the Country Music Mecha for 2 days. #RTP2016 - Gone Country brought some of Country musics biggest names such at Brad Paisley, Jake Owen, Dallas Smith & Tim Hicks to Harris Park in downtown London, Ontario.
Lets start things by saying we want to give the fine folks over at Jones Entertainment Group for inviting us into your home "festival" and treating us like family. The team that handled the media over at JEG were just an absolute pleasure to deal with were very accommodating throughout the festival. Things kicked off with Old Dominion on Wednesday afternoon.
I have had a chance to see these boys perform on a couple of occasions but it seemed like they brought a little extra to get things warmed up on this already heat drenched mid summers day. Now, "Old D" have been opening up the stadium shows for Kenny Cheseny over the last 2 summers. And are no strangers to big crowds and for 4:30 pm on a hot and sticky Wednesday the crowd was rockin'. Performing hits such as Snapback, Shut Me Up along with the current single Song For Another Time to a boisterous country lovin' crowd.
There was a brief intermission for folks to wet their whistle and maybe grab some shade while the change over was happening. This also gave me time to chat with some of the audience. One question that I seemed to ask almost everyone and that was "who are you most excited to see?". You know a festival has a great line up when every artist was mentioned by the numerous fans I had asked. One young lady that I asked said this was her favourite lineup this summer from all the festivals that were in Ontario (there are 8 for the record) And the one band she was dying to see was High Valley. Who just so happened to be be next on stage.
I had an opportunity to chat with Brad & Curtis before they hit the stage and one of the things I had asked was "What is it like with the success in the US starting to take shape?" It was simple, it was just like the success in Canada only in the US and that means the boys still play their same good 'ol Country Music and the crowd were eating it up. Playing the always popular Let It Be Me and the latest smash Make You Mine the crowd started to really fill in by the time the boys wrapped up their set with likely the duo's biggest hit to date with County Line. The sing along for this was incredible to hear and with the smiles on the boys faces you could tell they were loving it too.
Next up was the gentleman that was making his 2nd appearance at #RTP in 2 years. Seeing he tore up the stage last year and he was the #1 voted artist by the fans of who they wanted to see at #RTP2016 and you gotta give the fans what they want. Dallas Smith is one hell of a performer and seems he is only getting better. You sometimes wonder how a guy that has been performing for 15+ years keeps it so fresh on stage. Dallas played hard to catch with the photogs as he bounced from one side of the stage to the other always with a smile and again feeding off the love of the crowd. Having watched Dallas perform over the last 4 or 5 years in the Country world from small bars to in my opinion co-headling one of Ontario's premier festivals is pretty friggin' sweet. Hats off to a hell of a performance. Personal highlight was C heap Seats been a fan of that one long before it was a single and love every time I get a chance to hear it live.
Following Mr. Smith was Barefoot Jake himself. Jake Owen took to the stage. The last time I saw Jake his hair was long and Matt Duchane was playing bass for him at Casinorama. Well the show hasn't changed much in the sense that Jake bring it even in the rain. I think it was around song #9 or 10 when a light rain started to fall and he kicked into his hit Real Life. Jake also covered a couple of my favorite songs in Johnny Cash's Ring of Fire and Alan Jackson's Chattahoochee. Both songs would easily place in my top 50 if not 25 favourite country songs.
Day 2 of #RTP2016 - Gone Country.
On day 2 we got a chance to see River Town Saints, Autumn Hill, Tim Hicks along with the always amazing Brad Paisley. Now I personally wasn't there but Bill did pass along a few pointers.
River Town Saints are bloody AMAZING LIVE and are absolutely a MUST SEE This summer!
Tim Hicks may have outdone Brad Paisley with his absolute ass kickin' performance.
Brad Paisley knows how to turn it up an extra notch when he has a direct support as killer as Tim Hicks. Still not sure who had the better set both were so damn good.
We want to thank everyone at Sony Music, Rock The Park & Jones Entertainment Group for having us for these two unbelievable days of music. The crowds were fantastic, with the CCMA's just around the corner it won't be long before London, Ontario is once again loaded with Country artists. See ya in September!
Corey Kelly
Don't be shy and give me a follow over on Twitter for more exclusive content @CoreyKelly76
Also be sure to follow Bill Woodcock the man behind the camera on these shots.
MORE PHOTOS....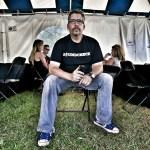 Born and raised in small ltown Ontario, Love me some Whisky & Country Music. Blogger, Photographer and Country Music Junkie.