To coincide and celebrate the
Royal Wedding
of the decade (you know the one), Blackheath Cooks have been running free scone baking workshops.What a delight! I cannot recall the last time I made scones so I couldn't resist the opportunity to put my memory and cooking skills to the test.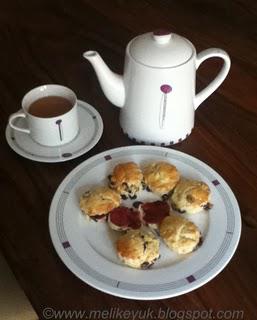 The Finished Article: Tea and Scones, a perfect
combination
Blackheath Cooks opened in December 2010 and doubles up as a shop selling the latest culinary gadgets at the front with a practical work kitchen at the back.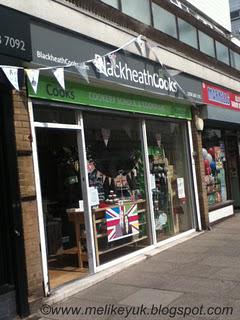 Blackheath Cooks Shop
Blackheath Cooks is owned and run by the lovely Joy Neal who is responsible for Munchkins Kids Cooking, set up to get kids excited about eating healthily.
Upon entering the shop, the warm waft of cupcakes and scones fills the air and immediately you know you are not going to leave disappointed.
Today's class has 8 participants which is just the right number; everyone has enough workspace.
Joy breaks the ice by getting us to introduce each other and to reveal how much we know about scones and making them.
We learn that in fact, the
Women's Institute
 stipulate that there are only 3 constituent parts to scones:
1) Flour
2) Butter
3) Milk
We also discover that the 
Women's Institute
 are very strict about the cutters that are used for scones;
Fluted
for those that contain fruit (i.e. raisins,sultanas)
Round
for those that are plain and Triangle for cheese scones.
However, we decide to live life in the fast lane and break a few rules.It is all about having fun after all!
Joy starts by giving us a very thorough demonstration on how to make the scone mix and although she has done this 3 times already in the past 24 hours, she maintains her enthusiasm and makes the task look very easy. She describes the texture and consistency to be achieved at different steps and carefully alludes to the quantities to be added during certain stages of the preparation.
When she puts her scones in the oven, it is over to her "trainees" to have a go!
Blackheath Cooks' mission is "Putting the fun back into cooking" and they very easily succeed. I really enjoyed the atmosphere in the class; it's informative, delivered in a friendly and professional style. There is no stuffiness that you may experience from some culinary courses and you feel that you are there to really enjoy and embrace the experience. This is of course helped by the good nature and humour of Joy and Alice. They are extremely approachable and always available to provide advice and tips during the workshop.
I made Fruit Scones and here is how:
Ingredients:
225g of Self Raising Flour
1/2 teaspoon salt
1 tablespoon butter
150ml cold milk
1 tablespoon caster sugar
100g raisins or sultanas or dried cranberries
1 egg to glaze the tops
Portion Control:
Serves 8
Method:
1) Measure the flour into a large mixing bowl
2) Add the butter and use your fingers to rub the butter into the flour until it disappears
3) Stir in the sugar and raisins or dried fruit
4) Pour the milk into the dry ingredients stirring with a fork until you have a soft dough. You may not need all the milk and you want to achieve a sticky consistency.
5) Very gently press the dough together, touching it as little as possible (if you touch it too much, the scones turn out hard and chewy)
6) Gently roll the dough out to the thickness of 2 fingers (about 5-8 cm) with a rolling pin dusted in flour (if necessary), and use a fluted cutter to carve out 8 scones.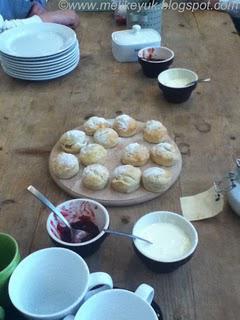 Joy's scones served with jam and cream

7) Place the scones on a greased or lined baking tray, brush the tops with beaten egg (add some some salt to the beaten egg to ensure the wash does not become too stringy)
8) Bake in a pre-heated oven at 200 degrees Celcius for 10-12 minutes until they are golden brown and sound hollow on tapping the bottom.
While we wait for our scones to bake,we sample scones pre-baked by Joy. No doubt about it! Scones taste best when they are fresh out of the oven; crispy on the outside, soft and fluffy on the inside. Joy and her team generously serve us tea and coffee while we tuck into the scones and smother them in jam and cream.
Apparently there are even regional differences between how scones are taken in the UK; in Cornwall it is butter, then jam, then Cornish clotted cream,while in Devon it is strawberry jam and clotted cream only.
I'm quite content to have my fruit scones just with jam.
For presentation purposes, the Women's Institute recommend that flour should be dusted over the scones, but Joy uses icing sugar - I think this is a much better idea and gives a sweeter taste.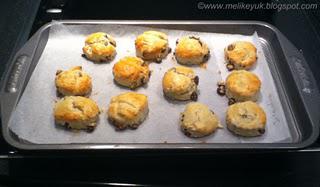 My fruit scones - fresh out of the oven
Once we have finished nibbling away at the tasty treats, it is time to check the oven and low and behold, mine are ready to be taken out. It just takes a few minutes for the scones to cool down and we can take them away. It is going to be such hard work eating all these scones, but I'm prepared to give it my best shot!
For the savoury option, you can make Cheese and Herb scones, omitting sugar and replacing the fruit with a generous handful of grated cheese (
Mature Cheddar
or
Emmental
). Add a couple of tablespoons of
Basil
or
Chives
for the herbs element.
Blackheath Cooks has a range of cookery courses from "Simple Suppers" to "Foodie Fridays" and it is a great way to refine or harness a skill, pick up handy tips and meet people who have similar foodie interests.
Who knows, I may even be tempted by the cupcake making class, (their most popular class), that way I could cross off number 6 on my
Food and Drink Wish List
.
I would like to extend my thanks to Joy and the team for providing such a fun class!
To find out more information or to book a class, visit
http://www.blackheathcooks.com/index.php
Aprons and refreshments are provided and you don't even have to do the washing up!
Enjoy!
x