It's as if someone's announced the official launch of royal wedding pap this morning. In my inbox, two press releases I've decided to share only the funniest bits from. Selected highlights follow…
Are you safe from post-wedding picture blues?
by LG Electronics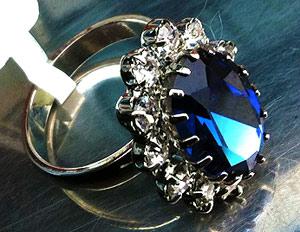 "With
the Royal Wedding
just around the corner, 2011 will definitely be a year to remember, especially for couples who are about to tie the knot.
[fine so far, but after a paragraph or two this segues into...]
"If you're now thinking about what effect losing pre-wedding records and, worse still, the post wedding photos stored on your home PC would have, it is worth considering that compact storage devices are now available on the high street. [Ooh the fear...]
"The special 'RAID management' contained within the LG Super Multi NAS, keeps important data safe from unexpected hard drive failure. NAS also enables high-resolution images and video to be stored and accessed from anywhere that an internet connection is available. [How did we get to this from the Royal Wedding?!]
You can connect to your NAS device remotely and share files, which could come in very handy after the wedding when you're next visiting friends and relatives. [I suppose. But I'm only getting one if there's a crown and a sapphire on it]
Brits Bank on Extra Holiday not Royal Wedding
by Zoosk.co.uk
Remember these are my selected highlights only. Zoosk (online dating) did a survey about our attitudes towards the Royal Wedding. Turns out most of us think it's a bit funny and are happier about the bank holiday. Best bits of the survey responses go like this:
"The 29th of April will see… 21% of Brits hiding under the duvet, hoping the day would just go away.
"Although the couple have invited over 1,900 guests, 27% of the men in Zoosk's social community felt the wedding wouldn't be complete without an appearance from Lady Gaga.
"One in six people wouldn't mind Shaun Ryder attending their special day.
"When it comes to the first Royal dance, 38% of female Zooskers voted for Westlife's 'Queen of my Heart', while the Zoosk men were less romantic with nearly a quarter (22%) opting for punk classic, 'God Save the Queen' by The Sex Pistols.
"Over half of those surveyed felt they deserved an invitation to the royal wedding.
The press release included full versions of the questions asked, which were multiple choice. I won't list them all, but I have to mention my favourite: The question asked, "Who would be your ultimate wedding guest?" and 94% DIDN'T choose Keith Chegwin from the list. What's wrong with these people?
I wasn't going to post either of these on the blog, but the survey in particular had me mildly entertained so I thought I'd share!
So… would you rather see Keith Chegwin or Lady Gaga at the royal wedding?…