Warwickshire suddenly felt like a stranger, a return to that English county wasn't on my radar. Royal Leamington Spa was the last place on my mind, November 2021 would change that situation. Thinking that I had it made, Coventry, Stratford-upon-Avon and Warwick had all been visited, Leamington waited. Just like that I stepped onto the platform in Warwickshire's RLMS.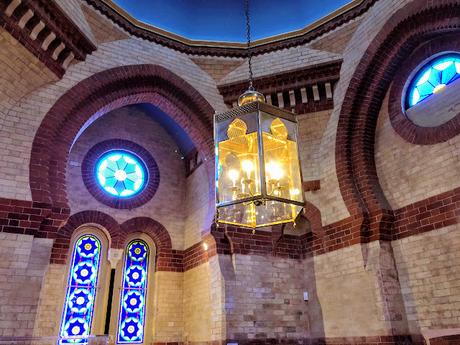 A Turkish bath in Leamington Spa? Yes, at the Royal Pump Rooms I saw a slice of the former Hammam. A certain opulent Eurasian style had caught Leamington's town planning, parts of the architecture had been based upon real eastern grandeur. Being restored to its former design, the intricate azure blue window panes reminded me of my time at a Turkish Bath in Turkey. I really felt as if the heat should have been turned up, trading my autumnal outfit for a wrap around with the prospect of being scrubbed from head to toe by the bath attendant. No, that wasn't going to happen, the installations didn't catch my attention because I was all up in the brickwork, those curves and swerves looked exotic! With the weather feeling quite nippy, exactly going back to 1863 wouldn't been a bad idea for me to feel the warmth of the former steamy Hammam. Come to think of it, what kind of customer would have frequented such a spa facility during that 18th century? Fancy, the hanging centrepiece lights gave the perfect glow. Opulence! 
Being the missing piece, Royal Leamington Spa's claim to fame was that special thermal water source. People from those upper echelon would come to RLS for their spa treatments during the 18th century and beyond. With the popularity of the waters healing properties, the once small village morphed into the spa town it became during the Victorian age. Of course, the stone columns impressed me much, the vibe around the Royal Pumps Rooms building gave me the impression that during RLS's heyday as a spa town, those health tourists appreciated the thermal waters due to their stature. The museums many exhibits schooled me about the building of Leamington and the healing properties of the thermal spa waters. Like Bath, Cheltenham and Harrogate, it was apparent RLS equally made its coins from the medicinal thermal waters. Too bad the Royal Pump Rooms no longer offered such healing and relaxing treatments in present day! Oh! That nugget of history and the former opulent reminder of the Hammam educated me.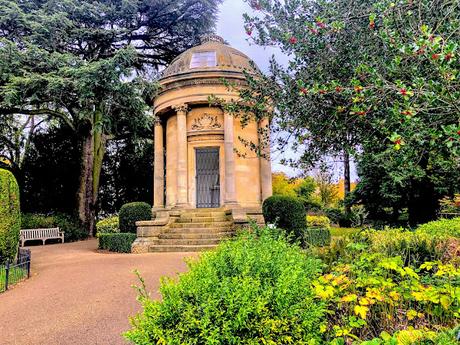 Where to next? I was under no illusion, my time spent in Royal Leamington Spa would be brief and I wasn't mad about that. Heading from the Royal Pump Rooms I made my way across the road to Jephson Gardens, on a map of Leamington it looked like the next place to visit before seeking L's 'Parade'. Once a place for the wealthy to take air and 'be seen', the well laid out gardens named after Dr. Henry Jephson certainly looked fancy indeed. In that moment I didn't feel the need to rush, people were going about their business either walking their dogs or pushing their kids in pushchairs. To be away from the concrete council house estate allowed my head to be less like a jungle, Jephson Gardens helped my feelings lighten with the flowers and colourful dream like park life. Making my way to the Jephson Memorial felt natural to me, taking a seat next to the memorial allowed me to see the many squirrels who were frantically running around and climbing trees. No complicated thoughts, the park had me feeling centred. 
Dr. who? I had to do some further reading in-order to find out why Jephson had a whole set of gardens named after him! He had promoted the virtues of Leamington Spa's healing spa waters during the Victorian times. Dr. Henry Jephson was said to be firm but fair, his treatments became very famous, maybe he cured people with the thermal waters? In 1846 the gardens were named in his honor and three years later in 1849, the memorial was built with a statue of Jephson inside. Now, that is why I had been attracted to that Jephson memorial, that all makes perfect sense. An obelisk? Yes, the Willes obelisk also caught my eye! Built in 1875, the obelisk commemorates a former Leamington Spa landowner, the Rev Edward Willes of Newbold Comyn. Willes had the first gardens laid out in the area, known as the Newbold Pleasure Gardens, it was a groundbreaking venture of its time to attract the local people from the new residential projects in the town. Jepshon Gardens had come an education, I had been schooled!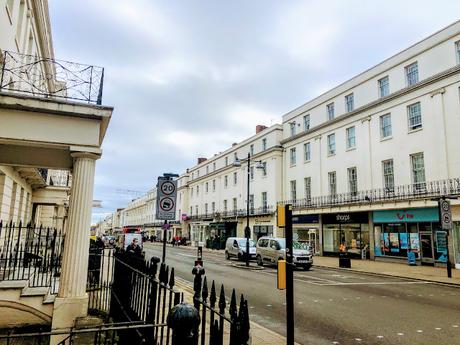 Being a pint-sized town, Royal Leamington Spa made things happen during those 1800s and beyond. Functioning as a wealthy place for the seen to be seen, the famous Parade deserved my attention before I headed back to the train station. Serving some of the best examples of 'Regency' architecture, Parade had me clocking those period feature buildings even though they served 'High Street Realness', that modern day factor was overlooked with much attention. Seen as Royal Leamington Spa's rapid period of growth fell between 1808 through to 1860, many part of the building spa town functioned because of the connectivity that Parade gave Leamington Spa the means to grow. 'Parade' wasn't always the name of this 'Regency' style line of shopfronts, 'Lower Union Parade', 'Upper Union Parade' and 'Lansdowne Place' all merged in 1860 under the name, 'Parade'. It was said that the grand architecture of Parade brought Leamington Spa its bacon, many arms of the spa town relied on the pull of Parade. Leamington, that was such a lot! 
Of course, I made sure to walk the whole length of Leamington Spa's Parade to see what I made of it. I appreciated the architecture, nevertheless I would have loved to be teleported back to the 1800's to see how that former spa town looked, how that main thoroughfare operated. Neither time-travel nor teleporting were available to me, fearing that I had bossed all of what I had wanted to see in RLMS, I made my way back to the train station. Royal Leamington Spa didn't tell me any lies, from the Royal Pump Rooms that former Hammam reminded me of Turkey! The green and perfectly formed calm within Jepshon Gardens allowed me to capture the Jephson memorial in full view. Concluding with Parade, the knowledge had to be read after the trip but all now looks clear in my mind. Royal Leamington Spa, now my Warwickshire odyssey has been completed! Honestly speaking, seeing such a picture postcard town allowed me to make peace with England as I find my way around after Lockdown. Ready for a little re-up, W? 
Leamington, Who?! 
Joseph Harrison