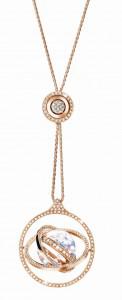 Source: Forbes
"The Royal Asscher Diamond Company released a limited edition version of its Stars of Africa jewelry in honor of Queen Elizabeth II's yearlong Diamond Jubilee celebration."
The collection is based on a design that was introduced back in 2009. The original collection incorporated a clear full or half-sphere made of sapphire crystal filled with tiny diamonds. The crystal shells were filled with a clear silicone allowing the diamonds to "float" inside the sphere jewelry in the same manner that paper confetti floats inside of a snow globe.
"The newest collection consists of a ring and pendant made of 18k rose gold. The half-sphere of the ring contains a total of 2.12 carats of white, blue and fancy pink floating diamonds. The full sphere of the pendant contains 4.91 carats of white, blue and fancy pink diamonds. The colors of the diamonds resemble the three colors of The Union Jack, the British National Flag."
The new collection includes four other pieces, for a total of 6. "The passion for fancy colored diamonds is a long lasting passion in the Asscher family," said Mike Asscher, the company's managing director. "The Diamond Jubilee ring is one of the most spectacular rings we have created in this collection. The blue and pink diamonds in combination with the white diamonds show mother natures true mystery."
The relationship between the Royal Asscher Diamond Company and the British Monarchy dates back over 100 years, when the Asscher brothers adorned the Crown of St. Edwards with the largest diamond ever cut. The crown is permanently on display at the Tower of London as part of the Royal Crown Jewels.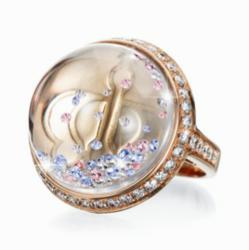 Source: Diamonds.net
Today, during the diamond jubilee year, the relationship is very much alive as ever. On the fourth day of the Diamond Jubilee Celebrations, Queen Elizabeth II posed on the balcony of Buckingham Palace adorned with Royal Asscher Diamond Company jewels in front of a world-wide television audience.
Alexandra for Raymond Lee Jewelers, your source for jewelry industry news.