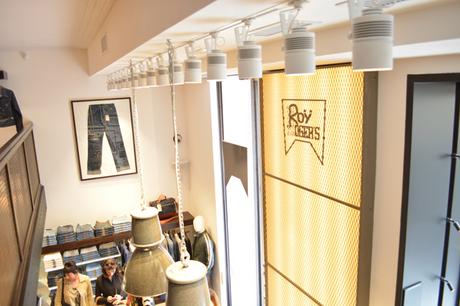 ">


">




">Who, among us, has not at least 5 pairs of jeans in the closet, 3 on the top of a shelf with the label memories, a couple in the virtual shopping cart of an online site and at least one – the perfect piece of denim – that has yet to be found somewhere?Who, among us, has not experienced, at least one of the most important stages of life, wearing that pair of jeans?




">




">(And it does not matter if you're 16, 25, 35 or 50 years old).




">




">Who does not always respond in an affirmative and enthusiasm way, when a new denim store opening calls?


">
">And this time they did it again: Roy Roger's.





">




">Not only they opened a new store in Corso Venezia in Milan, they have also opened the doors of their historical archive, with an exhibition.

In the two floors of boutique, connected by the iconic cast-iron spiral staircase, you can see and touch the pieces from "Archive is life" – paper documents and historical items that witnesses the company's dedication to the most historic of




">




">fabrics for casual style and work.


">
">Many of these pieces were re interpreted and reproduced, as the jacket in light color denim and the jumpsuit.





">




">One of my favorite piece, elastic waisted, thin fabric and the slightly lose silhouette,  that any fashionista would love to wear, with a pair of colored stiletto, maybe in yellow, with a 12 cm heel.

80 years of history on display, not in a museum, but in the new Roy Roger's store, where you can also "customize" your jeans.

S

o, whether a jeans has always brought, our strongest emotions and experiences, in its rips and seams,  from now on,  you can add something like a special quote or a special colored seam that will remain forever, like a tattoo, not only in your memories, but phisically on it

.

Latest Roy Roger's opening in Rome It's a matter of denim.