The other day I had an enjoyable chat with a friend about about the difference between routines and ruts, and as a result I concluded that Pam and I have many happy little routines here in our patch, without the awful feeling that any of them constitute a dispiriting 'rut'. The difference between a routine and a rut is simple. You like your comfy little routines and you hate ruts to the point that you really want to get out of them (but sometimes because of circumstances outside your control, can't).
I'm in my late 50s now, and I think I'm acquiring routines as quickly as I am losing hair from my ever-shinier head. Pam and I like to drink champagne on Friday nights. We love to see as many movies as possible every year, but two flicks on a Sunday, with yum-cha in the middle for lunch, is a heavenly indulgence we look forward to each time the chance arises. I ride my motorbike to work on sunny days. I love these routines.
And here in my gardening blog, right on schedule, I'm blogging once more in early June about the first of my cymbidium orchids popping out into bloom. I don't seriously expect you to do this, but go back to June 2010 and 2009 and you'll find postings about these orchids, too. It's one of the wonderful things about nature, and gardening, when you are witness to the seasons coming, going and returning once more with their own steady, deeply earthy heartbeat.
Haven't got a clue as to this cymbidium orchid's cultivar name. It was a gift in one florist's pot several years ago, and now it's a pretty plantation in half a dozen pots.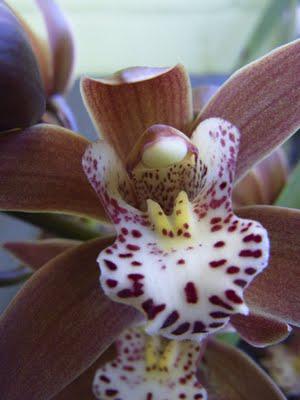 Say "aaahhhhh". If I was an insect I wouldn't go in there.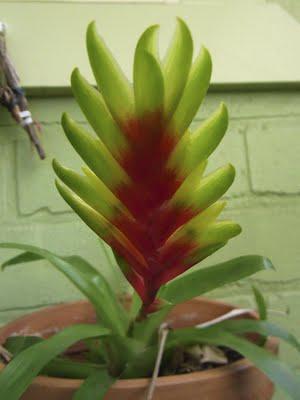 As it's also in flower and only two feet away from the orchid pots, I thought I'd shake up the routine "aren't the orchids pretty?" early June posting with a word from my newish bromeliad in a wall pot (who wasn't here last year). It thinks it is far more tropically dramatic and handsome that the marooney-pinky-browny cymbidium orchids, and wants equal blog time.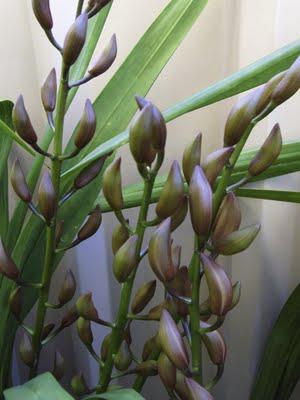 The riposte to the brom's claims from the orchids is that they have the meagre four bromeliad blooms outnumbered by several dozen orchid flowers to one, so could we please just focus on the orchids, projectionist?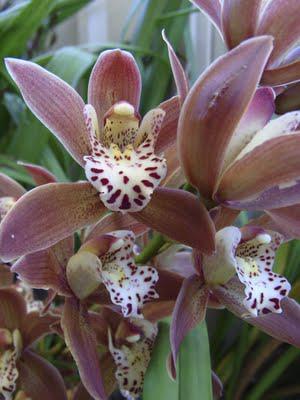 OK, so here's another angle on the lovely show that is starting up now, and which will keep on going for well over a month or more. Pam will cut stems of them, as she does every year, and pop them into vases indoors, where they always last an astonishing amount of time as well.
Enjoying the orchids is one of those delightful routines which I hope we'll be maintaining many years from now. Each time they appear there's a freshness not only to them but also to our sense of delight at their appearance.I hope I never weary of delighting in orchids, or gardening. I occasionally come across older people who are sick of life and would like to pull the plug now, if they could. I think that is partly because their own bodies are letting them down, but I also think it's partly because they don't have enough interests in life to keep them going.But I also know one 'older' person in particular who's into her 80s now. Her arthritis is bad, particularly in her feet. Walking is becoming more difficult with each passing year, and you wouldn't blame her for losing interest in life. But no way! She's still a nature lover, a party girl, a music buff, theatre-goer, and interested in everything new, including politics, art, movies and theatre."More champagne, over here, waiter!""Oh wow, look at those camellias, that's the best they've been in years.""That was a great jazz band last night, I wanted to get up and dance." "It was a fantastic show. There's so much great young talent around. They amaze me."She's my role model. She's Pam's mum.