The latest trend in personal gadgetry is the smartband: a device worn on the wrist capable of functions beyond just telling the time. So far, the smartband interfaces have been serviceable, but next week Nike is upping the ante.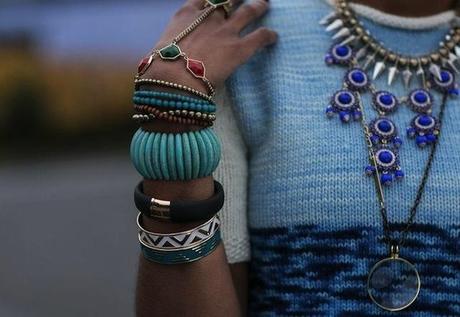 via Fashionista
With the exception of the Jawbone UP, none of the smartbands currently on the market have taken fashion into consideration. The UP's bracelet-like appearance is certainly smooth and sleek, but it is also rather plain. While innocuous, it definitely doesn't make much of a statement (and isn't that the true purpose of accessorizing?).
Because really, why wouldn't you want one of these nifty little gadgets? The main feature of the fitness smart-bands is a step and activity tracker: it tracks how many steps you take in a day, the intensity of your activity levels, and the duration of your active time. Paired with its native smartphone ap (each company has a different one, but they all feature multi-platform availability, no droid/iphone wars for the smartbands… yet), the smartband uses your daily data to calculate things like distance traveled and calories burned. It then produces friendly visualizations to help you set and achieve your goals; how does your activity level today compare to your activity level yesterday? The day before? How much do you need to increase it to meet your personal fitness goals?
Another popular smartband feature is its sleep tracker: based on body movements it analyzes the length and depth of your different states of sleep. Do you sleep soundly? When? For how long? It even integrates a noiseless alarm to wake you in the morning without disturbing your partner.
The noiseless alarm feature can also be enabled for periods of inactivity. Need a little reminder to get up from your desk and move every hour? The smartband can be programed to do that.
These gadgets synch mostly wirelessly to your smartphone. Though the old-school UP still requires plugging in, the new model (UP 24) has a wireless synch feature as does the fitbit flex, fitbit force, and nike FuelBand. What the smartbands have so far been lacking is style; the fitibit and nike technology has been sporty and serviceable with little emphasis on true accessorizing. The UP has made some concession to being a piece of your daily outfit, but mostly it looks like an unobtrusive bangle.
Nike's new rose gold FuelBand SE is the first color way in the new Nike Metaluxe collection. Beginning November 21, 2013, the rose gold Nike+ FuelBand SE will be available in limited quantities at select retail locations as well as nike.com. So let's get this straight: an adorable accessory in luxury colors which promotes health and fitness and is only available as a limited offer? What's not to love about this thing?
The November release means that you can make the rose gold Nike+ FuelBand SE as the perfect holiday gift. What better way to help your loved ones keep those New Years Resolutions?