Leaving Cordoba late afternoon, the bus journey took approximately 5 hours to travel the 400 kilometers, South-East across the plains of Argentina before arriving at the third largest City in the country; Rosario.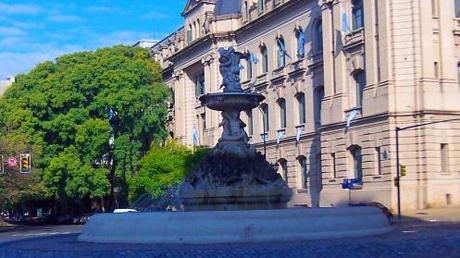 Hunting down the taxi rank in the bus station took a little bit of wandering around, searching for someone who might actually work at the bus station (it was pretty late by the time we had arrived) but when we did find a taxi, we were soon on our way to our hostel; Hostel La Lechuza It was at this point we started to get an appreciation of just how big Rosario was in terms of City layout; the area it covered as the taxi ride seemed to pass across block after block after block without any real hint of reaching a finishing point. Still, 25 minutes later we pulled up to the hostel and were welcomed with great enthusiasm, a big smile and a comfortable bed.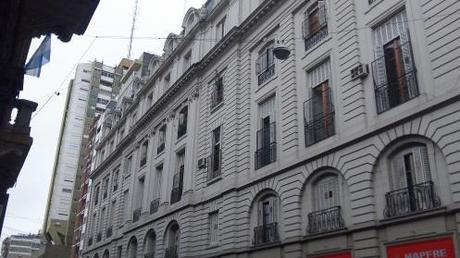 Waking up early we headed for the reception; the source of all the key information, in a good hostel/hotel on where to go in the City and we weren't disappointed. The receptionist there took us through all the key places to visit, to go and see and the available activities. So, armed with our free map, scribbled with notes and points of advice, we were off and our first stop was the house where Che Guevara was born! In all honesty, this wasn't the most impressive of landmarks as it was still a 'working home' in the sense that it was the same as every other apartment in a rather large apartment block and had a small family living there. Still, it's something else we could tick-off the list of things we have seen on this trip!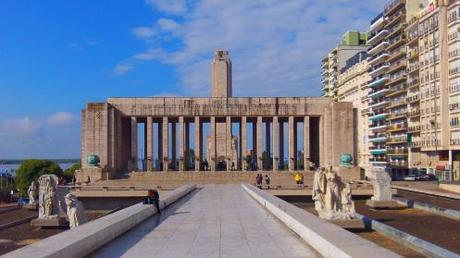 To the map; and where were we off to next? From Che's house we followed the pedestrianized streets, walking through the City Center of Rosario, through the various modern malls and stepping in to some older, more traditional shops all the while being actually rather impressed at the obvious and apparent omnipresence of devout patriotism of the people of Rosario, actually, throughout Argentina as the national flag adorned every street, dancing in the breeze as a constant companion on our tour: Which actually leads us on quite poetically to the next point-of-interest on our trip; The Argentinian Flag Memorial, or 'Monumento a la Bandera'. This really is quite the impressive memorial festooned with various statues, a constant Olympic-torch-like-flame, Romanesque style pillared buildings and a rather large…well…monument.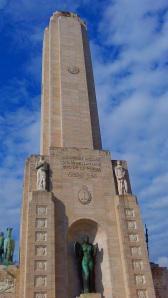 Rosario is also known for its beaches, surprising perhaps, what with it being nowhere near the coast, however the large River that flows through Rosario does have quite large sandbanks, large enough to serve as beaches, 'La Florida' being the most popular, which in the summer, prove very popular with tourists and locals alike. In fact, from the monument, you can catch a boat which takes you on a tour of the river and can even drop you off for a day at the beach on the main 'river-island' in the waterway. Unfortunately the weather was not particularly on our side today, for beach-sitting at least and moreover, we had totally mis-timed our City walk and would have had to wait a few hours for the next available boat! Planning people, planning!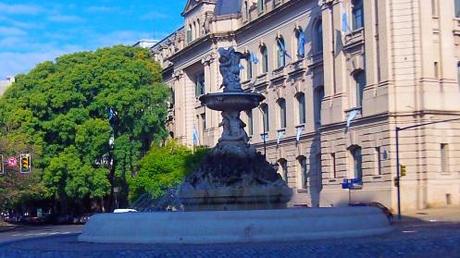 Next on the agenda was a gentle walk back to our hostel, but via the largest park in Rosario; Parque Independencia, in fact this is one of the biggest parks in the whole country. Having traveled for around ten months now we were starting to feel as though we were gaining experience and getting pretty good at navigating our way through the various countries, Cities, Towns and villages we had seen, having now read countless maps along the way and pretty much always seeing what we had intended to see. At this point we would love to tell you all about 'Parque Independencia' but there is one little thing that prevents us from doing so and that is; we never got to see it for ourselves as we managed to get lost! It turns out we had missed the park by approximately 15 City blocks…no joke! Still, it was nice to see some of the areas of the City that we would figure, not many travelers do…because there really is not that much to see; we can confirm.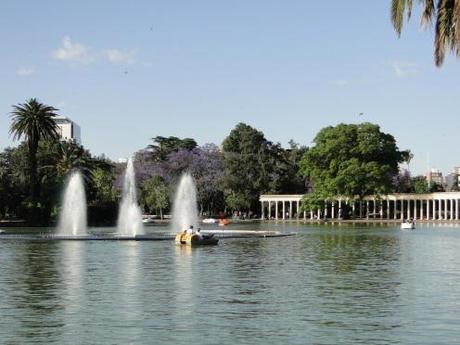 Referring back to our map (was there much point we wondered?) we searched for the next important landmark we had been advised to see; 'Esthers'. Apparently, Rosario is particularly famous for great ice-cream and 'Esthers' was the number one place to go to sample such delights. This really was a pretty cool place – an American-diner style feel to it, with friendly staff and truly amazing ice-cream…this was a great recommendation and as we had been steadily losing weight throughout our time in South America, we had the perfect excuse to eat at least three helpings! So with a truly epic case of brain-freeze and the highest sugar-high of all time, we were on our way back to the hostel to spend one more night before heading to the Capital of Argentina: Buenos Aires.