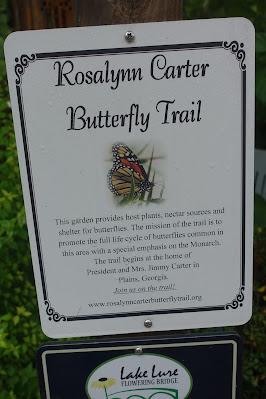 Rosalynn Carter Butterfly Trail at Lake Lure, NC

From roses to succulents, pollinator gardens to art installations, the Flowering Bridge at Luke Lure, in the mountains of western North Carolina, is a wonder of nature and testament to the volunteers who turned an abandoned bridge into a beautiful floral walkway.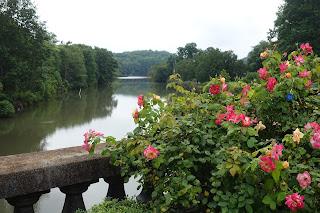 The Lake Lure Flowering Bridge is a stop along the
Rosalynn Carter Butterfly Trail
, which begins in Plains, Georgia, at the home of President and Mrs. Jimmy Carter. The mission of the trail is to promote the full life cycle of butterflies common in this area with a special emphasis on the monarch.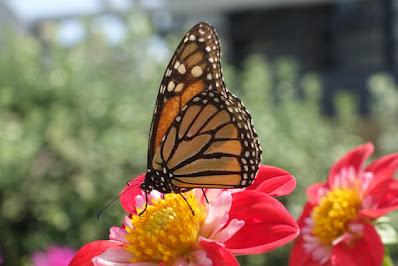 Monarch butterfly.

When Former First Lady Rosalynn Carter learned of the struggling Monarch Butterfly population and threatened migration from North America to Mexico, she called on her neighbor and friend Annette Wise for advice on planting the right native plants in her garden.  When friends and neighbors in Plains learned what she was doing, they wanted to provide habitat in their gardens to help pollinators. Eventually, a "trail" started of butterfly gardens one house at a time, one church at a time, one library, one state, and so on.
The more butterfly gardens that exist, the greater the population of Monarch Butterflies, which have been so threatened for the past several decades primarily due to the removal of milkweed plants from farms and properties.  Monarch butterflies need milkweed on which to lay their eggs. Otherwise, the cycle of life for butterflies ends.  All pollinators benefit from native nectar and host plants. Find out more about the relationship between monarchs and milkweed at my earlier post on this
blog
.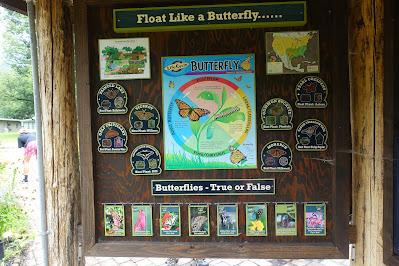 On an informational board at the beginning of the bridge is a panel describing common butterflies of the area.
I visited the Flowering Bridge and learned about the Rosalynn Carter Butterfly Trail on a trip to North Carolina in August. I was pleased to see information about the Painted Lady Butterfly, the subject of my book
BUTTERFLIES IN ROOM 6
.  It was a rainy day and I didn't see any butterflies, but I am sure that when the sun comes out, the garden will be full of them, feeding on nectar produced by the abundance of flowers.
You can read more about my visit to the Lake Lure Flowering Bridge at my travel blog
The Intrepid Tourist.
All Text and Photos copyright Caroline Arnold