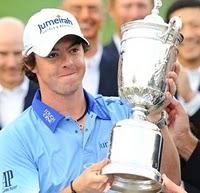 Surely the hottest buzz during the 2011 U.S. Open was in response to Rory McIlroy's tremendous golf game but there were other side stories that kept the media, and fans, humming. Here are a few memories from the 111th U.S. Open at Congressional Country Club.
1. A Chandler-Slam?  Rory McIlroy's stupendous comeback after a misstep at the Masters to become one of the youngest U.S. Open champions set the stage for a possible 2011 Chandler-Slam. Andrew "Chubby" Chandler's stable of top-notch golfers has given him a few major wins including last year's Open winner Louis Oosthuizen and 2011 Master's Champion Charl Schwartzel. Could Lee Westwood grab this year's "British Open" or will McIlroy's confidence carry him through the rest of the season?
2. The next Tiger Woods?  McIlroy will have to win quite a few more tournaments to be placed in the same league as Woods, but leave it to the media to make comparisons to get fans' juices flowing. In majors it's still Tiger Woods-14, Rory McIlroy-1.


McIlroy perfecting the Tiger Woods fist pump

3. If Tiger Woods makes a comeback, can he compete against a younger group of golfers?
Tiger Woods' physical (and mental) issues could prevent a comeback. His body is not recuperating as easily as when he was Rory's age. The youth, talent and mental strength of McIlroy may have the Tiger by his tail.
4. European Tour and Asian Tour globalize the U.S. Open. During the U.S. Open, there were questions as to whether or not an American would finish in the top-ten; if not, it would have been the first time since the early 1900's that an American could not rise to the occasion. During his reign, was Tiger Woods so overpowering as to leave a gap in the strength of the PGA Tour? European/Asian Tour players did not have the same distraction week after week.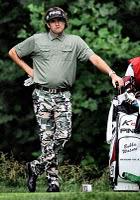 5.
Fashion sense (?)
Bubba Watson's camoflage pants ; you either loved them or hated them but either way, fans had something to say about them. Come to think about it, pink pants were stylishly worn by Ryo Ishikawa but similar threads donned by Davis Love III didn't go over well, especially by a man who rides a custom chopper.
Finally, during the NBC opening sequence of the final round of the U.S. Open, a few words were noticeably left out of the Pledge of Allegiance. Although hosts apologized for the
"under G-d"
mis-hap, it was an unfortunate bloop (?) to make but still not as bad as Christina Aguillera's rendition of "The Star Spangled Banner."
Photo Credit:
Washington Post
,
Huffington Post
,
Blog.Syracuse.com
Voice your opinion on Twitter
@Golf4Beginners
and friend us on our
Facebook
page.