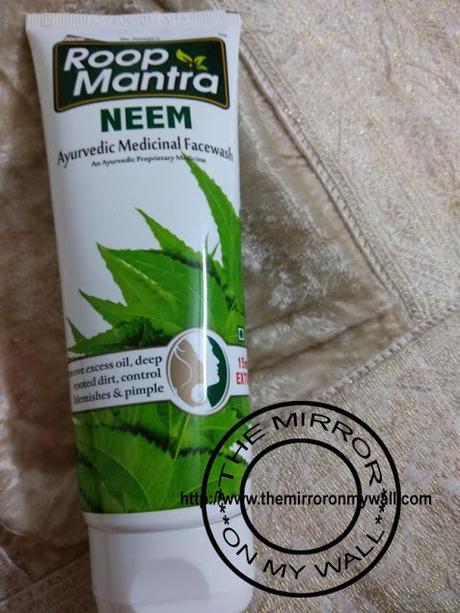 Roop Mantra Neem Face Wash
Hi Everyone,
Today I am going to review  Neem face wash from Roop Mantra. I love neem and lemon face washes as they clean dirt and excess oil from face really well. It's a perfect time to test a face wash as days are warm and nights a bit cold here. Taking care of combination type skin is a little tricky. I get oily and shiny nose easily when temperature is a little warm. Read on to know more about this face wash. 
Product Claim:-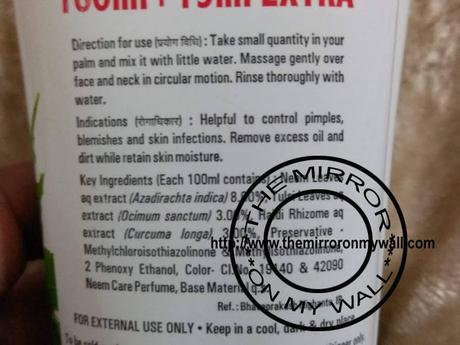 Roop Mantra Neem Face Wash contains the goodness of Neem. It helps in removing excess oil, deep-rooted dirt and controlling blemishes, and pimples. The phenomenal blend of Neem, Tulsi and Haldi has antibacterial and antifungal action preventing the reappearance of pimples. This face wash exfoliates skin and makes it dirt and germ-free, making skin flawless.

Roop Mantra Neem Face Wash is specially formulated for removing pimples problem. Enriched with the goodness of Neem, Haldi and Tulsi. Deeply cleans facial dirt without causing any harmful effect towards our skin. The antibacterial and antifungal activity of neem is also good for skin. This formulation gives a completely clean, fresh, glowing and pimple free face naturally. This product is a solution for pimples, dark spots and for pimple marks.
Benifits includes:-
Clear pimples.
Antibacterial.
Removes excess oil.
Controls blemishes.
Provides deep cleaning.
Exfoliates skin.
Provides flawless skin.
Makes skin dirt and germ-free.
Price:-
20ml at Rs 18
50ml at Rs 48
115ml at Rs 83
Ingredients:-

Key Ingredients
Neem – In the Ayurveda, Neem earned a special place as the medicinal herb. The "Wonder Leaf" has antibacterial and antifungal properties. It is an excellent skin care medicinal herb that's been part of traditional remedies that date back 5000 years. It fights bacteria, fungus, dirt and a germ effectively and helps in enhancing skin health.
Tulsi – An antibacterial, detoxifying, cleansing and purifying agent works in and out of the body. It exfoliates skin and makes it dirt and germ-free. The holy herb found in every household comes loaded with essential oil and Vitamin A and C. It is rich in antioxidants and extremely beneficial for skin Tulsi fights infections.
Turmeric – Nature's most powerful healer is the best antiseptic in Ayurveda. It helps in making skin flawless, making skin radiant and glowing. It is capable of soothing skin and evens the skin tone. The miracle ingredient retains skin suppleness making it wrinkle free.
Directions for use:-

 Dampen your face, hands and neck.
Pour pea-sized face wash on your palm.
Rub gently to form a lather, apply in circular motion.
Use after every exposure to pollution and sun or twice daily.
My opinion on the product:-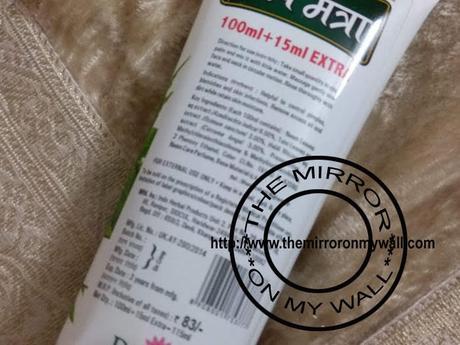 The facewashes from Roop Mantra have almost the same packaging. It comes in white opaque plastic tube with flip open cap. The lid shuts nicely making it travel friendly and preventing any wastage.  This one has neem leaves printed on the tube front. The product is green in color and has transparent gel like consistency which is a little runny. It has neem smell which is light and refreshing and fades after rinsing.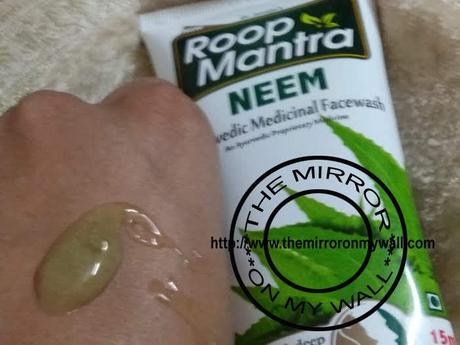 I usually take a small pea size amount and rub between my wet palms. Then apply on my wet face and massage in circular light motion for few seconds. Lastly, rinse it with plain water and the face gets clean without leaving any residue. It lathers up decently and comes off without wasting a lot of water.
The facewash cleans my face really well without drying it out. It cleans excess oil, sebum, dirt, and sweat very well. I have combination skin type then also my dry area never felt any stretchiness or parched after using this product. The face wash leave my skin feeling refreshed, energized and matte without giving any breakouts. My facial skin type is combination and sometime my t zone gets a little shiny. This all is handled by this face wash really well. Altogether this facewash does the job of cleaning face really well and I have been using this nowadays in mornings. The benefit of neem, tulsi and turmeric cleans and nourishes my skin well.
What I Liked:-
Affordable
Easily available
Smooth texture
Tightens skin pores
Removes dead skin cells and extra oil from face
Controls sebum and prevents pimples
Herbal key ingredients
Easy to apply
What I didn't Liked:-
Nothing.
Will I repurchase and recommend:-
Yes, this is really good facewash does its job well. A budget friendly facewash with goodness of neem, tulsi and turmeric.
Rating:-
4.5/5
VN:F [1.9.22_1171]Rate this Product :VN:F [1.9.22_1171]