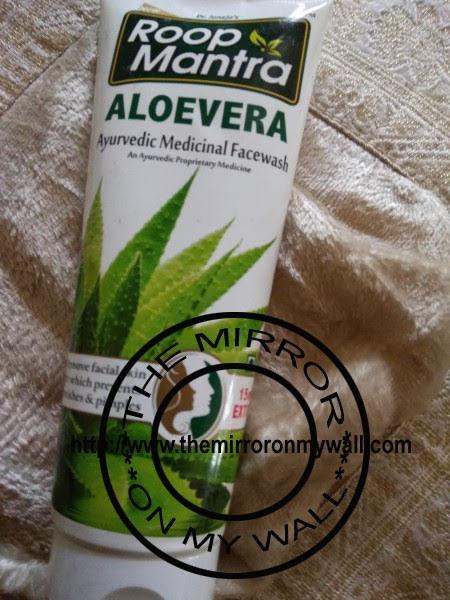 Roop Mantra Aloe Vera Face Wash
Hi Everyone,
Today I am going to review Aloe Vera wash from Roop Mantra. I am loving face washes from this brand as they clean dirt and excess oil from face really well. Having combination type skin gives me oily nose easily when temperature is a little warm. I am really enjoying the weather here now a days nights are cold but days are little hot. Read on to know more about this face wash.
Product Claim:-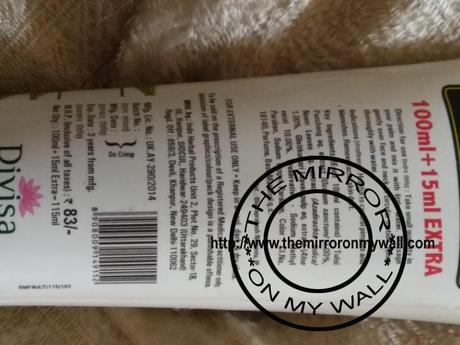 Roop Mantra Aloe Vera Face wash gently acts on the skin without affecting the skin quality. This face wash helps in removing pimples, blemishes, wrinkles, dark spots, blackheads, dead cells and makes skin healthy, soft and supple. It easily rinses off debris and dirt from the skin. It also protects skin from oxidative damage and gives a completely clean, fresh, glowing, and spotless skin with enhanced skin luster and tone. Roop Mantra Aloe Vera Face wash is beneficial for both male and female.
Benefits includes:-
Provides deep cleansing.
 Hydrates skin.
 Enhances skin glow.
 Provides smoother skin.
 Controls the appearance of pimples.
 Removes blemishes and excess oil from the skin.
 Reduces burning sensation.
 Beneficial for minor skin ailments.
 Clears facial dirt.
 Retains moisture level of the skin.
 Eliminates skin infections.
 Reduces wrinkles.
 Controls acne.
Provides natural cooling effect.
Price:-
50ml at Rs 48
115ml at Rs 83
Ingredients:-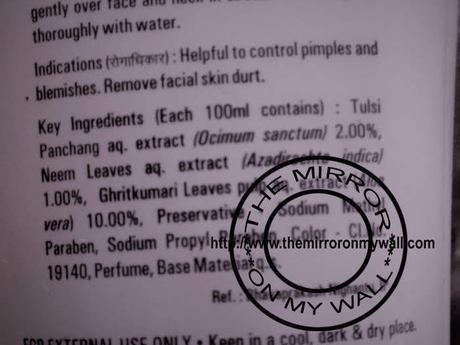 Key Ingredients
Aloe Vera
Aloe Vera earned a special place in Ayurveda due to its immense beneficial effect for both health and skin. It is considered as Nature's Silent Healer and provides complete nourishment to the skin by increasing skin glow, preventing early signs of aging, making skin smoother and softer. Apart from this, Aloe Vera also provides an effective moisturizing effect and helps in retaining the natural quality of the skin, fights against acne, removes the signs of premature aging, helps in clearing blemishes, enhances skin glow to the skin and provides better protection from suntan with an excellent soothing effect.
Tulsi
The Holy Basil is loaded with essential oil and Vitamin A and C. With an effective antibacterial, detoxifying, cleansing and purifying properties, Tulsi provides an immense beneficial effect on overall skin health, removing blemishes, acne, pimples and protect the skin against the effects of oxidative damage. It also exfoliates skin & makes it dirt and germ-free and restores skin glow and prevents skin infections.
Neem
The "wonder leaf" contains an excellent antibacterial, antifungal properties, anti-inflammatory and antiseptic properties. It fights against bacterial infection, fungus, dirt and a germ effectively. Neem also helpful in removing pimples, acne, redness, excess oil and to soothes and moisturizes skin, enhancing overall skin health.
Directions for use:-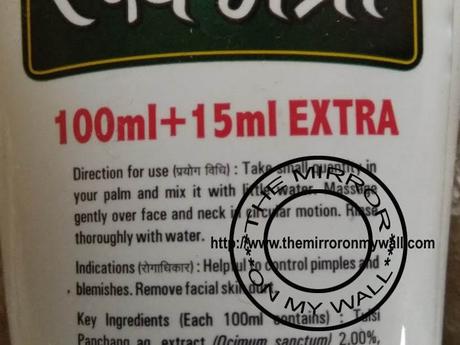 Dampen your face, hands and neck.
Pour pea-sized face wash on your palm.
Rub gently to form a lather, apply in circular motion.
Use after every exposure to pollution and sun or twice daily.
My opinion on the product:-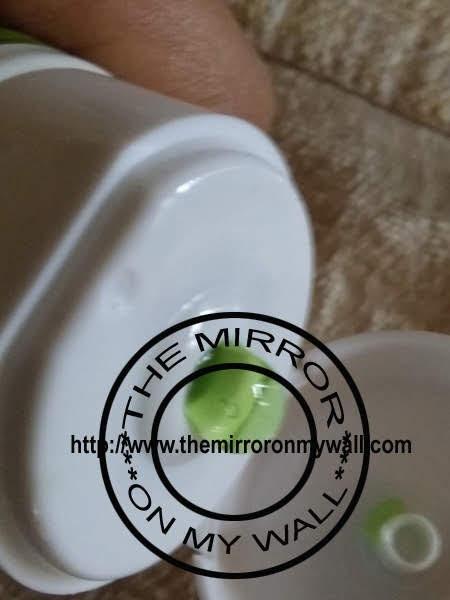 As already told that the packaging of these face washes are almost the same and come sin white opaque tube with flip open cap which shuts nicely. It makes the tube travel friendly but as it is opaque you can't make out how much product is left in the tube that easily.  It is beautiful transparent green gel like liquid which is a little runny.  I only need a small pea sized amount every time I wash my face. It lathers up decently and cleans really well.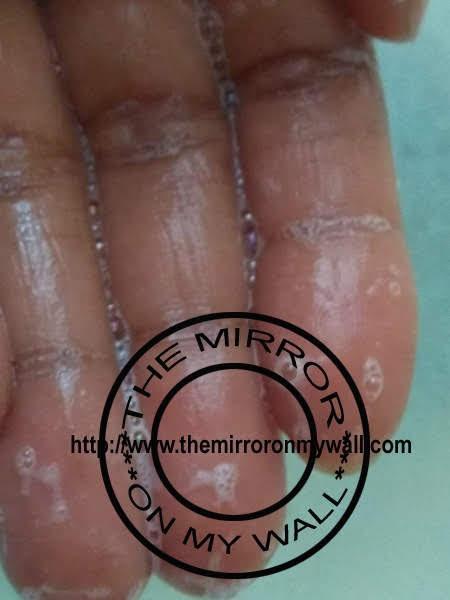 It has no very strong smell which irritates sensitive nose. The fragrance is quite mild and pleasant, which makes it perfect face wash for both men and women. It is easy to rinse and leaves no slippery felling behind. I really don't feel the need of any moisturizer when it's warm in Bangalore. But It does gives stretchy skin in cold weather so I just fix this with a little moisturizer. Now a days the weather has become more dry which makes my skin really dry.
Don't expect fair and really soft smooth beautiful skin using this cream alone. It does the work of a face wash fairly well and the main point is its price which makes it a nice budget friendly face wash which can be used by both men and women.
What I Liked:-
Affordable
Easily available
Smooth texture
Cleans well
Removes dead skin cells and extra oil from face
Controls sebum and prevents pimples
Herbal key ingredients
Easy to apply
With Aloe Vera , neem and tulsi benefits with are known for giving beautiful and radiant skin.
What I didn't Liked:-
Nothing.
Will I repurchase and recommend:-
Yes, roop mantra has got nice range of face washes and I recommend this to everyone looking for a budget face wash with herbal; ingredients.
Rating:-
4.25/5
VN:F [1.9.22_1171]Rate this Product :VN:F [1.9.22_1171]