Mitt Romney's position as the nations leading flip flopper is unchallenged, but even this is hard to swallow. Although Romney "retired" from Bain Capital and all of its iterations to lead the Salt Lake City Olympics, documents that show him as President, CEO, chief investor, basically, the guy in charge, surfaced during the primary season regarding a major investment and profit garnered from Stericycle, a medical waste disposal firm. What exactly were they disposing? Aborted fetuses.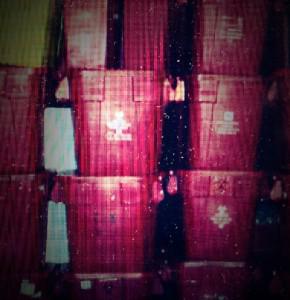 At least the fetuses were sterilized
Everyone with a brain knows that Romney was multi-tasking while he led a number of different investment groups. His personal wealth grew and shrank by them, and his leadership of these groups even up until his governorship of Massachusetts is not in question. How specific a role he played in each and every investment is another matter. Most likely his analysts were doing the research, and he and his partners approved and negotiated the deals. By all business accounts, Stericycle was a good investment, which ended up paying out tens of millions of dollars to Bain.
At this time, Romney was a reproductive rights supporter, who believed in a woman's right to choose. Therefore, he probably has no qualms with the small portion of Stericycle's business which dealt with this task. But when Romney made his infamous about-face to appeal to the more conservative right wing, he never brought this up, and in fact it was Bain that distanced themselves from Romney when journalists started reporting it. With deeply conservative South Carolina at stake, Romney feigned ignorance and said, as he always does, that someone else was managing his money.
This brings up some uncomfortable points. If Romney is always feigning ignorance of his investments, like $10 million from his blind trust that went to his son Tagg's company, then can Romney really make the case that he knows what to do to steer America's economy in the right direction? Or is he just really good at finding people to invest his father's money? We all thought that the reason he is competing in the polls is because he is a good business leader who can create jobs. But if he is just signing contracts, well, anyone can do that.
Regardless, it always seems like Romney claims credit for things that are good, but distances himself from things that are controversial. It can't be both at the same time, unless you are a hypocritical Republican, of course.