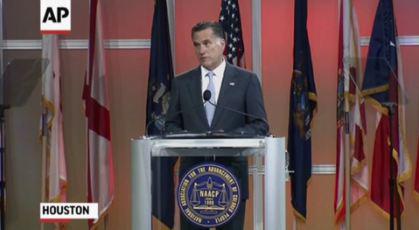 Presumptive Republican nominee Mitt Romney was booed when he told a NAACP audience that he would eliminate ObamaCare. Photo: AP.
Presumptive Republican nominee Mitt Romney was booed when he addressed the National Association for the Advancement of Colored People (NAACP) on Wednesday.
Initially, Mr. Romney received a warm welcome, especially when he referred to abolitionist Frederick Douglass and civil rights activist Martin Luther King Jr. The former Massachusetts governor also told those in the audience that, if they made the effort to get to know him better, they would not hesitate to embrace his political views.
"I believe that if you understood who I truly am in my heart, and if it were possible to fully communicate what I believe is in the real, enduring best interest of African-American families, you would vote for me for president," Mr. Romney said.
"Now, I want you to know that if I did not believe that my policies and my leadership would help families of color, and families of any color, more than the policies and leadership of President Obama, I wouldn't be running for president," the former governor added.
Mr. Romney also pointed out that statistics had shown that minority groups had done particularly badly under President Barack Obama's administration, and pledged that they would be better off under a Republican president.
"If equal opportunity in America were an accomplished fact, then a chronically bad economy would be equally bad for everyone. Instead, it's worse for African Americans in almost every way," he remarked.
This was not the first time Mr. Romney had highlighted the plight of minorities as a result of the Obama presidency. Indeed, one of the former governor's anti-Obama Internet ad last month quoted Bureau of Labor Statistics' Ricardo Lopez and Don Lee who wrote that, "Black unemployment now stands at 13.6%, up from 13% the month before; for Latinos, the unemployment rate rose to 11% from 10.3% in April."
The former Massachusetts governor then explained that it was paramount to cut the chronic federal deficit, but he was booed when he criticized the Patient Protection and Affordable Care Act.
"We have to stop spending over a trillion dollars more than we take in every year," Mr. Romney said to applause.
"And so, to do that, I'm going to eliminate every non-essential, expensive program I can find. And that includes ObamaCare. I'm going to work to reform and save…" he added, before interrupting his speech due to the loud, prolonged booing from the audience.
After a while, Mr. Romney quoted a recent survey conducted by the Chamber of Commerce in order to prove his point. The survey found that a large number of Americans are convinced that the Affordable Care Act will end up costing the economy jobs.
In spite of the booing episode, Mr. Romney told his audience that he would be happy to speak in front of the group again in the future, perhaps in an effort to highlight that President Obama would not be attending the conference this year.
"I can't promise you that I'll agree on every issue. But I do promise that your hospitality to me today will be returned. We will know one another," the former governor concluded to applause.