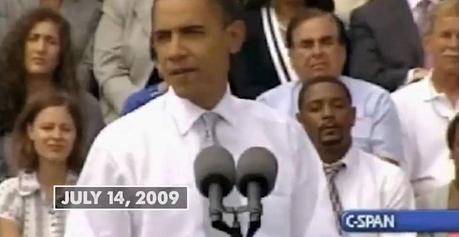 The latest Romney ad shows President Obama welcoming the economic challenge he has inherited.
The Romney campaign released its latest Internet video on Monday attacking President Barack Obama's economic record over the past three and a half years. The video contains footage dating back to July 14, 2009 which shows Mr. Obama telling his audience at Macomb Community College in Warren, Mich., that he was ready to tackle the challenges ahead and to put an end to the economic crisis that was hurting most Americans.
"Now, my administration has a job to do, as well, and that job is to get this economy back on its feet. That's my job. And it's a job I gladly accept," Mr. Obama said at the time. "I love these folks who helped get us in this mess and then suddenly say, 'Well, this is Obama's economy.' That's fine. Give it to me. My job is to solve problems, not to stand on the sidelines and harp and gripe, the president went on." The speech continues, and the ad shows Mr. Obama accepting the challenge.
"So, I welcome the job. I love the responsibility. Give it to me!" the president says.
Surprisingly, the Internet ad does not use the part of the speech in which the president acknowledges that, if he fails, he is unlikely to be re-elected.
"If I don't have this done in three years, then there's going to be a one-term proposition," he remarked at the time.
The ad then fast forwards to present days and paints a clear picture of Mr. Obama's failures.
"So, where are we now? Now, 23.2 million Americans [are] out of work, underemployed or no longer looking for work. Forty straight months over eight percent unemployment. Middle-class struggles have deepened. And median household income has dropped by more than $4,000."
The ad then shows Mr. Obama admitting a few days ago that, "Of course, the economy is not where it needs to be," before noting that the president is asking the country to give him four more years to put things right.
The presumptive Republican nominee then addresses Mr. Obama directly, and tells him that time has come for him to go.
"Well, Mr. President, you've had your moment," Mr. Romney says. "We've seen the results. And now, Mr. President, this is our time," the former Massachusetts governor adds to applause.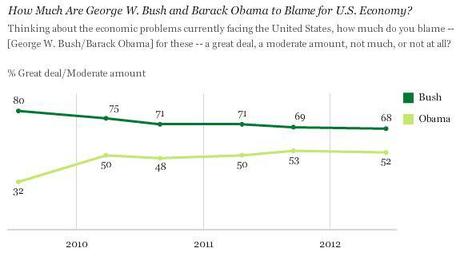 Source: Gallup.
The electorate, however, does not seem to be judging Mr. Obama as harshly. Indeed, a Gallup poll published last Thursday shows that 68 percent of the participants blame former president George W. Bush a great deal or a moderate amount for the current economic situation, whereas only 52 percent are prepared to place the same degree of blame on Mr. Obama.