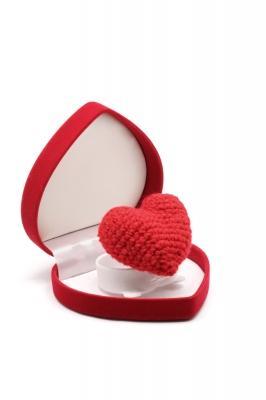 I've been with my partner for 13 years in June. I knew him for a year before we got together and I have always known he was the one.
I have never cheated or wanted too. 
I am what he lovingly calls a romantic hoarder, meaning I keep things, momentous of our times together. I have a series of love letters he wrote me when I lived 100 miles away for a few months.
I have the movie tickets to the first film we ever saw together, I have a pebble from the first time we walked along Blackpool beach.
I still have the red plastic rose he bought me because he wanted it to last forever, photos of us before we had our kids, lots of bits and pieces that have been collected along the way in my shoe box.
I have every single birthday, Xmas  Mothers day, Valentines day, any card he has ever given me for any reason. The card from my flowers after I gave birth to our eldest telling me how proud he was of me. A daft drawing he did of a house he dreamed we would live in one day. 
Stuff that most people would think stupid. 
Of all my treasured possessions I think the ones that mean the most to me are my jewelry. My man is not always very " showy". He's not one for big gestures of love or anything, he very rarely surprises me and it used to bother me but then I would sit back and look back at my treasures and think how lucky I actually am.
I have a very beautiful engagement ring he chose himself and had engraved. Its two sizes too big but i refuse to have it altered. He picked that ring. With me in his mind. So it will stay too big. I have a welsh mined Celtic cross necklace he bought me in our first holiday. I have a locket with his picture in.
Recently for my birthday he bought me a silver and diamond ring that has two lines of diamonds entwined and tucked into each other to remind me that we are strong together. It was two days late after my birthday but i still got it and wear it with pride.
Tomorrow he's buying me an eternity ring and choosing it himself as he knows I want to wear a ring on that finger. I'm very excited. There s also a necklace coming. A silver diamond heart and a purple heart beside it. Purples my favorite color. Its my birthday present from my children. 
I showed a friend tonight the picture of the necklace. She said it must have cost a bomb. I told her no it was a fiver off Amazon. She laughed and said no wonder my man's happy, he's cheap! I was furious. You see to me, the things he buys me do not need to cost the earth to mean the world. My necklaces were chosen because they meant something to me, not the price tag.
My engagement ring was £60. Not that expensive but priceless to me. My eternity ring wont cost more than £30 but ill wear it with pride because its from him.
Love isn't about money and what it can buy, its not about who can spend what on who.
A person who spends £785475 on a rolex doesn't immediately win most romantic person of the year award. Money doesn't buy you love, it buys me creme eggs for no reason other than I am obsessed with them and he knows that I like to eat one in the peace when my kids are at school, with my favorite coffee and no sound.
Just that creme egg for a few precious minuets. They sit in my fridge waiting. When I run low he randomly stocks them up, or when he goes shopping he buys my favorite cereal, or my favorite American coke. He goes out of his way to buy my favorite bubblegum just because.
 After 13 years nearly he never asks for anything in return. He only ever just wants me to love him, need him and sit with him at night with my feet up on him and talk to him about anything.
My friend is wrong. That s not cheap- its gold dust.
This inspirational post was written anonymously by a mom who is either a member of my Facebook mums group, a Twitter follower or has been submitted to me via email. I have full permission to share her story. If you can relate to this post and would like to share your own anonymous post please contact me. You could help us share the blogs love to helping others by sharing via the social sharing buttons.