Given that it's National Cruise Week this week,  I just had to write about them. Cruises suffer from a pretty poor reputation really as they are often considered to be for more mature holidaymakers and very expensive. However, a cruise can make a fantastic honeymoon, you may remember I wrote about how great cruise honeymoons are back in August last year http://www.honeymoonsblog.com/honeymoon-advice/is-a-cruise-honeymoon-for-you/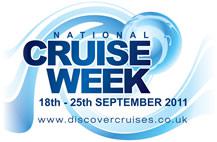 National Cruise Week is organised by Discover Cruises and is effectively a week of special offers and incentives to get more people cruising. So if you're in the market to book your honeymoon cruise this week then there may be some great offers out there. Apparently 1.7 million of us will cruise this year, although I'm sure not all of those will be honeymooners.
Large ships might seem like an unlikely place to spend a honeymoon as you would imagine that there would be little opportunity to be alone. However, cruising can be incredibly romantic. Imagine sitting on your own private balcony gazing at the ocean with a glass of champagne in your hand and you new wife or husband by your side. Basically you will get pampered and spoiled by the crew, whether its breakfast in bed or a romantic dinner for two. The other really brilliant thing about cruises is that we ladies have an excuse to get all glammed up in the evenings. How often do we get to return to old fashioned glamour like that?
Cruises also very often take in those classically romantic cities such as Venice or traditional honeymoon destinations such as the Caribbean or South Pacific. The great thing about this type of travel is that you get to experience a whole range of places, whilst experiencing 5* luxury accommodation, plus cruise ships are really geared up for creating a romantic atmosphere for honeymooners.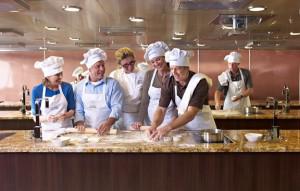 One of Oceania's ships, Marina has a 24 seat wine tasting centre and the first culinary studio at sea where honeymooners can cook up a romantic meal, under the supervision of a gourmet chef. All of the Oceania ships have double Balinese day beds in private cabanas and the ship's Canyon Ranch Spa offers treatments specifically designed for couple to experience them together. Nieuw Amsterdam, run by Holland America has a Caban Club with private tents, complete with chaise longue and luxurious sofas where honeymooners can have couples massages. Balinese beds on board the SeasDreams can be made up at night so honeymooners can not only enjoy a candlelit meal on deck but they can also sleep under the stars.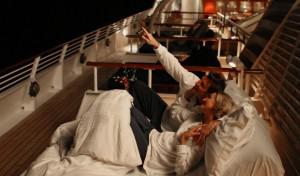 Princess Ships are an adult only sanctuary with double loungers, alfresco massage beds and 'serenity stewards' serving food and drinks. Ideal if you're looking for some tranquillity. The Seven Princess ships even have outdoor cinemas.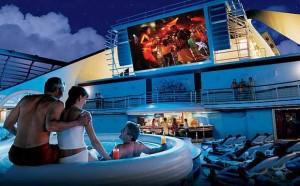 If you're looking for a honeymoon that will take you to new parts of the world, add a little variety to your trip, ensure that you receive excellent service and have luxurious surroundings then a cruise could be perfect for your honeymoon. One big thing to remember is to check on cabins when booking your cruise honeymoon. Some smaller boats in particular have cabins with bunks – not conducive to honeymooners! However, despite this a cruise can be an amazing experience and incredibly romantic – a perfect way to start your married life together. So if this has got you thinking a cruise honeymoon could be for you then why not check out details on the National Cruise Week website http://www.discovercruises.co.uk/40/40/0/0/national-cruise-week.html and see what deals are on offer this week! Let me know if you find any fantastic deals.