Hi guys! This week has been pretty nuts! I've been mopping, sweeping, wiping, shopping and chasing up landlords and agents for new ovens, parking permits and more! Thankfully the hardest parts are over and I'll be moving into my new place permanently this coming Tuesday

So exciting!
Thankfully I've had loads of guest posts to help me cover this very busy period. My normal schedule of informative and health related posts each Monday and Thursday will be back in August, but for now you can find out Why and How I haven't Thrown Up For Over 11 Years, or read my Real Life Ghost Stories, or go on a Pants Pooping Adventure or check out the very cool guest blogger I had here on Monday!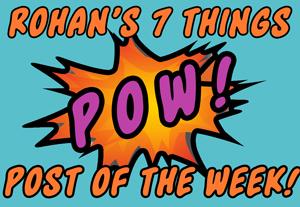 Kina writes the Human in Recovery blog which is a wonderful resource of inspiration, motivation and practical advice for those dealing with physical or emotional difficulties. This time she has touched on something I've always found very interesting.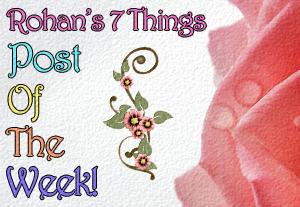 Everyone has the ability and the right to form an opinion; to subscribe to a set of beliefs. But so often individuals take out their frustrations on others who have opposing or conflicting beliefs, opinions and preferences. Can't we live and let live? Can't we all be sort of right? Check out Kina's excellent post, and this week's POW: Right to be wrong or wrong to be right?

Thanks for reading! Have a great weekend everyone 

All the best!
Rohan.