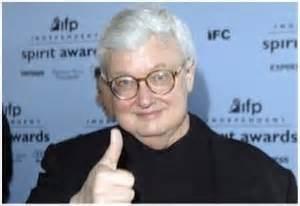 R.I.P. Mr. Ebert (1942-2012)
Roger Ebert and Gene Siskel changed the way film criticism is viewed. Before Siskel and Ebert, film criticism was viewed as an esoteric practice written by aspiring filmmakers and read by actual filmmakers. Siskel & Ebert advanced the form to being fit for public consumption. Beginning as a 1975 local Chicago show featuring two, dueling, rival critics (Siskel wrote for the Chicago Tribune, Ebert wrote for the Chicago Sun-Times), before it transitioned to PBS for national syndication in 1978. By 1986, Siskel & Ebert & The Movies was regarded as a major influence on box-office takes. In the years before the internet and twitter, their coveted "Two Thumbs Up" added major publicity and clout to small, independent films that may not have otherwise have found an audience.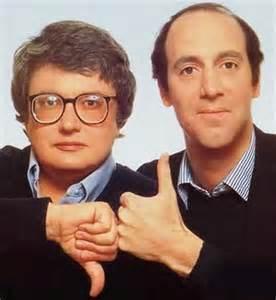 Siskel and Ebert, flashing their trademark "thumbs"
In a post-YouTube, Facebook  world, it's hard to imagine how  influential Gene Siskel and Roger Ebert were to the cinematic landscape. However, they were among the first to present film criticism as both sophisticated and accessible. They were smart and funny (some of the comments uttered when they disliked a film were laceratingly witty), but they were also  relatable. They had what was arguably the greatest job in the world–they were both paid to watch movies and discuss them!  In fact, the average individual would probably not have even thought that was a possible means of employment.  However, they treated that job seriously. They clearly loved  movies-both defending, demolishing, and debating about them, and their passions and enthusiasm, not to mention their contempt for movies that wasted their time by being dreadful, was contagious.
Roger Ebert was the first film critic to win a Pulitzer Prize and the first to receive a star on the Hollywood Walk of Fame. His writing style was sharp, articulate, and well-argued, whether I agreed with him or not. He demanded film criticism be taken seriously, and anyone who read him or watched him on television had no choice but to do just that.
In 2006, following a battle with thyroid cancer, his carotid artery ruptured, and subsequent surgeries robbed him of his ability to speak, but his voice continued to live on in his weekly film reviews still published for the Chicago Sun-Times and his blog, viewable through his website, www.rogerebert.com.
In 2011, his memoir, A Life, was published to great acclaim. I read it instantly, still finding myself capable of being swept along by his writing style. Both in his memoir and his film reviews, he wrote as though he was speaking directly to the reader in a conversational style that felt neither dumbed-down nor as though one was hearing a lecture. He was that brilliant mentor one could look to for cinematic guidance and debate. I also see his ringing endorsements for the burgers and fries at Steak and Shake every time my mother and I stop for a milkshake and hamburger when we drive across country from Wichita to my hometown of Nashville. I comment on it every time we go there.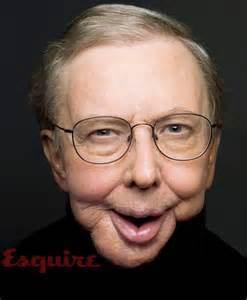 Roger Ebert, following surgeries to save his life that resulted in the loss of his ability to eat or speak
In December of last year, he suffered a fractured hip, and his review output began to decrease in numbers. On April 3, 2013, he posted a statement on his website, saying he was going to "take a leave of presence" because his fracture was found to be cancer-related. He was still planning a Kickstarter campaign to relaunch At The Movies, a new collection of "Great Movie" reviews, and various other projects. Instead, he passed away on April 4, 2013.
As strange as it may sound, I remember the very first review I heard from Gene Siskel and Roger Ebert. It was for the 1994 Jim Carrey vehicle, The Mask. They both liked the film. I had just seen the movie, and I had liked it too. In fact, I still like it. I didn't watch movie review shows at that age (why would I?), but for some reason that has left an impression upon me. I knew who they were, mainly because I remember hearing "Siskel and Ebert give it two thumbs up" on various movie trailers, but I had little awareness of them beyond that.
However, I've been sitting here, talking about his influence over film criticism and my first Siskel and Ebert review, because I'm now at a loss for words. It's not that I agreed with him every time he published a review. After all, he gave 3 and 1/2 stars to Anaconda, but only 3 stars to The Godfather, Part II?!  His lone review is the reason Speed 2: Cruise Control has a 2% critic approval rating on rottentomatoes.com, but he disliked David Lynch's Blue Velvet?! In addition, I frequently found myself at odds with his views on the slasher genre, a genre both Siskel and Ebert raked across the coals on an almost weekly basis. They even went so far as to host a special episode about the vile nature of the slasher genre, which Roger Ebert referred to as "Dead Teenager Movies." I like the slasher genre and have never found them to be a vile, corrupting influence over America's youth. We had our differences, but I admired him, respected him, and liked him. The fact that I felt passionately enough about his views to argue against him speaks to the high regard in which I hold his opinion. If I didn't respect and his views, I wouldn't have bothered debating.
Roger Ebert inspired many to love and cherish movies more than might have been the case had Gene Siskel and he not graced the small screen. He inspired many to love film, to examine it as an art form, rather than mere pop entertainment. He was passionate about it, and his passion was infectious, inspiring many to cite him as a major influence (including myself, I've always wanted to be one-half of a Siskel-Ebert duo) in developing a love of cinema. President Barack Obama paid tribute to him today, as well as the governor of Illinois, Pat Quinn and Chicago mayor Rahm Emanuel.
I never knew Ebert, of course, but I feel like I have lost someone critical to my development and outlook. I value the ability to dissect and analyze film, and I know that love came from my exposure to Ebert. I hope in a world of 144-character tweets and Facebook status updates, his articulate, intelligent film reviews will live on, and that somewhere Ebert is sitting with Siskel, arguing about the virtues of the latest cinematic releases.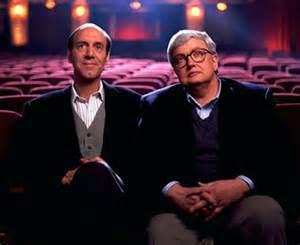 I hope this is what they are doing right now, somewhere.
I leave you with two videos. The first comes from SCTV, featuring a clever parody of Siskel & Ebert & The Movies.  Their popularity at the time was such that the could be spoofed on a sketch show and the audience would get the joke.  Note the dark version of the "Dog of the Week" segment, which was an early feature on the show when it was still called Sneak Previews.
This next video is a tribute to the best of Siskel and Ebert and Ebert and Roeper- volume 1 of many, many tribute segments put together by one fantastically helpful YouTube subscriber. There was never a duo like them and there never will be again.
Have any thoughts on, or memories of Roger Ebert? Share them below.