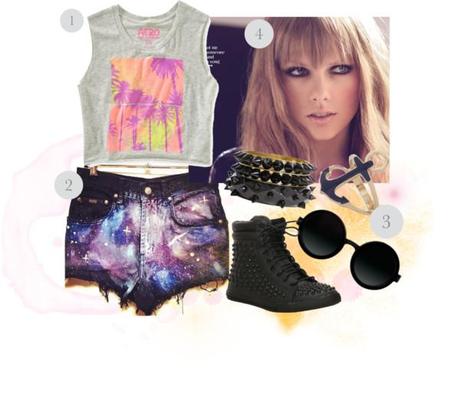 Rock Your Summer by emmerey featuring cotton tank tops
I am so blogging in this time and my mind says that I should sleep now but my eyes just wouldn't feel any sleepyness at all. Anyway, I created this look on Polyvore and as you can see I adore hip and punk style these days. It looks so cool and chic. This look is perfect for this hottest season of the year.
1. The top reminds me of summer with all the beach and coconuts around it. I love the color of the shirt plus its print and the crop. Perfect for this hot season.2. The short is so gorgeous, perfect to pair with the simple top. I love the print, galaxy. It rocked the whole look.3. Accessories and shoes. Pair your look with a stunning black lenon glass plus accessories and the hippest shoes in your rack!4. Finish your look with a seductive yet natural make up just like Taylor's.
What ya' think? :)-------
On going giveaway:Romwe Coupon International Giveaway!