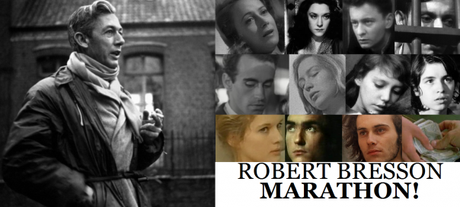 Robert Bresson was born in 1901 and died in 1999. He lived through a very large majority of the entire twentieth century, and during that period he made thirteen feature films. He is one of the most original, brilliant and creative filmmakers who has ever lived. And I don't believe he gets enough attention. In order to provoke some discussion amongst you, my readers, I've decided to do a marathon where I watch and review as many of his films as I can find. So far I've already seen 6 of his movies and I have access to 6 more which I'll be watching soon. That's twelve. The other film I can't find, but the twelve I will be reviewing are important, well-known films vital to the director's catalog. Here's a list of all his films. The ones in bold are the ones I will be reviewing:
Les anges du péché (1943)
Les dames du Bois de Boulogne (1945)
Diary of a Country Priest (1951)
A Man Escaped (1956)
Pickpocket (1959)
The Trial of Joan of Arc (1962)
Au Hasard Balthazar (1966)
Mouchette (1967)
Une femme douce (1969)
Four Nights of a Dreamer (1971)
Lancelot of the Lake (1974)
Le diable probablement (1977)
L'Argent (1983)
This marathon will be starting at some point during the next seven days, and will be progressing gradually until all the films are reviewed. If you haven't seen or heard of some of them, give the reviews a read and see if they take your fancy. I know I'm going to wholly enjoy revisiting this great man's fantastic career.