Robern Co has released a new line of high-tech digital wood vanities that is catching many curious glances. Not only do these vanities employ the latest in cutting-edge technology, they are also made using entirely sustainable materials. Everything you see is actually a simulated image. In this way, not a single tree has to be cut down to manufacture these exotic bathroom cabinets.
Bathroom fashion has turned to digital imaging to create haute designs that are sophisticated and undeniably attractive. As the search for "green" building materials hits its highest demand in years, many are turning to alternative strategies that take us into a whole new era of product design.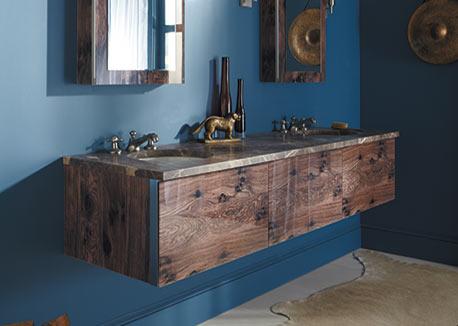 Digital Wood Vanities
Robern's Digital Wood Collection introduces a rushing sensation of natural elements into your room of solace. At first, you may not be too excited to hear about fake wood right? Rest assured, this couldn't be further from the truth. In fact, the Digital Wood Collection has received a buzz from trusted sources like Houzz, KBB Online, and Kohler's website.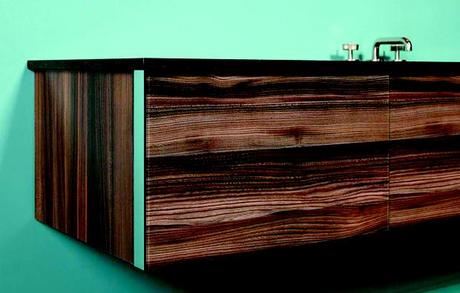 "The juxtaposition of Digital Wood's warmth paired with the sleek, modern form of the V14 introduces a new level of richness and texture to a clean and contemporary form."
-Andrew Lippman, Marketing Director at Robern Co
Digital Wood Printing Technology
Technology has continued to shape everything around us and now even something as inconceivable as wood has felt the influence of modernism. With faux leather, it almost seems time that a feasible solution has arisen. Industrial designers at Robern used 46 square feet of 6 different wood species to create high resolution scans of real wood reproduced on glass. In essence, the digital wood is printed on glass in the same way that you would print on a piece of paper.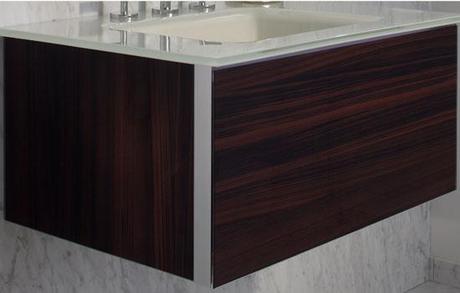 "We've done that because we're working in bathroom environments with a lot of moisture and a lot of humidity."
-Andrew Lippman
What Does it Look Like
So the real question. How realistic do digital wood vanities look? The lines and depth perception of the wood is impeccable. The clarity is almost surreal but don't take my word for it. Jeff Delving had a chance to check it out himself. You can watch this brief one minute video to see what digital wood looks like in real life.
Robern's Digital Wood Collection brings the richness of natural woods into your home. These cabinets would work well in country or rustic style bathrooms. Available in six exotic finishes, you can choose from Indians Rosewood, Rosewood Santos, European Ash, Feijo, Oak Knot, and Smooth Leaved Elm. The ash texture seems to be a trending style as it was previously seen in JWH Imports new release of the Flen Vanity with a similar ash facade. Below you can find detailed descriptors of each finish pulled directly from Robern.
"Looking at it, it's extremely realistic."
-Jeff Delvin, Hot List Baths
Digital Wood Finish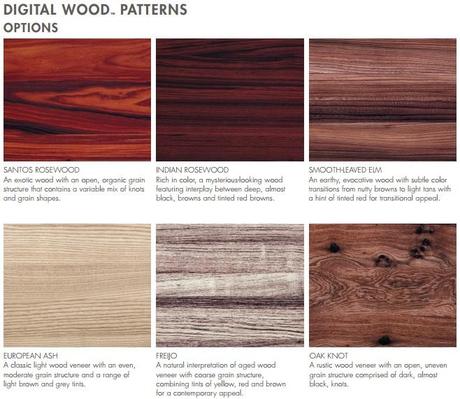 Click to view larger image. Images courtesy of Robern Co
Rosewood Santos is distinctively exotic; its flowing grain contains a mix of knots and grain shapes while it organic nature embodies a continuum of deep burnt reds, browns, and black for a modern aesthetic.
Indian Rosewood is brought to life with the interplay between dark tones highlighted with red and brown, creating a rich, sophisticated surface.
Smooth Leaved Elm evokes all that is earthy and organic; a moderate grain structure with swooping movements breathes life into its texture while nutty browns, light tan and hints of red add transitional appeal.
European Ash, a classic light wood, has an even and moderate grain structure with a uniform balance of light brown and gray tints.
Freijo captures the essence of aged wood with its coarse grain structure, while the contrast between the yellow and red against the brown tone creates a contemporary appeal.
Oak Knot exudes a rustic design; the warmth of the red and brown tones in the uneven grain against the dark knots brings raw texture to the space.
Sustainable Living
Let's underline the fact that these vanities look like real wood AND they help preserve natural eco-systems. Not to mention, glass is very easy to clean. This could actually make cleaning your bathroom to satisfaction a practicable objective on your daily to-do list. In addition, Robern's Digital Wood Collection comes with special features including push-to-open drawers and soft close glides.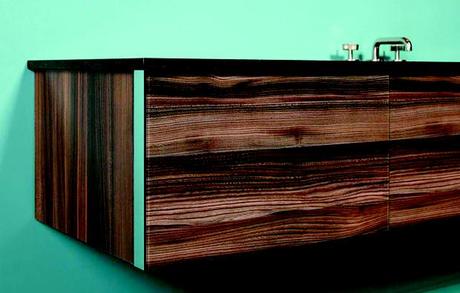 With indulgent contemporary styling and sustainable construction, the Digital Collection moves us forward into an era where traditional materials are being replaced by synthetic materials that mirror the delicacy of Mother Nature. Priced at $1,500-$3,400, these vanities are still within a reasonable price range that is comparable to other solid-wood bathroom vanities.
About the Author
Cheryl Khan is an interior designer and freelance contributor to the Tradewinds Imports Blog. She is slightly obsessed with innovative designs that blend aesthetic appeal with modern technology. Saving the world while you're at it is the icing on the cake!