It's been such a lovely chilly weather in UAE recently, a great respite from terrible heat we face most part of the year. It is although sunny outside as I write this, cold breeze waft into my home tickling down my feet and a line of clouds begin to adorn the beautiful blue sky. Last weekend was lovely as we drove up to Al Qudra lake while the weather played a perfect sport in the whole adventure. The place was bustling with people setting up their tables, circling around a bonfire and prepping their BBQ stations as we dipped our feet in the ice cold lake, albeit glorify the sea of desert on the opposite side from where we stood. It surely gets exciting when the crisp arctic winds ventilate the golden desert because we dwellers know it won't last too long.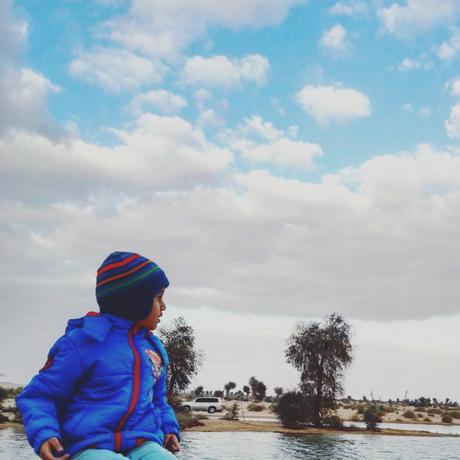 At home, we have been cosying up in our blankets and having loads of soup bowls to keep us warm and infection free. Ordinarily, the soup becomes a meal in my home when I feel lazy; lapping it all up with croutons or fresh crust bread we sneak from a Cochin bakery near our home. It is just so perfect to lift up a moody evening and fill up a void when you don't want to cook, however wouldn't settle for a takeway either.
Growing up in India, I've had too many tomato shorbas with a tadka of clarified butter and cumin seeds. As essentially a shorba is a must to have in my life, I've along the years adapted a knack to do a roasted tomato soup with no addition of carrots or bell peppers. It is just so good on its own! Sometimes, many a simpler items in the pantry is all we need for a comforting nourished meal, isn't it?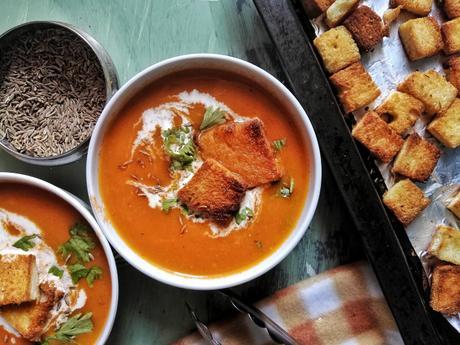 I also love dousing garlic bread as do the boys in my home into this rich and hearty tomato soup. A bowl this consoling is all I need to warm my soul and wish this season hang in for the rest of the year. Well, this girl can always dream…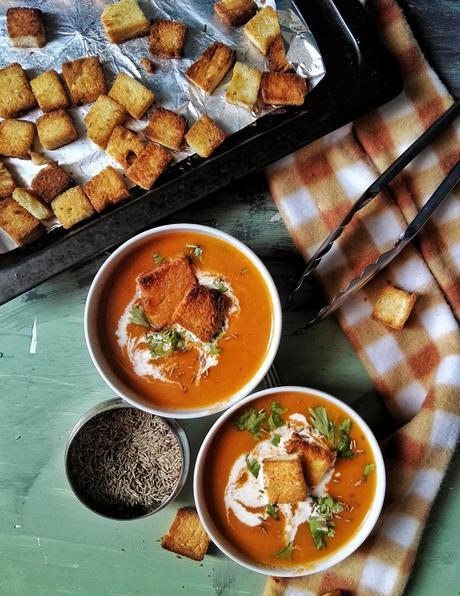 If you make this recipe, kindly share your photos and feedback with the#thoughtsoverchai on Instagram and Facebook. I'd love to see your creations!
How do you like your soup? Is there a favorite ingredient of yours during the winter season?
Roasted Tomato Soup
Ingredients:
(for 4 people)
Tomato Soup:
Tomatoes – 1 kg, quartered
Onions – 2, peeled and sliced
Garlic – 4 pods, chopped
Vegetable stock – 2 cups
Crushed pepper – 2 tbsp
Oregano – 1 tsp
Salt to taste
Olive oil – 1 tbsp
Croutons:
Bread
Oregano – 1 tbsp
Dried basil – 1 tbsp
Olive oil – 1 tbsp
Salt to taste
Method:
Tomato Soup-
Preheat the oven to 200 degrees C. In a bowl, mix together tomatoes, onions, garlic, oregano, salt and pepper with olive oil. Lay them all in a baking tray and roast for about 45 minutes, until the tomatoes have turned soft. Add it all to the blender alongwith the stock and whizz until creamy. Heat up and serve with croutons or your fav bread.
Croutons-
Preheat oven to 180 C. Cut the bread into squares discarding the ends and slice them up in small squares. Whisk olive oil, herbs and salt in a bowl and add bread squares to cover them well. Lay on a baking sheet with parchment paper and bake between 15 and 20 minutes until golden and crispy.