This 9-Ingredient Roasted Tomato Chickpea Soup is ready to eat in less than an hour. It's plant-based, vegan, and deliciously creamy and rich. This tomato soup is also filling, thanks to the protein-packed chickpeas.
It's soup season!!! While I'm a soup-all-year-round kind of girl, I cherish the cooler rainy days that are just begging for a pot of soup to be simmering away over the stove, scenting the house with herbs and spices and all sorts of warm deliciousness. I have so many easy vegan soup recipes that I absolutely love, but I can't help making new ones when soup season comes around. This Roasted Tomato Chickpea Soup is so easy and so delicious that is definitely going to be on repeat for a while this winter.
This Roasted Tomato Chickpea Soup is all the things:
Plant-based and vegan
Ready in less than one hour
Creamy & so flavorful
Easy to make ahead for meal prep
Packed with plant-based protein
Gluten-free & sugar-free
Easy to customize with your favorite herbs & beans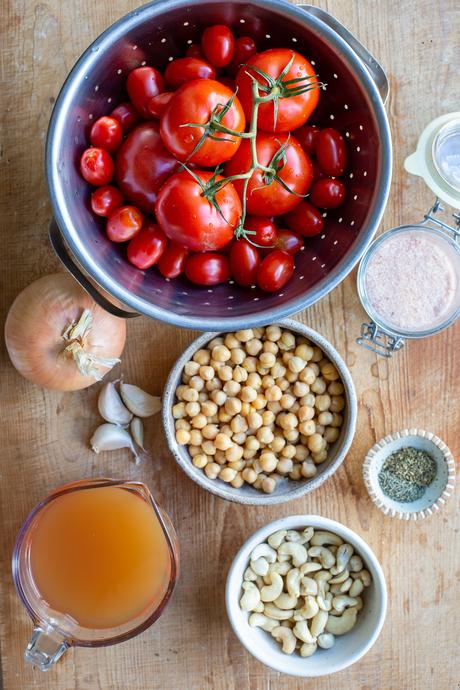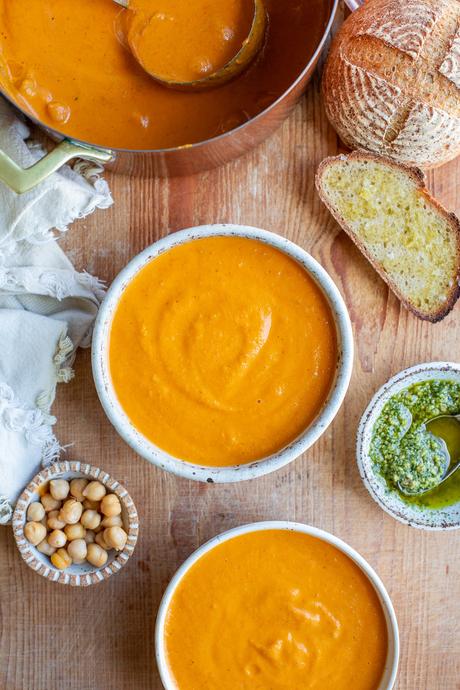 Ingredients for the best tomato chickpea soup
Olive Oil: or any other oil of your choice, I find olive oil to have the best flavor.
Onion & Garlic: I used one large yellow onion and 4 cloves of garlic - adjust this for your tastes!
Fresh Tomatoes: I used a combination of Roma and cherry tomatoes because it's what I had on hand. Ripe is best for the best flavor!
Vegetable Broth: I like using low-sodium broth so I can control the salt levels. If you're not vegan, use any type of broth you like.
Raw Cashews: these are optional, for extra creaminess. You could also use cashew butter.
Dried Thyme & Oregano: these herbs add a delicious depth of flavor to the soup. You could use fresh herbs if you prefer.
Salt & Pepper: a must! I like seasoning throughout the process to make sure the soup is well seasoned.
Chickpeas: feel free to use any other bean you like - any white bean would be great here too. Alternatively, leave out the beans entirely for a simple roasted tomato soup!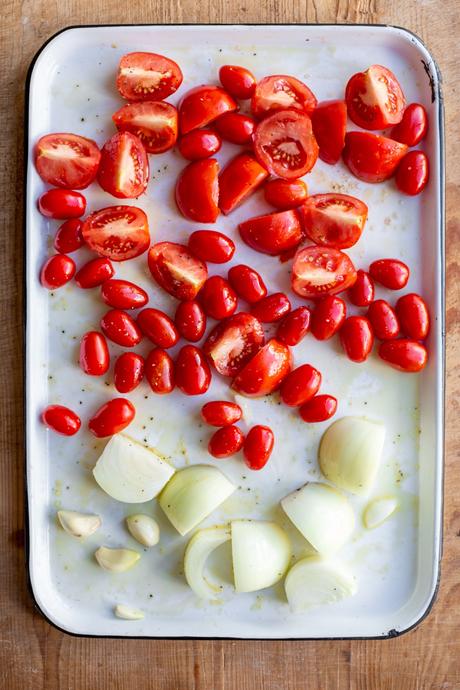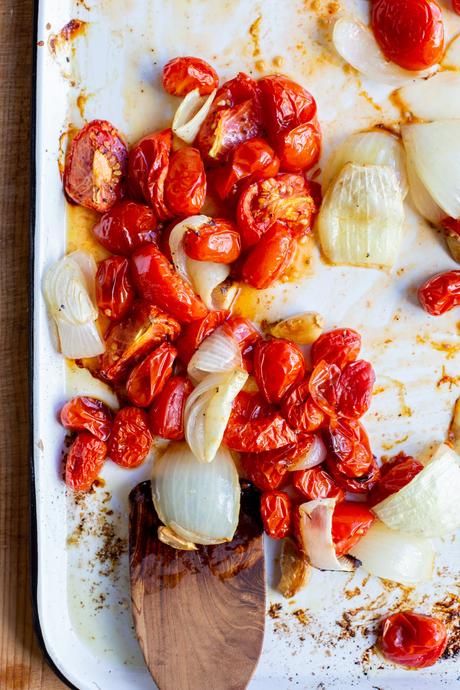 How to make roasted tomato soup
Toss the tomatoes, onions, and garlic with olive oil, salt, and pepper.
Roast until golden, removing the garlic halfway through so it doesn't burn.
Add all of the ingredients, except the chickpeas, into a soup pot and simmer for 5 minutes to soften the cashews and warm everything together.
Blend until smooth and creamy. Return to the pot and add the chickpeas.
Ladle into bowls, add a drizzle of pesto oil, and serve with bread or grilled cheese.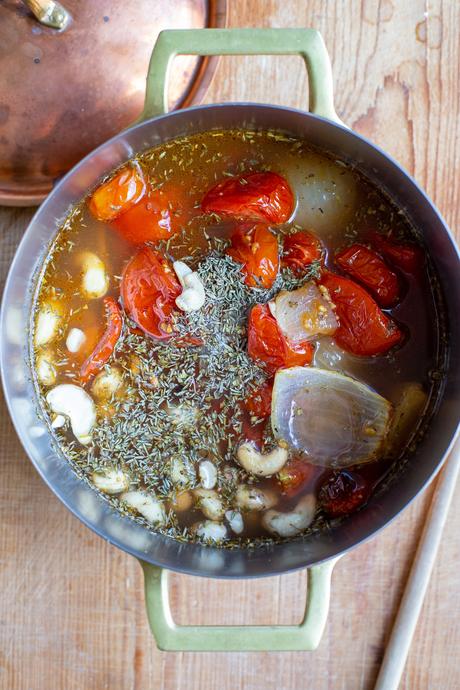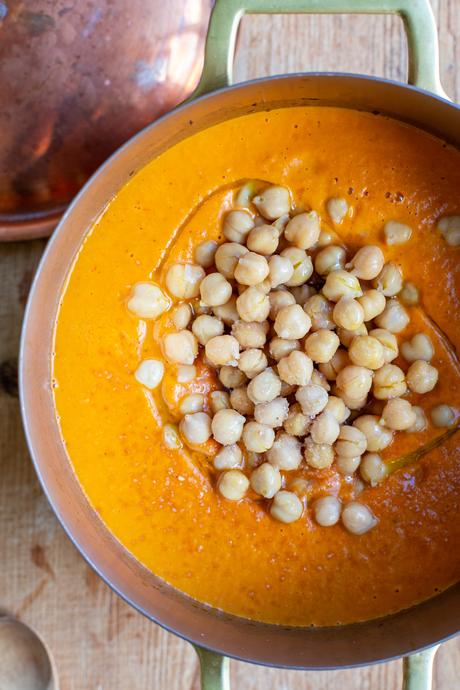 Tips for the best roasted tomato soup
Use ripe tomatoes for the best soup - but even if you want to make this during the off season, it's all good because the roasting will sweeten and concentrate the tomato flavor!
Feel free to use your favorite beans instead of chickpeas. White beans, like Navy or Cannellini beans, would be great here.
Garnish with a swirl of pesto for extra herby flavor.
Blend in basil to heighten the herby flavor if you don't have any pesto on hand.
For extra creaminess, add raw cashews. For a more pure, bright tomato flavor, skip the cashews.
Want a bigger batch of soup? This recipe makes about 4 servings of soup, so if you're serving a larger crowd (or want lots of leftovers), feel free to double or triple the recipe. It will take the same amount of time, but you'll get more soup! Just blend it in batches so you don't overload the blender.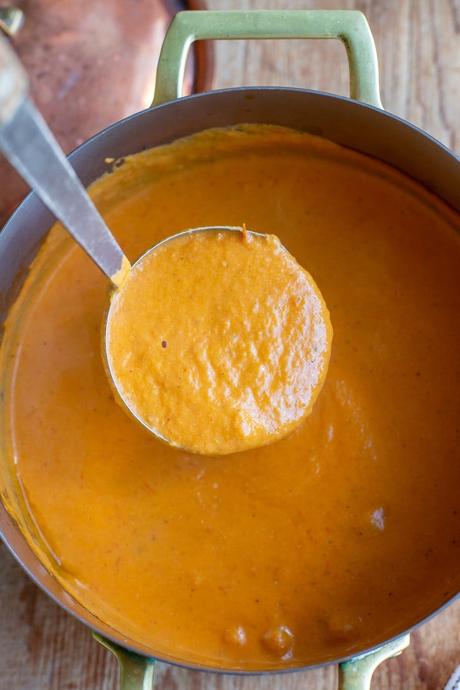 To make ahead of time...
This roasted tomato chickpea soup is easy to make ahead of time if you want to prep it ahead! It will stay good in the refrigerator for up to five days, or you can freeze it in batches (I love using these Souper Cubes to freeze soup) to defrost as needed. It will stay good in the freezer for about a year.
What to serve with tomato soup: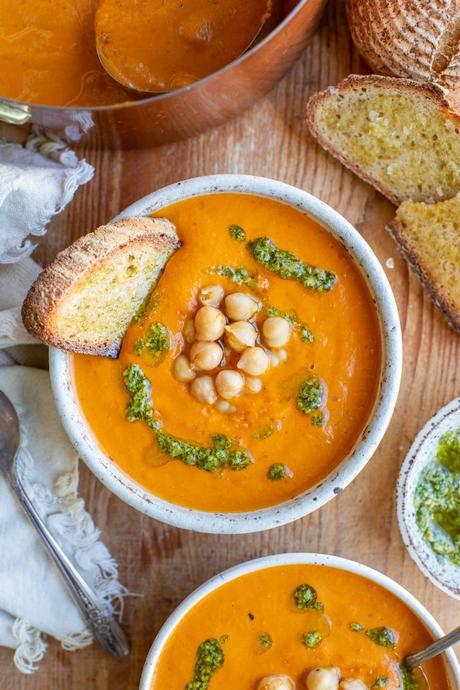 Want more vegan soup inspiration?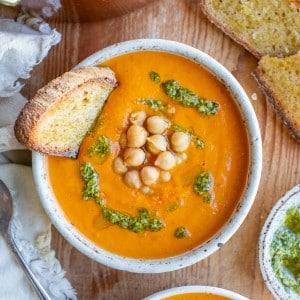 Roasted Tomato Chickpea Soup