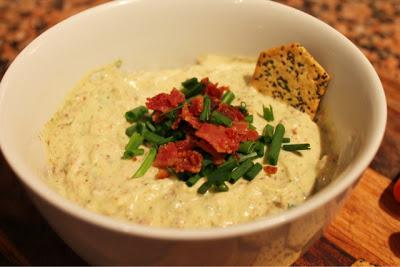 Something magical happens to garlic when you roast it in the oven. The usually pungent taste of garlic melts away and you are left with sweet sweet garlicky goodness. I saw this recipe for roasted garlic dip from the Food Network and couldn't wait to bring it to the Super Bowl party we were going to.
It could not have been any easier to put together and used minimal ingredients( all of my favorite things.) This dip packs so much punch! Roasted garlic is an amazing ingredient that you don't want to overpower it. I added a couple slices of bacon and chives to take the dip to the next level. I used low fat mayo and sour cream, but feel free to use Greek yogurt instead of sour cream if you like. The dip does need mayo I think. It gets too thick without it. I served this dip with poppy thyme crackers and carrots, but it would be equally good served with some crunchy bread. MMMmmm.

Ingredients:
2 Heads of Garlic
2 tablespoons of olive oil
1 1/2 cup low fat sour cream
3/4 cup low fat mayonasise
3 strips of cooked bacon, crumbled
2 tablespoons of chopped chives
Directions: 1.Cut the tops off 2 heads garlic, drizzle with olive oil, wrap in foil and bake at 400 degrees until tender, 45 minutes. 2.While Garlic is in oven, roast 3 slices of bacon and bake for 10-12 minutes of until crispy. Take out of oven and crumble.  3. When garlic is roasted, squeeze the cloves out into a food processor. Pulse until garlic is pureed. Mix with cups sour cream, mayonnaise, chopped chives and bacon.
4. Refrigerate for two hours ( or more) and serve with your favorite dip vehicle!