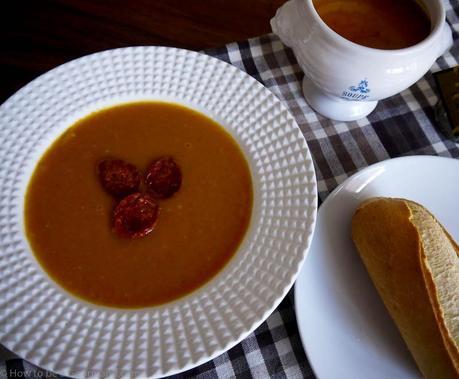 Roasted Butternut Squash and Chorizo Soup
It's certainly soup weather. As the clocks go back we say farewell to the lighter evenings and retreat indoors for longer periods avoiding the wind and rain that Autumn brings with it. We say hello to pumpkins and squashes and I stretch a bit of muscle as I wrestle with my butternut squash. I do wish there was an easier way to peel this odd looking vegetable. Do share if you have any good tips! This soup gives a warming spiced flavor of the smoked paprika and the chorizo and is perfect for this time of year. It also colours the soup with a deep tinge of red. This risotto made with butternut squash and sage usually makes an appearance during Autumn but I am keen to explore more butternut squash soups this season. Fiona has a tasty looking option using garlic, ginger, coriander and coconut milk for that extra velvety texture. Sounds good, doesn't it? I'm especially interested in the fact that you don't need to peel the squash before roasting – Hooray!
When I make the soup again I'll put it in the blender. The food processor was closer to hand so I used it this time but it hasn't given as smooth a consistency as I'd like – more grainy. This recipe has been adapted from Red.
Print Roasted Butternut Squash and Chorizo Soup
Prep Time: 15 minutes
Cook Time: 60 minutes
Total Time: 1 hour, 15 minutes
Serving Size: Serves 4
A warming soup with a hint of spice for the colder Autumnal evenings.
Ingredients
500g of butternut squash, peeled, deseeded and cut into 2.5cm chunks
3 tsp of olive oil
100g cooking chorizo, de-skinned and cut into 1½cm slices
1 medium onion, chopped
1 large carrot, peeled and chopped
2 cloves of garlic, pressed
1 tsp of cumin
1/2 tsp of smoked paprika
750ml of chicken stock
Salt and black pepper to season
Instructions
Preheat the oven to 180°C. Toss the chunks of squash in two teaspoons of olive oil until well coated and place in a roasting tin. Cook for 25 minutes until soft and just starting to brown around the edges. Put onto one side.
Heat the remaining olive oil in a large saucepan over a medium heat. Add the chorizo and sauté for 7 to 10 minutes until most of the fat is rendered. Remove the chorizo from the pan and place on kitchen paper.
Put the onion in the pan and cook over a gentle heat for 5 to 10 minutes until soft and translucent. Add the carrot and stir, and cover. Cook very gently for 10 to 15 minutes, shaking the pan from time to time, until they are very soft.
Add the garlic and sauté, uncovered, for a minute.
Add the cumin and paprika and stir for a minute until they release their fragrance. Add the squash and stir until well combined.
Pour in the stock and bring to a gentle simmer and cook, covered, for 15 minutes. Cool slightly and purée in a blender.
Return the soup to the pan and stir in the chorizo, adding salt and pepper if needed. Warm through gently and serve.
Notes
For a vegetarian option, remove chorizo and replace with vegetable stock
Schema/Recipe SEO Data Markup by ZipList Recipe Plugin2.2http://howtobeagourmand.com/roasted-butternut-squash-and-chorizo-soup/Unless otherwise stated, text and photographs © 2011 How to be Gourmand. All Rights Reserved. Kindly request permission from the author to copy or reproduce elements of this blog.
I'm entering this into Four Seasons Food Challenge owned by Louisa over at Eat Your Veg and Anneli over at Delicieux. This month the theme is Roasting.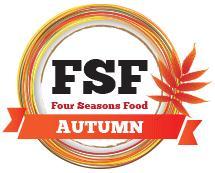 Like How to be a Gourmand on Facebook