We have started planning our travels that will take us away from this lovely city we have called home for the past year and a bit - to places yet visited in Europe, leading us right back home to Brisbane. The flight is booked for August 7, at 7:15am. A time and date that is 'set in stone,' unless we had endless streams of money at our disposal to change that date (which we do not) that is when we will be saying 'see ya later' to Edinburgh.
In light of that I now have started making a list of all the things we should see, do and try before we leave, in Edinburgh and the rest of Scotland, so we don't feel like there was much left undone here, to experience new things and to do things that will bring us joy for years to come when we reminisce about the good times we had, so here it is:-Visit a few different beer gardens in Edinburgh.-See puffins on a boat trip from the Scottish Seabird Centre in North Berwick.-   Go on a day trip to St. Andrews.-Go on a day trip to Peebles and walk in the surrounding forest that inspired J.K Rowling to write about the 'Forbidden Forest' in the Harry Potter series.-  Visit theScottish National Gallery of Modern Art.-Visit Jupiter Artland, especially for the chocolate-painted room exhibition on in May.-  Go up the Scott Monument.-  Go camping somewhere during May 20 – May 28.-Go to the Scotchbar at the Balmoral Hotel to taste a few rare drams of whisky.-Walk all or part of the West Highland Way.-Visit Dundee.-  Go see the Falkirk 'Kelpies'statues.-Hire a rowboat on Union Canal.-Have a White Russian at Lebowskisbar with my Lebowski-obsessed colleagues.-Drink at the Sky Barthat only opens on the first Thursday night of the month.-Stay at the Balmoral Hotel (daydreaming about this one).-Relax at the MacDonald Marine Hotel's day spa in North Berwick.-  Have afternoon tea at the Dome.-Play golf on an actual golf course.-Ride the tram to the airport.-Get a "better together" badge.-Get a "yes Scotland" badge.-  Go surfing off the Scottish coast.-Do the gelato tasting evening at Mary's Milk Bar.-Walk up Corstorphine Hill.-See Danny Bhoy live at the Fringe Festival (my fave Scottish comedian).-  See the fairy pools on the Isle of Skye.
I know it's a long list, and we only have four months to try and fit everything in, but dammit I'm going to try!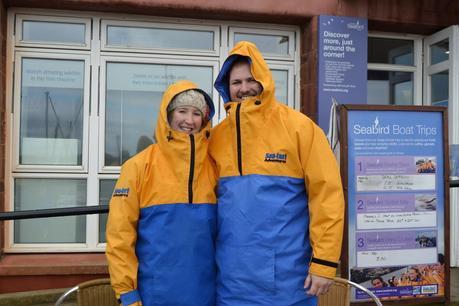 Me and J dressed up for a boat trip from the Scottish Seabird Centre in 2012 where we saw seals.
"Once you have travelled, the voyage never ends, but is played out over and over again in the quietest chambers. The mind can never break off from the Journey." - Pat Conroy
If you have any other ideas of things you'd think I should experience before I leave Edinburgh, then comment below or tweet it to me. If I can do it I'll post a photo up of my experience.