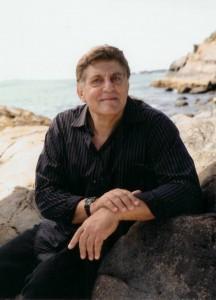 There are some people out there who have the ability to surprise you by how they turn out. I look at some of the kids I went to high school with and scratch my head at where they are now. Some kids seemed to have so much potential and lots of opportunity, but the fear of moving forward so quickly in life made them hesitate and now, 13 years later, they're still trying to make up for lost time. Other people I knew didn't have much opportunity at all. They came from a poor background or they were making poor decisions in life the last time I saw them and so I'm surprised to hear how well they're doing and how much success they've seen over the years.
Michael Palmer, author of the medical thrillers Extreme Measures, Side Effects and The First Patient, may also surprise us. In the late 70's Palmer was a doctor struggling with substance abuse issues and two failed marriages. Not only that, but he was recently caught writing prescriptions for himself to feed his addiction. Things could have gone very dark for Dr. Palmer, but instead he took a different direction.
Dr. Palmer used his experience with the medical profession and substance abuse to take his life another step further. He began writing medical thrillers as a way to find some semblance of control in his life while still getting back on track. Once sobriety kicked in, Palmer took another extraordinary step and began helping other doctors who found themselves in similar situations with prescription drugs.
Alas, Michael Palmer is no longer with us. He suffered a stroke and heart attack on Wednesday, Oct 30, 2013, in New York City on his way home from an African safari. He will be sorely missed, not only by his readers, but by the young authors he mentored, his children who just beginning their writing careers and his colleagues in the publishing house who spoke of his refreshing demeanor in the Boston Globe article that ran on November 3.
Below are three reasons it's not too late to discover this truly amazing author.

Extreme Measures
– Dr. Eric Najarian is new to White Memorial Hospital and shows enough promise to be noticed by an elite group of doctors who are looking to recruit him into their club. When Eric begins to uncover unspeakable acts such as abduction, mutilation and missing corpses it's enough to ensure that if he refused to become part of the secret society, he'll become the next victim.

Side Effects
– Kate Bennet is a hospital pathologist that uncovers a link between the death of two women and the illness of her friend. The people behind it will stop at nothing to keep Kate quite and soon she's questioning her sanity and losing the life she worked so hard to build.

The First Patient
– When the President of the United States, Andrew Stoddard, mysteriously loses his private physician he recruits his old roommate from Annapolis, Gabe Singleton.  While at his new position he learns that President is going insane and it may not be from natural causes.  Gabe must find out how this is being done and who is responsible before it's too late and his old friend loses his life.
Any of these sound like a good read to you? I hope you'll consider giving Michael Palmer a chance if you haven't already. Trust me, you won't be disappointed and now that he's gone, we'll only have so many of his books to enjoy.
What is your favorite Michael Palmer novel?