Ring stacks aren't going anywhere, people. There's basically no one who doesn't like this look. Sure sure, I hear the arguments for "simplicity" but it's difficult to find a bride who doesn't welcome the opportunity to add texture, meaning, color and sentimental value to her bridal set over time. Stacking rings make perfect gifts for major holidays, birthdays, anniversaries and life milestones. And while there will always be proponents of the BIG eternity band (actually, I know some of those ladies don't even mind stacking 'em up regardless of size!) and of bold, single rings worn on the other hand from your engagement ring, there's just something special about ring stacks.
There are ways to maximize your stack – max your stacks, if you will. Let's chat about them ummmm now?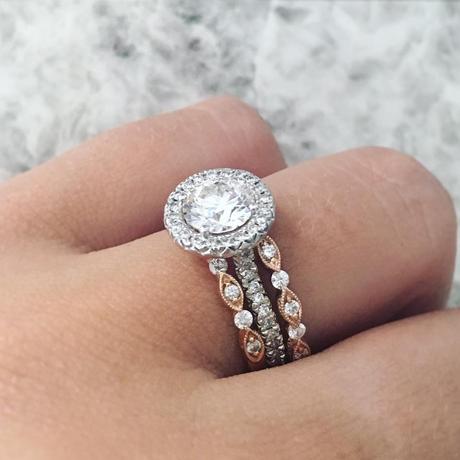 If you love a wedding band so much you just want more of it, do that. A sandwich stack is a gorgeous option, and gives you the look of one larger design.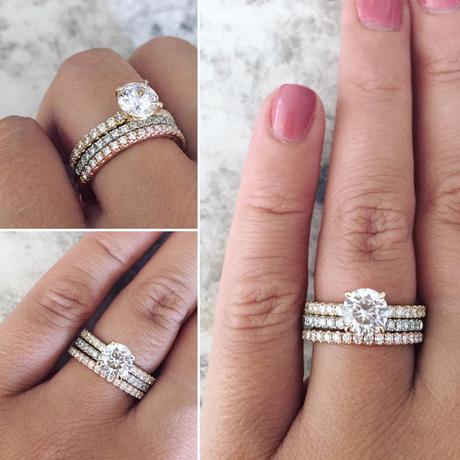 OR, if you love the exact style of the band – I get it, trust me, even if it looks like just a string of diamonds, there are different types of prongs and a millimeter can make the difference – but still want a little variety, play with the metal choice. I love this tri-color stack with a yellow gold solitaire engagement ring, a twin diamond band in white gold, and a fraternal twin in rose gold.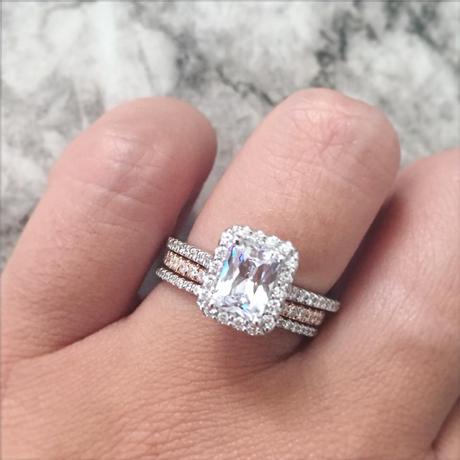 But sometimes, you add to your stack over time. This is a great example of a stack for a bride who doesn't need or want matchy matchy. The first wedding band (on the bottom) is a baby version of the shank style for the engagement ring. The diamonds are smaller, the band thinner, but the setting style is identical. Now, for the center band, let's imagine she wants a splash of rose gold – maybe for a push present or anniversary gift. Instead of obsessing to find a perfect match, she opts for one that blends perfectly, even with a different metal choice, diamond size and setting style!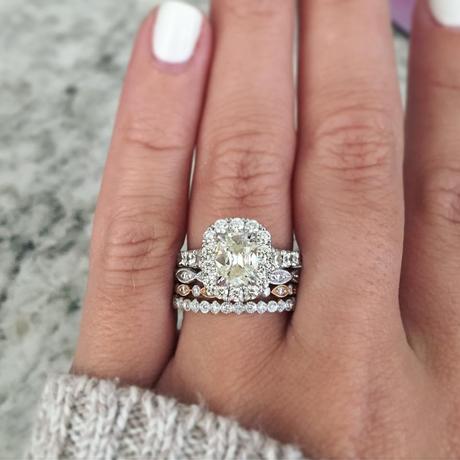 Here's another great example of an even more layered stack. Different style engagement ring (Henri Daussi) with a Trio of Gabriel & Co. wedding rings that look super different at first glance. But, if you zoom in, you can see they all share one detail – that gorgeous milgrain detail! (Kind of "bumpy" borders on the metal.) Beautiful whether worn with the engagement ring, or as a simple trio.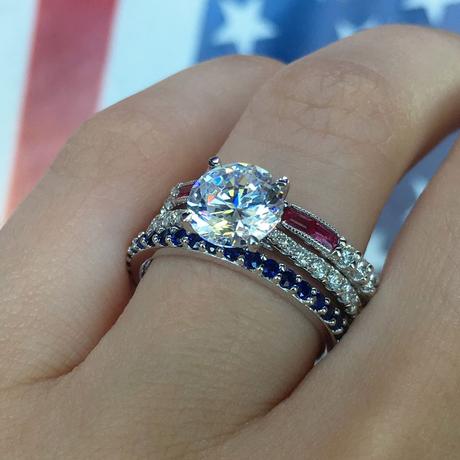 So this was just a fun stack for 4th of July, but I wanted to show off how much fun you can have playing with colors. Whether you want to be patriotic 365 or you chose to wear just one of these precious gem rings at a time with your engagement ring, it's kind of fabulous, right? And because Gabriel wedding rings in particular are so budget-friendly ($1385 for the ruby ring and $525 for the sapphire shown here) you can choose several colors to mix and match. Add an emerald stacker to this collection and I'm pretty sure you're covered for every holiday.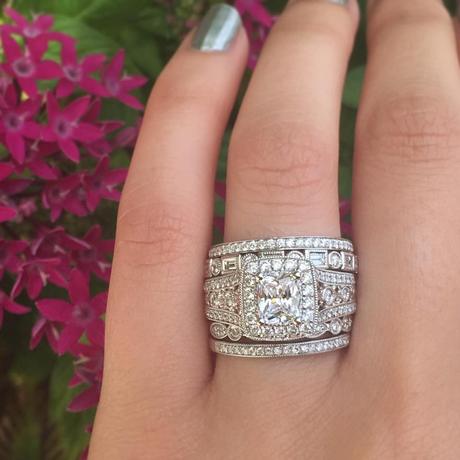 Now I want to show off a more intentional stack. So the engagement ring is a bold choice to start – lots of diamond details on wide shanks = major hand presence. And this look takes it all the way up to the knuckle. Because there is SO much ice here, I like that it's pretty symmetrical. The outer bands that make the sandwich are twin channel set bands, and the two inner rings are kind of cousins. The top one is more geometric and Deco, thanks to the baguette diamonds, while the bottom one skews a little more antique. They add a ton of interest to this look.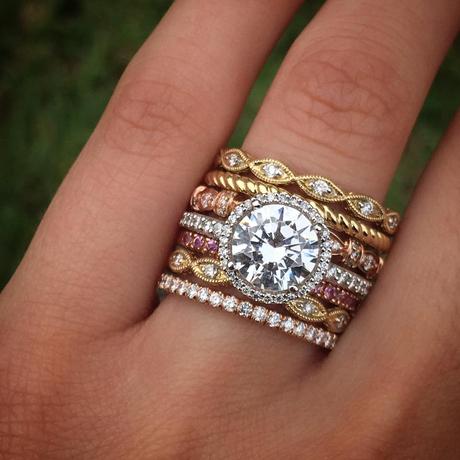 Finally, let's talk about this stack. There's a lot going on. But I LOVE it. This, to me, is a full collection, very rarely worn at the same time. There's a mix of more casual (the plain gold rope) and the show stopping (that first rose gold and diamond band) with the sentimental, the textured, and – yes – the twins. I love them all paired with each other in sets of two or three, and then, when you want to really make a statement, you pull out the full arsenal. This also looks like a gorgeous set that was slowly added to over time, which just pulls at my heartstrings. This, to me, looks like a handful of memories, commemorations, and treasured gifts. Can you tell I'm playing favorites again?