Ah, the ring stack. My most favorite recent bridal jewelry trend. I love nothing more than to see just oodles of diamonds piled upon one another. Whether you start right out of the gate with two wedding bands, or you carefully curate a collection over the years, I say the more the merrier.
I love the idea of anniversary bands, or thin stackable diamond rings given on birthdays, anniversaries, and to commemorate major milestones like children. It gives your bridal set a layered, lived-in look that has a story to tell. And if there's one thing I love more than jewelry it's talking – so combine the two for a conversation starting set of diamonds and I'm smitten.
Someone tweeted Raymond Lee Jewelers the other day about a particularly seamless ring stack. She wanted to know if it was all one ring. I let her know that it was in fact three rings, but you'd better believe we can solder those bad boys together. One of our most popular creations of all time happens to be this Verragio set, which is two different rings soldered together.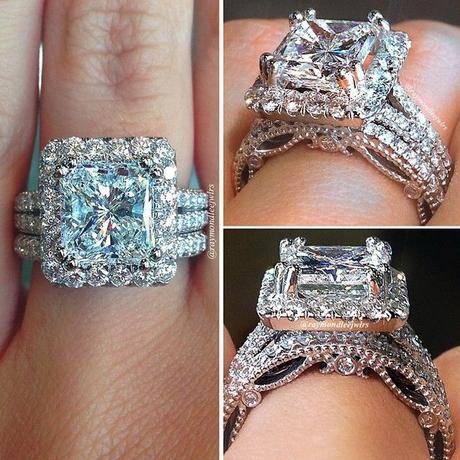 And if you want a perfectly seamless look, we're happy to do it and can usually meld any type of ring together (some settings make it physically impossible, but most we can do.) HOWEVER I usually recommend against this. I like options, and being able to layer your stack however you want, wear certain rings one day, remove your engagement ring for doing hands-on work, etc. are factors I beg you to consider before soldering.
Besides – you can get a pretty seamless look without soldering, as I'll show off today. But because every bride is unique, every stack will be too, and some ladies prefer a little breathing room between bands. Considering my stance on soldering I'll give you one guess as to which side I'm on. But enough about me – let's get to the diamonds!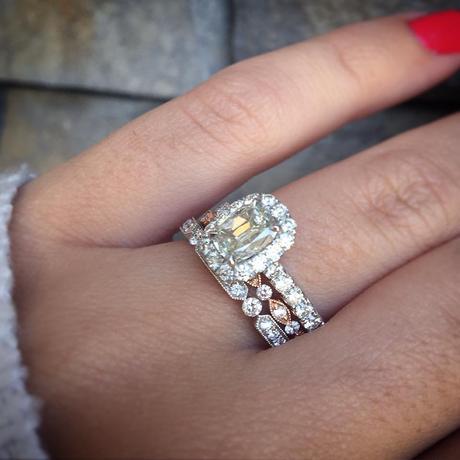 Click here to shop.
If you want to begin your married life with a stack, I can't recommend Henri Daussi engagement rings and wedding rings enough. This particular designer has a magic touch with texture, so your stack will automatically look lush and layered.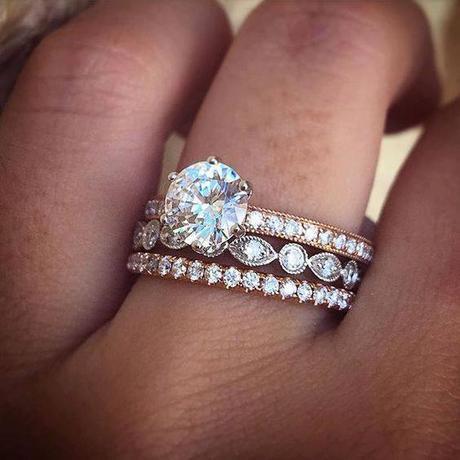 Click here to shop.
Another tip – don't be afraid to mix designers! This is one of our most popular stacks of all time and it proves my point. The engagement ring is by A. Jaffe, the middle wedding ring is from Gabriel & Co. and the bottom band is Daussi. If you do build your stack over time, you're all but guaranteed to fall in love with rings by a few different designers. This is a good thing.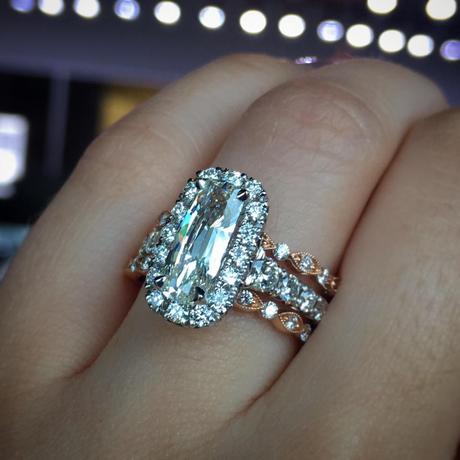 Click here to shop.
Another Daussi stack, to further prove my point – don't you just love that dramatic elongated cushion cut halo?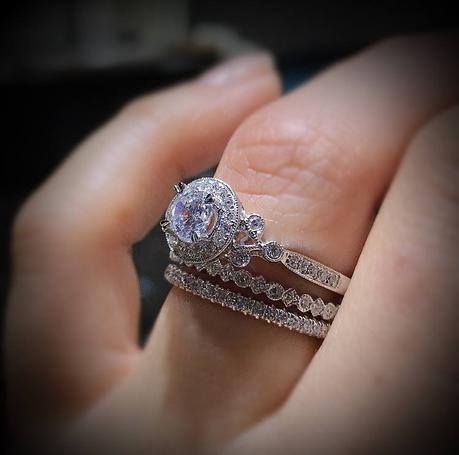 Click here to shop.
This sweet Gabriel & Co. stack is layered – look at all those different styles, eras and textures – but unified by the white gold theme running throughout.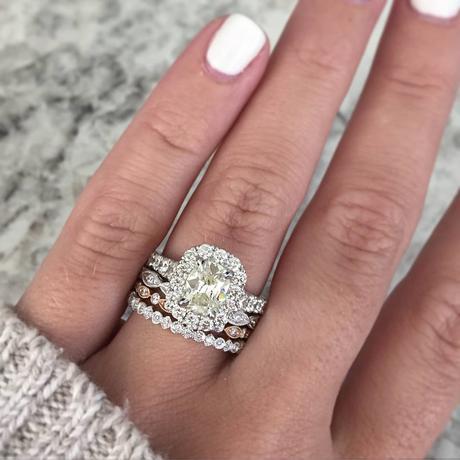 Click here to shop.
Have I mentioned Henri Daussi?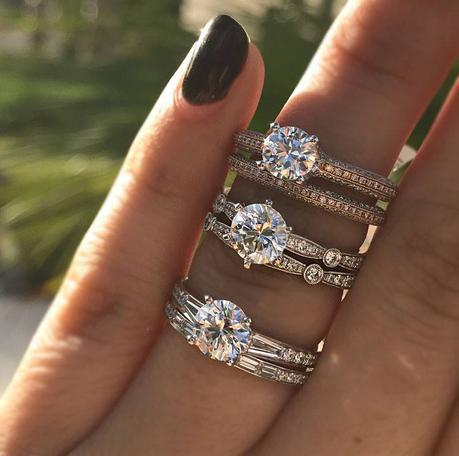 Click here to shop.
If you like symmetry and MATCHING sets, you have to check out Simon G. First of all these rings are so unique – you can spot a Simon G. design a mile away, they are just so different and beautifully crafted. But their bands perfectly coordinate with their engagement rings to create a seamless set. They aren't as predisposed to stacking as some other brands, but I wanted to highlight these rings for my non-traditional traditionalists.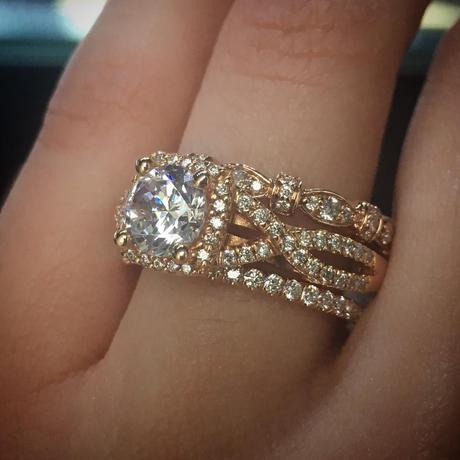 Click here to shop.
Verragio, of course. But you knew that when you saw the twisted shank, right?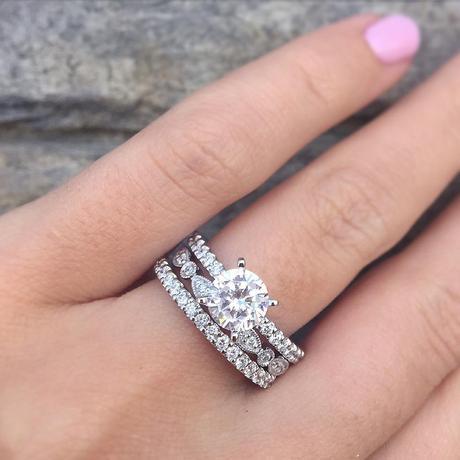 Click here to shop.
Here's another one of our e-commerce director's most requested stacks of all time! This is a trio of Gabriel & Co. rings that pairs a perfectly matched and very traditional classic bridal set (top and bottom) with some antique flair for texture in the middle with that same Gabriel band from above.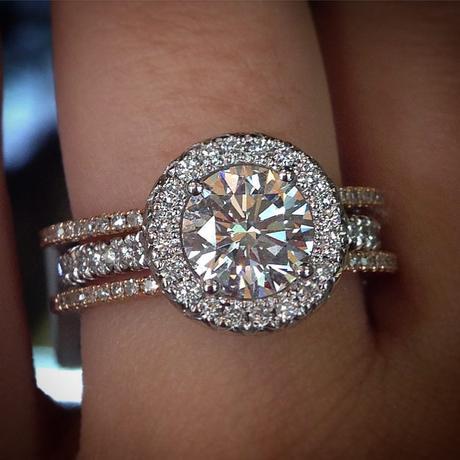 Click here to shop.
Perfect halo, sandwiched between two impossibly thin rose gold wedding bands.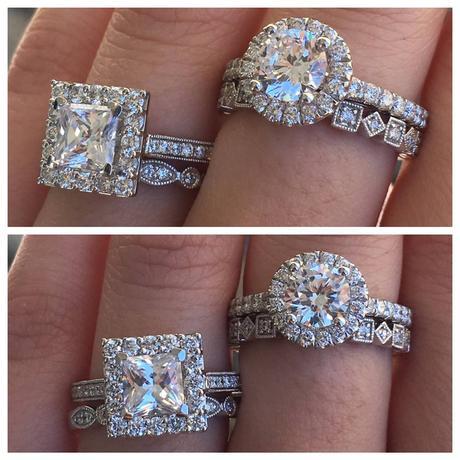 Click here to shop.
Finally, I had to show off these Gabriel rings – again, this is just a simple two-step for my gals who prefer just one band (for now.) But when you play with different shapes and TEXTURE (the key!) you can create a gorgeous, unique look that tells your story.