Feel naked without mascara? Don't be scared to go bare! Rimmel's revolutionary new mascara reveals more lashes… even when you're NOT wearing it! New Volume Colourist Mascara is Rimmel's first-ever mascara that instantly volumises the lash with jet black impact and gradually over time, makes bare lashes darker. Open your eyes to darker, sexier, more noticeable lashes!
Impromptu weekend plans… unscheduled sleepovers… we all have times when we wish we were mascara-ready. Bare lashes can lack eye-framing definition, as they tend to be fairer at the tips, appearing shorter, less visible and lacklustre.  Thankfully, Volume Colourist Mascara spells the end of dull, invisible, make-up-free lashes. Its semi-permanent lash-tint complex progressively blackens bare lashes every time you wear it so that, from 2 weeks onwards of regular usage, your naked lashes look darker from root to tip.  Your beautiful bare lashes are more visible, appear longer and have more impact because they're blacker to their very ends.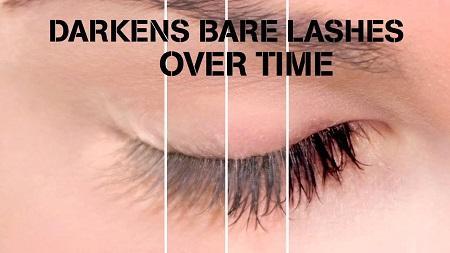 Rimmel London Volume Colourist Mascara and Colour Precise Liners
New Rimmel Wonder'full Volume Colourist Mascara with Lash-Tint Complex
Breakthrough Formula Eye-enhancing lashes – with and without mascara – come courtesy of Rimmel's innovative multi-tasking formula.  A unique combination of creamy, ultra-black lash volumsing formula and Last-Tint Complex with natural colorant, gives 24/7 impact. The more you use, the more natural tinting colorants are delivered to the surface of your lashes, gradually making your bare lashes appear darker and your eyes pop!

Rimmel London Volume Colourist Mascara and Colour Precise Liners
Ready to take control of this season's graphic liner trend? Rimmel introduces new Color Precise Eyeliner, its first colored liquid liner, for clean lines of bold color that last all day. Line and define with brilliant precision and exceptional staying power. It's a perfect stroke of genius!
Whether you favor fine flicks or fierce strokes, Color Precise Eyeliner is the ultimate eye-enhancing tool. The soft, tapered, felt-tip applicator delivers a dose of highly pigmented intense color with absolute accuracy. The calligraphy-style format lets you create super-fine lines to bold strokes with amazing ease. Perfectly rimmed peepers, cats' eyes, wings and curves are in your power. The quick-drying, formula ensures a flawless, flake-proof finish that wears for up to 24 hours. It's heat-proof, sweat-proof and party-proof.

Rimmel London Volume Colourist Mascara and Colour Precise Liners
Work an intense eye-look with Color Precise Eyeliner's three rich and vibrant shades: dramatic Black (#001), cobalt Blue (#002) and striking White (#003), the new must-have hue. Spotted all-over the catwalks, monochrome liner is a huge trend, both for daytime chic and edgy evening glamour. An easy way to embrace the look is to rim the lashline in White to open up eyes. Or simply add White liner to the inner corners to attract the light. Team with a colored lid to make your eyes pop
Rimmel London Volume Colourist Mascara and Colour Precise Liners
Rimmel London Color Precise Eyeliner available from May 2016 at Priceline, Priceline Pharmacy, Chemist Warehouse, Target, Kmart,  BIG W, selected pharmacies and selected Coles and Woolworths.