Insta Strobing:
Want to look picture-perfect? Outshine the rest with new Insta Strobing from Rimmel London. Designed to add dimension to your face, this strobing highlighter reflects daylight or a flash for a highly defined complexion. Now you can be selfie-ready always. Creating a model-worthy strobing effect is effortless. Lightweight and buildable, Insta Strobing accentuates facial features for a luminous look – no filters needed.
Add dimension to your face with Insta Strobing for a highlighted and luminous look. Apply alone on areas of your face that naturally catch the light to create a flawless glow or add a few drops to your foundation for an all over radiance.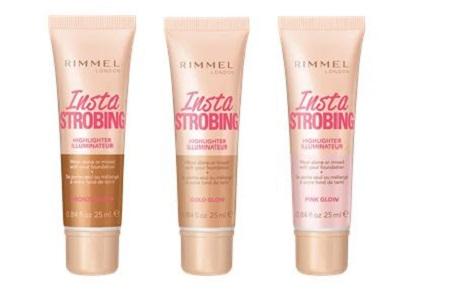 Rimmel London Insta Strobing and Kate Sculpting Kit
Kate Sculpting Kit:
Known for her infamous cheekbones and her unique sense of style, Kate Moss has collaborated with Rimmel to create her very own set of trio palettes.
Contouring now complete with a touch of blush! Introducing Rimmel's first sculpting and highlighting kit by Kate Moss. Long-lasting color seamlessly blends with natural skin tone for a radiant healthy glow!1. Soft Shimmer Powder to Highlight (Cheek bone, brow bone, center of the chin, top of the nose)2. Matte Shading Powder to Contour (Nose, jaw line, forehead)3. Powder Blush for Definition and Color
Whether you're an English rose or an exotic beauty, Rimmel and Kate have carefully created three shade palettes to suit every skin tone.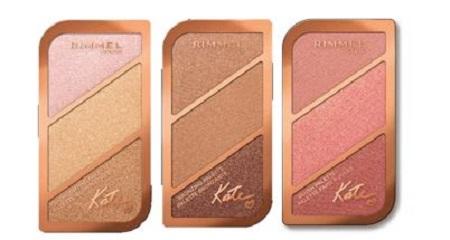 Rimmel London Insta Strobing and Kate Sculpting Kit
Rimmel's first Sculpting & Highlighting Kit designed by Kate Moss.
Soft shimmer powder to highlight the cheek bone, brow bone, center of the chin and bridge of the nose.
Shading powder to contour the sides of the nose, jaw line and forehead.
Powder blush for color and definition.
Rimmel London Insta Strobing and Kate Sculpting Kit
Product Form: Loose Powder.  For Use On: Face.   Beauty Purpose: Defining.   Skin Tone: light.  Color Palette: Medium Tone.   Color Family: Multiple Colors.   Cosmetic Coverage: medium