Lets face it, the cosmetics industry is based on a myth, the myth that makeup can perform magical feats Hermionie Granger would be jealous of. The latest product to boast magical powers is Rimmel's Lash Accelerator mascara that contains 'grow lash complex' that can actually make my lashes grow and appear 117% longer after 30 days of use.
Rimmel Lash Accelerator – 30 day challenge
Rimmel Lash Accelerator Mascara
Day 1
As the photographs show Rimmel Lash Accelerator had absolutely no effect on the permanent length of my lashes! However, don't let this put you off because it is a good product, it just doesn't do miracles.
I purchased this mascara for £8.99 and it has lasted for well over a month and is still going strong. The wand is small enough that you can get to even those small lashes in the corners of the eyes. When it is first used the consistency is a little wet and takes a while to dry but after a few uses does become thicker and less messy.Once applied the mascara provides a really good lengthening effect and allows you to build volume without creating clumps. It is versatile mascara and can be used to create a dramatic evening look and equally can be used on a daily basis.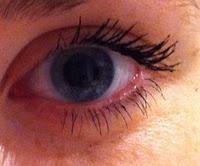 Rimmel Lash Accelerator
Day 30
Ultimately the problem with this product is the unachievable claims Rimmel make about its performance. Realistically, I know that a mascara will not make my lashes grow 117%. If anything this product is giving me a 'grow lash complex' by making me think that my average sized lashes just aren't good enough, when they are the only ones I've got and will ever have!  If you purchase this produce ignore the hyperbole, forget about permanent growth and appreciate it as the good (non-magical) mascara it is!
Rimmel Lash Accelerator Mascara Review Product:
Mascara that claims to stimulate lash growth, it doesn't. However it does lengthen well and give lashes volume.
Longevity:
Numerous applications, used everyday for two months.
Affordable:
Purchased for £8.99
Easy to use:
Consistency is quite wet and takes a while to dry once applied however this improves after a few uses. Brush is small and allows you to get to corner lashes.
Availability:
Available widely on the high street and online at Boots and Superdrug.
 The Verdict  7/10 – Good mascara but does not deliver advertised results.