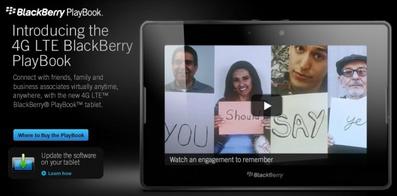 As previous rumors, Research In Motion (RIM) has finally officially released its latest tablet device.Have the ability to 4G LTE connectivity, it uses the newest BlackBerry Playbook 1GB RAM and 1.5GHz dual-core processors. While that is enabled with Wi-Fi only has a 1GHz dual-core processors.
PlayBook 4G 
LTE Tablet is available with 32 GB of storage for 4G LTE version of Wi-Fi +, 7-inch 1024x600 screen, 5MP camera with video recording back 1080p Full HD, 
3MP 
front camera, GPS, microUSB and micro HDMI.
RIM's latest tablet will go on sale the first time in Canada on 9 August. David J Smith, Executive Vice President, Mobile Computing RIM said, 'We are pleased to present the first PlayBook tablet that supports LTE 4G network. Tablet LTE 4G BlackBerry Playbook offers a variety of premium features, including a stunning 7-inch screen, front and rear cameras that support HD video, HDMI and stereo speakers, and also offers premium performance at a high speed mobile network, helping customers to be more productive than ever. '
origin source  RIM