Rijsttafel, the saving grace for Amsterdam restaurants.
One of the biggest culinary crazes in Amsterdam is a little (big) Indonesian outfit called Rijsttafel.  Rijsttafel, meaning "rice table", is a voracious feast of mini set dishes, all beautifully presented and lovingly prepared in Amsterdam restaurants.
Probably the only culinary craze – other than space cakes – Amsterdam doesn't really offer anything spectacular when it comes to local cuisine.  It's a sad truth but the city's kitchens are yet to prove me wrong. 
The rich Indonesian history saves the day with the exotic number known as Rijsttafel, a 10 to 25 dish compilation accompanied with rice.  The real beauty of it is that no two Rijsttafel spreads are the same; it's down to the chef's interpretation of what a good Rijsttafel should consist of. 
How Do You Eat Your Rijsttafel?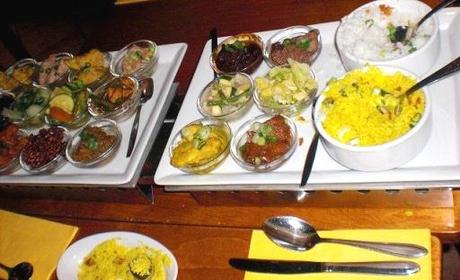 Rijsttafel at Tujuh Maret, Amsterdam
From 1602 and 1945, Indonesia was a Dutch colony, and it was during this time that the Indonesians pooled together their most extraordinary culinary creations into one buffet style menu, the rice table.  To impress visitors, perhaps?  To create a common dish with the Dutch? Whatever the reason for Rijsttafel, it's become the gastronomic sweetheart of Amsterdam restaurants today. 
With everything from Babi Kecap (braised pork belly) and Opor Ayam (chicken coconut curry) to Satay skewers and Bebek Betutu (duck roasted in banana leaves), there are just so many different dishes in a typical rice table to tantalise those taste buds.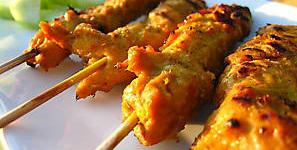 The theory behind Rijsttafel is that each diner will experience so many different flavours.  Is it award winning?  No.  Is it haute cuisine?  Nowhere near.  But it's a taste of Indonesia and it can be achieved all in one sitting.  What really stands out is the concept; the idea of trying a little bit of everything, with anywhere between 10 to 25 dishes selected at the chef's discretion.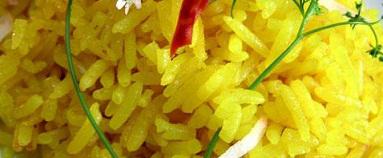 The question is, how do you eat yours?  Do you tackle dish by dish, blending with the rice?  Do you pick your dishes at random, or do you work your way round in a clockwise direction?  Or perhaps, you just dip in and out of the Rijsttafel spread savouring your favourites…..
The Best Amsterdam Restaurants for Rijsttafel
Good Rijsttafel isn't hard to find and there are many notable Amsterdam restaurants worth a visit.  Prices will vary from 15 Euros to 40 Euros per head; just remember that pricier doesn't always mean better quality.  You will find delicious Rijsttafel at all price ranges and you could find yourself sampling a modest count of 12 vegetarian dishes, or wading through a 25 plate rice table of meats and seafood.  
Here are a few of my favourites: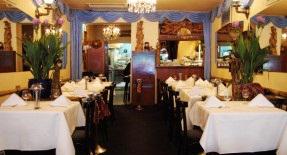 Tempo Doeloe
Address: Utrechtsestraat 75, 1017 VJ Amsterdam
If anything, come here for the atmosphere.  Tempo Doeloe is usually buzzing with tourists so you may need to book. Many travellers believe it to be over-hyped but a rice table always tastes better in a lively restaurant.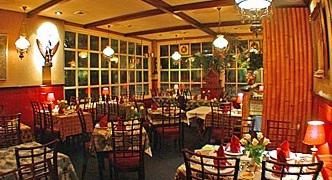 Sama Sebo
Address: P.C. Hooftstraat 27, 1071 BL Amsterdam
This is recognised for being one of the oldest and best Rijsttafel restaurants in Amsterdam. 
You can enjoy a very generous rice table for around 29 Euros per person, so it's not cheap but you won't be going home hungry either.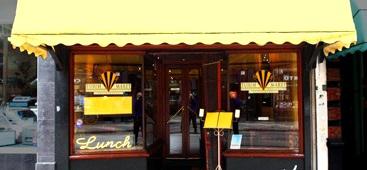 Tujuh Maret
Address: Utrechtsestraat 73 1017 VJ Amsterdam
For 27,50 Euros (or 22,50 for the veggie option), you can enjoy a Rijsttafel rice table in a family run restaurant.  There's a relaxed, laissez faire kind of feel to this place which some may misinterpret as "not bothered".  But I think it's just the tone of a restaurant run by mother and son. 
Just remember, you won't find gastronomic genius in Rijsttafel.  It's just a damn good idea and a flavoursome experience for food lovers.  Enjoy x