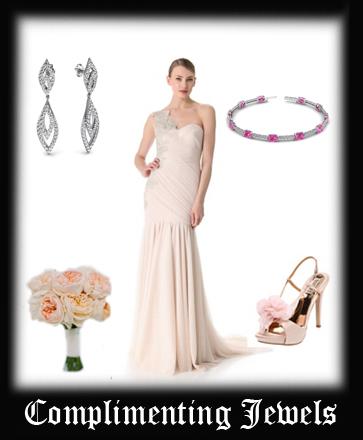 Every girl has this one special day in her life where she is the center of attraction and has all eye balls rolling; yes it's her wedding day. It's the day where she faces myriad of emotions, on this day you wouldn't want anything to go wrong, this is where selecting a particular jewelry that suits your wedding dress plays a pivotal role. It is 'the' day you've always waited for.  All of you have a certain pattern  in mind regarding the dress you will wear as you walk down the aisle but have you ever taught of what jewelry will compliment it the most? It is very essential to decide and plan what kind of wedding gown are you going  to wear and what type of jewelry will compliment it the best.
If you are planning to wear a Mermaid or Trumpet wedding dress you can club it with V-shaped connected princess cut diamond pendant in prong setting. For earrings you can pick the Marquise cut diamond prong set stud solitaire earrings. This will not only enhance your look but will also complete your attire.
Whereas, if you choose to wear an A-line or Princess wedding dress than you must look forward to wear round cut diamonds earrings which are crafted in an overlapping ascending eye design in pave setting. You can club this pair of earrings with elegant contemporary round pave diamond bracelet.
The Empire Wedding Dress is also one of the most popular choices of wedding dresses you can choose from. You can wear a stunning tendril design round pave diamond cuff bracelet which will give you an edge and compliment the dress. ? Moving further, the Sheath or Column Wedding Dress is a not a popular choice as it tends to elongate the shape but if at all you are confident and are planning to wear this as your wedding gown than it would be advisable to wear the marvelous round diamond three stone fancy stone along with a platinum chain and to complete the look you can wear elegant contemporary round pave diamond bracelet.
Last but not the least the Ball Gown Wedding Dress also known as the Cinderella Wedding dress being the most popular dress looks stunning and is apt for the occasion. So, if this design is your pick than you should definitely wear dazzling swirl set open channel set ring in your right hand accompanied with contemporary weave huggy round diamond earrings.
So all you wonderful women out there when you are planning to walk the aisle in future always remember that jewelry too plays a crucial role in enhancing your overall appearance and what could be better than sparkling diamond jewelry.