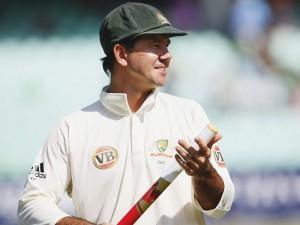 Ricky Ponting announced retirement from Test cricket
Former Australia skipper Ricky Ponting on Thursday announced retirement from Test cricket. The third and final Test against South Africa will be his last international game. However, he will continue to play for Tasmania in the domestic season this summer.
Ricky Ponting, who turns 38 next month, could manage to score just 20 runs in the three innings of drawn first two Tests against South Africa in Brisbane and Adelaide.
"It's a decision I thought long and hard about, put in long consideration about the decision, at the end of the day it was about my results and my output in this series so far," Ricky Ponting said while speaking to a press conference in Perth.
"It hasn't been to the level required for batsmen and players in the Australian team. My level of performance hasn't been good enough."
Pressure had been mounting over selectors to decide Ponting's fate following his sting of below-par performances but former skipper insisted that the decision is purely his own.
"This is not a decision that's been made by the selectors, this a decision that has been made by me," Ponting said. "I'm glad I've got the opportunity to go out on my terms."
The Perth Test, during which he will equal Steve Waugh's mark of 168 Tests, will end up an outstanding 17-year-career that began against Sri Lanka in 1995.
He is the highest Australian run-scorer of all time and described as the greatest Australian batsman after Sir Donald Bradman. He has scored 13,336 in Tests, only India's legend Sachin Tendulkar has scored more in the history of cricket.
After being made Australian captain in 2004, he elevated Australia to the top spot both in Tests and one-day rankings. His plummet commenced after the ICC World Cup in India during which Australia failed to qualify for the knock out stage and he resigned from the captaincy, handing over the leadership to Michael Clarke.
"My passion and love for the game hasn't changed right through the last 12 or 18 months when things haven't been as I would have liked them," said Ricky Ponting, who had announced retirement from one-day and Test cricket earlier this year after being dumped from the squad for India series.