Recipe Number One Hundred & Thirty Eight:  Page 210.
Another Christmas has been and gone and I doubt I'm the only one now regretting over indulging on mince pies and chocolates. The buttons on my trousers are feeling more than a little strained and I am sure I've gained an extra chin!! I decided to limit my weekly Facebook Poll to lighter and hopefully healthier options to give my round body a rest! These cheesy biscuits crossed the finishing line in first place; obviously others are also longing for something savoury. I realize that cheese isn't a particularly healthy option. However, I think you will agree that it has to be better than chocolate truffles and half a box of Cadbury's Roses.
I've enjoyed a few days off over the festive season but it was nice to get back into the swing of things and get baking again. As we were staying with my parents when I made these little biscuits, it took me some time to find all that I should need; things are never where I remember them to be. The three baking trays I found had seen better days. Later, after I had finished my baking, I discovered some much nicer ones hidden away!
First of all I weighed the plain flour. I then tipped it into a sieve along with a small amount of salt and mustard powder. I am not a lover of mustard but the amount was so teeny tiny I doubted that the flavor would overwhelm the cheese. Once the dry ingredients had been sieved into a mixing bowl, I needed to rub in a good amount of butter. Mary doesn't mention that the butter should be soft, so I used it straight from the fridge. As my fingers were a little chilly, it took some time to work it into the flour! These biscuits certainly live up to their name; I was quite shocked by the quantity of cheese required. Grating is not my favorite pastime, which is a bit of shame as I was grating for some time! Exhausted, I moved on to mixing in a couple of beaten eggs. I very nearly made the mistake of tipping the eggs in all in one go. However, I'm told only to use enough to create a soft dough and reserve a little for glazing. The dough seemed a bit dry to start with but soon became soft and manageable. The next instruction was to wrap the dough in cling film and then chill it in the fridge for about fifteen minutes. I used this time to locate a suitable cutter. I couldn't find a plain round cutter but I did manage to locate one with a fluted edge – I think a fluted edge is prettier anyway!
It was soon time to start the job of rolling out the chilled dough. It was surprisingly easy to work with and very therapeutic. Soon I had my cheesy biscuits all cut out and laid out on their well used baking trays. I used a finger to wipe on the remaining egg. This appeared to do the job just as well as a pastry brush and was one less thing to wash up! Sesame or poppy seeds are suggested for sprinkling over the biscuits. I have never used poppy seeds before, so I was keen to put them to the test. I was a bit heavy handed with my sprinkling to start with but I did manage to reign myself in a bit towards the end!
The biscuits didn't require long in the oven, just ten to fifteen minutes. When peering through the oven door to check, I was worried as the trays were bubbling with what appeared to be melted butter. When the biscuits were cooked and out of the oven they were sitting in a puddle of grease, yum! The cheesy biscuits were easy to transfer onto a wire rack to cool and were not soggy as I had expected them to be. I couldn't resist trying one whilst still warm and a second soon found its way to my mouth! The outside of the biscuit had a delicious crunch while the inside was light and melted in the mouth. The flavor was indeed very cheesy and rich; there was just the merest hint of mustard.
Neil likened the biscuits in flavor to the popular mini cheddars and couldn't stop eating them. The rest of my family also seem to have started a new addiction. They said no other cheese biscuit will ever live up to these!! Considering all of the the cheese these contain and how many I consumed perhaps the truffles might be better for me after all!!!!!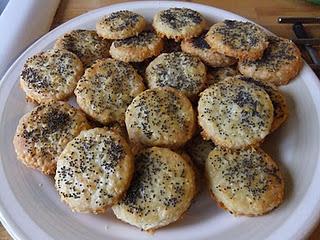 Irresistible cheesy biscuits!