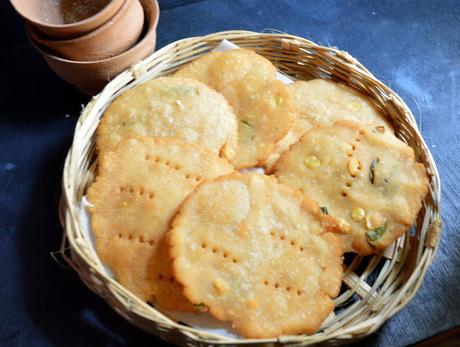 Here I'm with another festive snack you can easily try.Last week my son felt stomach discomfort and I picked him back from school when I received the call.It happened twice and the main reason for it is over intake of junk food , the doctor said.He was advised to avoid packed foods which is very difficult for him.When it was okay after the first attempt he was tempted , so had little and the problem started again.He is very fond of chicken and counting days to eat it.Following him, we too decided to go with the same menu plan as for him.I have planned to start non-veggies next week end when my daughter's birthday fall.

Since no outside snacks allowed for him I prepare one snack a day to feed his hungry stomach from school.Yesterday I made this and he just loved it.Its very easy to make and even beginners can try.
Preparation time : 30 mins
cooking time: 30 mins
Makes 25 thattai
Ingredients:
Rice flour (sieved)- 2 cups
Urad dal flour- 2 tbsp
roasted gram dal flour (potukadalai powder)-2 tbsp
chilly powder- 1 tsp
Hing powder/ asafoetida - 1\2 tsp
salt- to taste
Butter/Vananpathi- 1 tbsp
Soaked channa dal-2 tsp
curry leaves- a spring, torn to small pieces.
oil- to deep fry.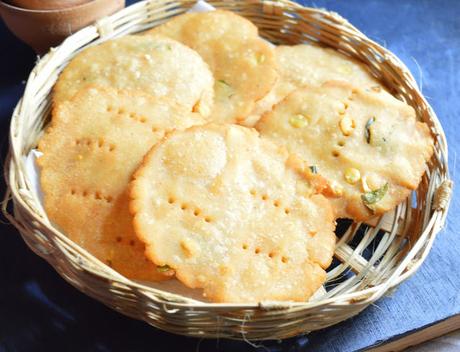 1.Soak channa dal for 30 mins.
2.In a mixing bowl add all the ingredients from rice flour to butter.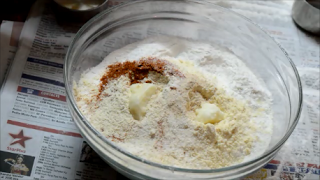 3.Then add in soaked dal and torn pieces of curry leaves.Mix well.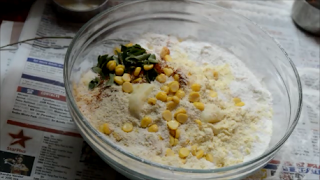 4.Add water and make a soft pliable dough.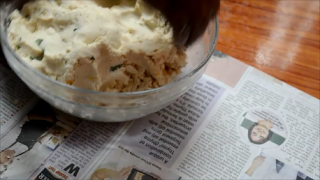 5..Make lemon size balls of it. Roll it on a flat surface either with your finger or using a flat thing to form a small circle.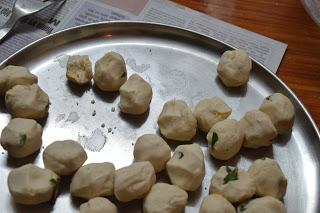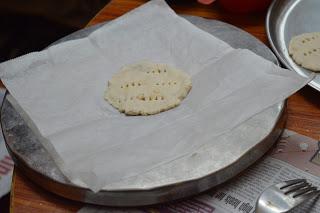 Pierce holes in it using a fork.Do the same for all balls.
Fry them in hot oil till it is done.Drain excess oil on kitchen paper.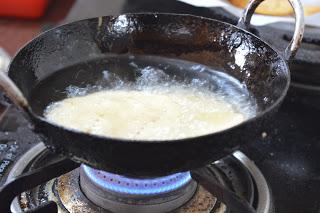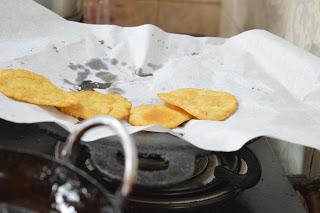 Cool and store.