Although we are in our first week of September, I am not yet willing to say goodbye to Summer. I had some rhubarb in the freezer and wanted to put it to good use. Although I am a sucker for rhubarb crumble it conjures up images of Autumn/Winter which does not bear thinking about ..not yet anyway. So I decided, it was to be a Rhubarb Crème Brûlée with a twist; made with no cream! If I can avoid having cold cream in desserts, then I'll find a way. I'm not a big fan of the taste. Strange? Yes, I know!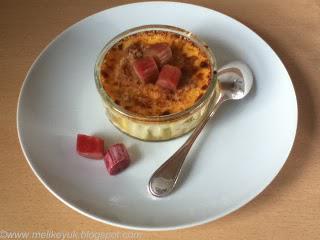 Rhubarb Crème Brûlée without the cream
Time
:
Preparation: 10 mins
Cooking: 1 hr and 5 mins
*Additional time required for chilling overnight*
Portion Control:
Serves 2 ramekin dishes (capacity 100ml each)
Ingredients
:
1 cup of rhubarb 

stalks, trimmed, cut into pieces

3/4 cup of whole milk
3 large egg yolks
1 tbsp of clear honey
3 tablespoons of  caster sugar
3 tablespoons of orange juice
1 tsp of vanilla extract
2 tsp of 

demerara 

sugar

Directions
:
Preheat the oven to 200 degrees Celsius.

Place the rhubarb pieces into a shallow baking dish. Squeeze over the orange juice and drizzle with honey.

Place into the oven and bake for 25 minutes, occasionally basting the fruit with the cooking juices.

Once the rhubarb is tender, spoon equal quantities into the bottom of two ramekins and set aside.

For the crème brûlée, place the milk into a small saucepan, add the caster sugar and vanilla extract over 

a 

medium heat. Bring to the boil then remove from the heat. Leave the milk mixture to cool.

 This is important as warm milk on cold eggs produces the scrambled egg texture which is best avoided.

P

lace the egg yolks into a clean bowl and beat together. Little by little, add the milk mixture and continue to stir until everything is mixed together.

Preheat the oven at 150 degrees Celsius.
Pour the egg mixture on top of the rhubarb in the ramekin dishes. 
Carefully place the ramekin dishes on a baking tray and add hot water to the tray. Fill until the water has reached half way up the ramekin dish.
Bake the dishes for 35-40 minutes.

Remove the tray from oven and the ramekins from the water. Allow to cool to room temperature before placing in the fridge. Chill overnight.

Sprinkle the top of each crème brûlée with demerara sugar evenly. 

Place the dishes under a hot grill until golden-brown and melted.

Serve immediately if you prefer the dessert to be warm. Alternatively,

 a

llow the tops to cool, then place in the fridge to chill until ready to serve.
The top should have a nice crisp texture and the crème part should be velvety smooth.
You can always replace orange juice with strawberry juice which also works well with rhubarb.
Bon App
étit!