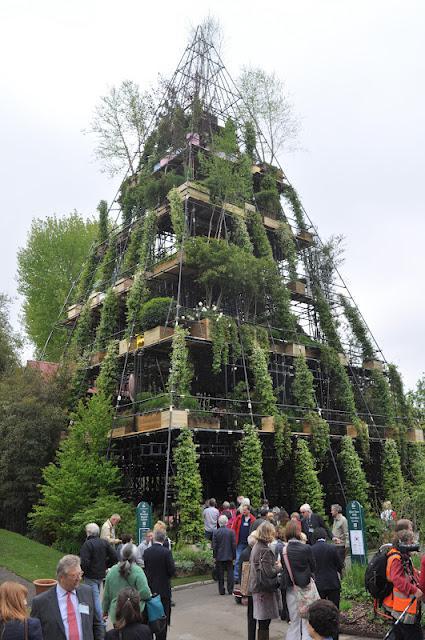 After one rather long train ride and an uncertain tube journey, I found myself in a slightly grubby, if not generous guesthouse, with views to the London Eye and Big Ben.  I had made my pilgrimage to London for the annual RHS Chelsea Flower Show – the pinnacle of the UK gardening calendar.
A quick walk was all it took to get to the show yesterday morning and after collecting my pass and meeting up with the delightful Emma Bond I made my way in to the show.  
I must add at this point that I'm a complete Chelsea virgin.  I have seen bits and bobs on TV and followed the progress of many a fellow tweeter or blogger but attending the show in person was a completely new experience and one that had fostered much excitement and expectation.
I rushed past the big show gardens on the way to find the press tent so that I could drop off my now shoulder destroying luggage.  On my mad dash through I noticed that everything looked rather splendid, although final touches were still being made.  There was a lot of light coloured stone on show and rather similar planting schemes and colours but at this early point nothing on the main avenue immediately caught my eye.  Of course, there was one rather unmissable structure - 'The Westland Magical Garden' by Diarmuid Gavin (pictured above), which from the screams of people coming down the slide and the large queue, appeared to be a great deal of fun.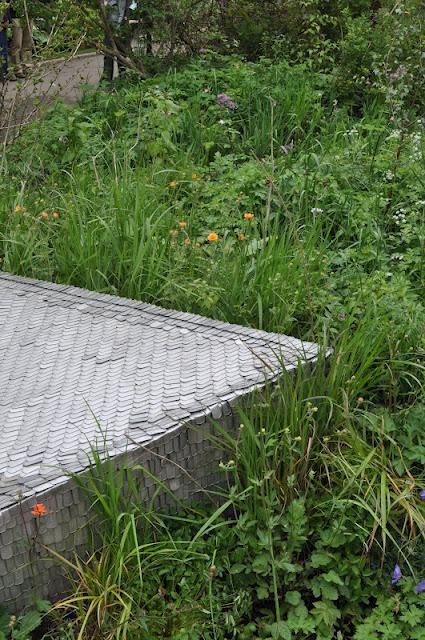 On leaving the press tent Jihae Hwang's: 'Quiet Time: Korean DMZ Forbidden Garden' (pictured above), really grabbed my attention.  For a very "quiet" and somewhat subdued garden, in the shadow of Diarmuid's giant pyramidal erection, it really managed to not only grab me but hold me.  I returned to this garden at least three or four times throughout the day.  Each time I saw more and more detail and found more and more meaning.  The Chelsea hum and chaos didn't exist here.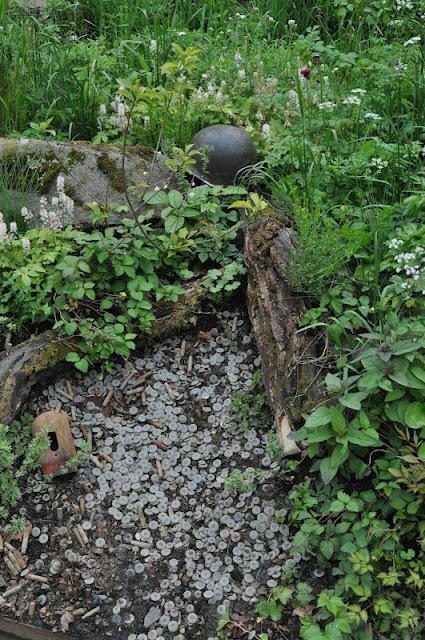 The idea behind this garden was to demonstrate nature's versatility and resilience in a place that was once full of destruction with its main theme being the healing and restoring power of nature and circulation of life.  The Korean Demilitarized Zone (DMZ) is a strip of land running across the Korean Peninsula that serves a buffer zone between North and South Korea.  The disturbance to this ecosystem, during the Korean War (1950-1953) was great and came to an end with the Armistice Agreement of July 27.  60 years on, this area has become a natural sanctuary for rare birds and endangered plants.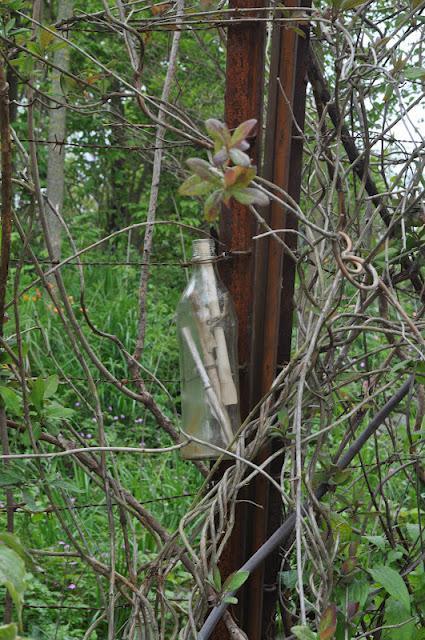 This was a garden with depth, intensity and heart.  It had no real gimmicks, it certainly didn't conform to others around it and it successfully conveyed the message it set out to send.  The degree of detail was astounding.  From the dog tags commemorating war veterans and victims on the garden bench, to the stream that defies any human barriers, the letters from separated families in bottles along the rusty barbed wire fence and the perfectly placed planting -this garden was a triumph and possibly my favorite.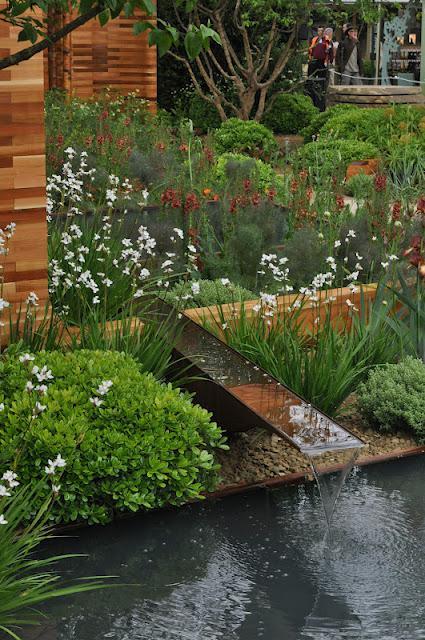 On a purely aesthetic level, Joe Swift's: 'Homebase Teenage Cancer Trust Garden' (pictured above) was also very enjoyable.  With it's rusty color palette and cedar wood frames it felt like a complete garden that was both functional and great to look at.  I really liked the use of water and rock, although I did joke somewhat about the rather large sacrifical slab at the very front of the garden, which I now know is in fact an 'oversized horizontally-sliced boulder'.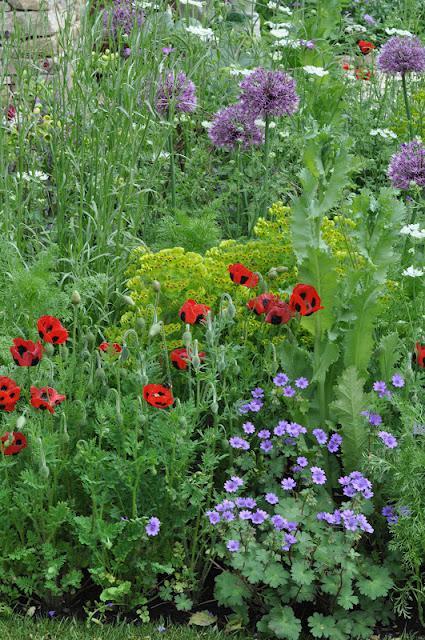 In many of the show gardens the color scheme appeared quite muted and similar but I did enjoy the use of red in Cleve West's: 'Brewin Dolphin Garden' (above).  Although limited, the use of Ladybird poppies really did lift the garden along with the zingy greens of the Euphorbias.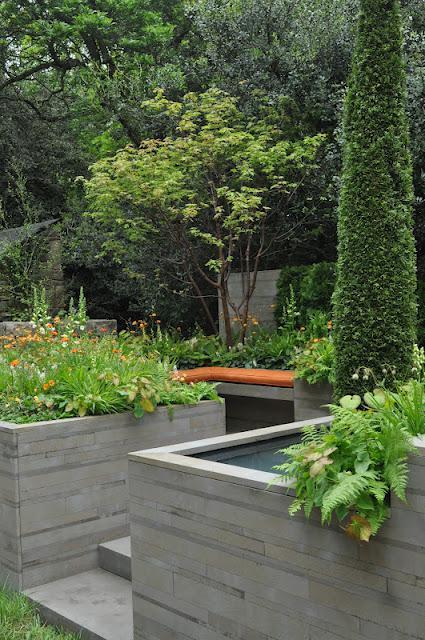 In the Artisan Garden category I really enjoyed Willmott White's: The APCO Garden.  This garden was created as a space for discussion and decision-making and it's enclosed seating area was just great with its boundaries made from recycled Italian stone.  I really like the planting scheme, especially the Aquilegia viridiflora 'Chocolate Soldier' which was set off beautifully by Geum 'Marmalade'.
My day started slow as I tried to make sense of the mass of gardens and information competing for my attention. As the day progressed and I found the time to digest things away from the many distractions I started to find my way slightly.  The gardens above are just a few that caught my attention with Jihae Hwang's: 'Quiet Time: Korean DMZ Forbidden Garden' being the star of the show and Willmott White's: 'The APCO Garden' standing out as a garden I could see being used in an urban setting and offering some inspiration for my garden at home.
There's still more to come on my Chelsea adventures so keep an eye on the blog for future posts and don't forget to enter my latest competition in association with Sarah Raven's Kitchen Garden.