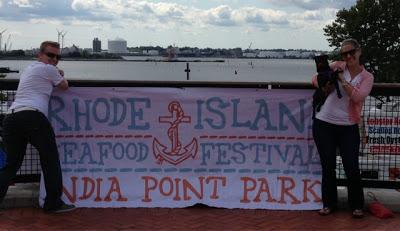 Oh my husband the Joker. Meatball made it to the fest too!
Can I just say how much I love my little state? Yes, I know. You all probably love your states too and who says mine is better than yours, but I happen to really feel strongly that Rhode Island is the best state around. Travel & Leisure happened to name it the #1 Foodie City so clearly I am not alone. So there. ( Insert me sticking my tongue out at all non-RI residents.So I am writing this post all about my amazing day at the Rhode Island Seafood Festival  today! What an amazing event. I have actually been wanting to go to this event for the last couple of years but have always been busy the weekend of. Imagine by excitement when I got the chance to go today!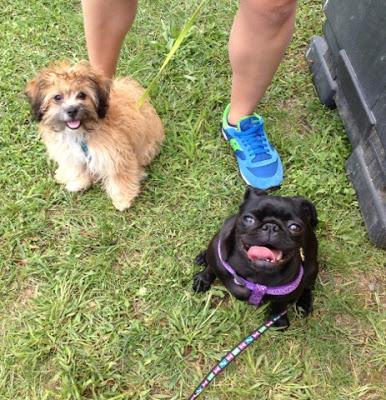 Our Side Kicks for the Day: Meatball & Pheobe
I took today as my "calories don't count day" so I was very excited to try every food truck I could. And let me tell you, there was no way I could say no to the food at any of them .I am talking the freshest of fresh seafood. Shrimp the side of your face, clams,fresh shucked oysters,crab cakes,fish tacos and a Rhode Island favorite clam cakes!
I started my foodie adventure at the Clam Jammers where I had lobster roll. For the record I figured I would start easy and only get a 1/2. I could only imagine what the full roll looked like. This lobster roll had everything I wanted: tons of fresh lobster and a grilled buttered roll. The only thing that was missing for me was some lemon and a touch of mayo. Although, I give them credit for keeping the integrity of the lobster and kept the roll plain.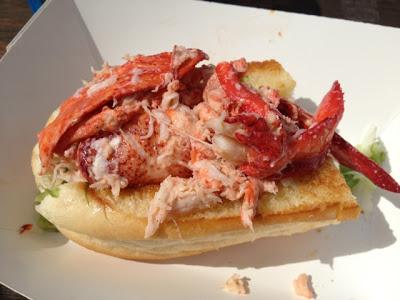 My next stop was not seafood at all. Yes folks, I got a hot dog. Not ANY hot dog. This grilled frank was on a garlic butter toasted roll and was topped with bacon jam and sauteed onions. OMG. This hotdog was literally the most amazing hot dog I have ever had. It was probably the best thing I have had in a long time. Bacon jam is a revelation. I am so enamored with it I am going to try to make it myself asap. I topped this beauty with a spicy mustard and it was just a dream. DId I mention the garlicky and buttery? Ok, ok. I'll stop.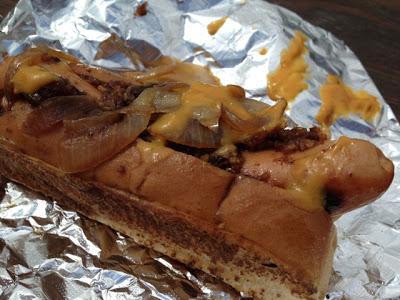 Because I clearly needed more food after this I got fried dough. Mainly because it is amazing and it was a memory from my childhood. Gosh, fried dough is amazing. This fried dough was thinner than I was use to, but man was it delicious. Oh, and did I mention this was 1/2 of it. Yup, It literally was the size of a small pizza. It had unlimied toppings like peanut butter sauce, hot fudge, pizza sauce & cheese and the usual powdered sugar and cinnamon. Since I am a fried dough purest I had it with cinnamon sugar and powdered sugar.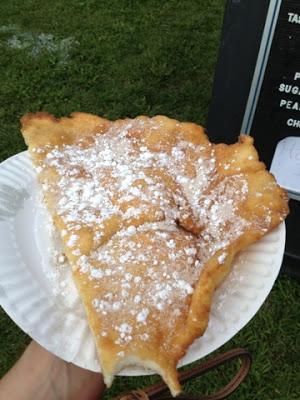 Overall I had such a great time today! I had a great local brew, amazing local food and celebrated the end of summer in style.
What local events make your home town so special?