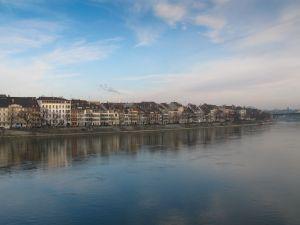 The Rhine is one of Europe's most beloved natural features: prized for its access deep inland to the Swiss Alps, its beauty and the fertile surrounding countryside, the Rhine river is as integral to the history of the countries it runs through as prize-winning beer and revolution. Portions of the river run through the Netherlands, France, Germany, Austria, Liechtenstein and Switzerland, and the river has provided invaluable transport and trade between these countries over time. As one of the largest rivers in Europe, crossing borders and connecting countries, it also serves a more pleasurable function: sightseeing. Some of the loveliest areas along the river's banks lie in the Deutsches Eck (or German Corner) and the Rhine Gorge.   (Photo "Rhine Bank" by domiwo)
When Germany is on the cards for a holiday, what better way to tour the west of Germany than by taking one of the river cruises along this behemoth of water-based geography?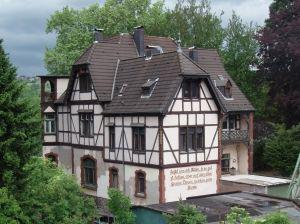 Right from the word go, the trip is completely stress-free and easy. Travelers to Düsseldorf and transfer directly to the ship. Once everyone is on board, the cocktails and socialising start, and for some doesn't stop until the end of the holiday. The first day is spent sailing through the gorgeous Middle Rhine Valley into Koblenz and along to Boppen. This valley is a UNESCO World Heritage Site, and countless ruins dating back to the Roman times and the Middle Ages can be found along the river. An optional excursion will offer the opportunity to go out and explore the area; coming highly recommended.  (Photo "German House" by kovik)
The next day sees the ship draw in at Mainz, a lovely town typical of historical Germany. The Gutenberg Museum is a must-see, as are the quaint local shops and pubs. If history and fairytale castles are your thing, the next part of the river cruise is ideal: Mannheim with an excursion out to beautiful Heidelberg, site of the gorgeous castle of yore, and medieval Speyer. Up next is Strasbourg, a charming old town right on the French border. At this point the cruise turns and makes its way back up the Rhine, visiting Rüdesheim and gliding through the scenic Upper Middle Rhine Valley – a truly stunning stage of the journey with its vineyards, ruins and castles. If there is no other reason to go on this cruise, do it to see this part of the Rhine. The ship docks at Cologne, famous for its cathedral and shopping, and travellers spend a day exploring this ancient city. Finally, guests are transferred back to Düsseldorf for their flights back home.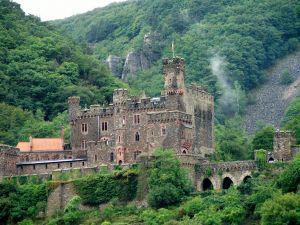 For a short week's cruise, this package offers an amazing holiday experience. The ship is luxurious to a fault, with comfortable cabins, excellent staff and service, and enough facilities on board to keep anyone entertained for a month. See the western border of Germany in style and ease, and explore some of the most picturesque countryside in Europe. This is a trip which promises to be unforgettable. (Photo "Castle on the Rhine" by bwilhelms)