I would say that I am quite adventurous and never have a serious problem with trying a new hair stylist; however you have to be in the right salon to feel that way. Hollywood Hair is where I have truly found the stylist of my long awaited dreams. Rex Wong is my go to man for color and cut at Hollywood Hair in Hong Kong, I found Rex as you find all good things in life by accident, but actually there are no accidents. Open your eyes when you are in Hollywood Hair they have a full on team of creative stylists the next one better than the last.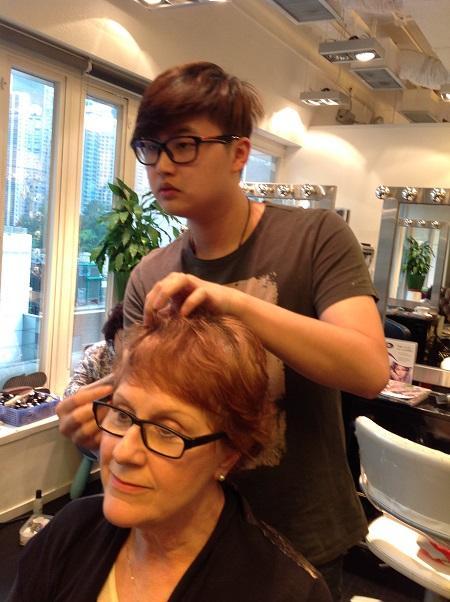 Rex Wong an innovative Hollywood Hair stylist – Before
If you love going to Hollywood Hair to see Rennie Fensham and her team, and if you are like me a bit adhoc as to when you can get your hair done, then start to open up your mind to trying other stylists in her team, you will be thrilled. My color needed a tone down, a warm up and good coverage, my cut needed to stay in place and reflect the color, but for me more importantly give me the style that will work in a Hong Kong summer, and suit me to a T.
Rex Wong is in my opinion and I have had my hair cut all over the world, is a top stylist, he listens and thinks works out a plan, but actually he is steps ahead, confident when he colors and cuts in a way you just feel it is right.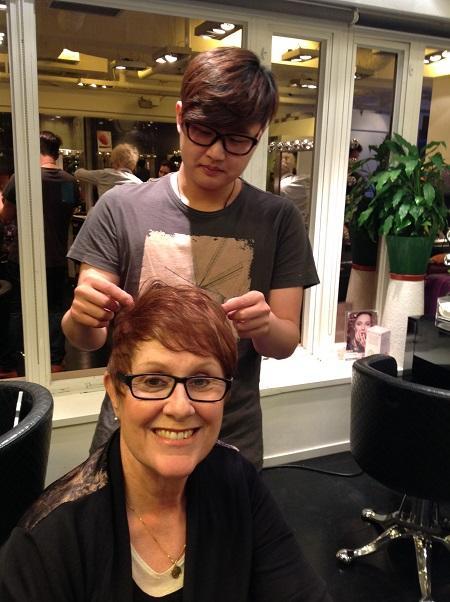 Rex Wong an innovative Hollywood Hair stylist – After
An Introduction to Rex Wong
A Beauty Feature: What drew you into hairstyling?
Rex: When I was young, I got great satisfaction from helping friends look pretty with their hair that made me feel confident and fulfilled.
A Beauty Feature: Which style or cut has really impressed you and why?
Rex: Personally, I like women with a short hairstyle, and I always want to focus on the feminine that for me is my challenge when I begin the cut, and I look at my client, I have to bring out her feminine side.
A Beauty Feature: At the moment what is your favorite hair product?
Rex: My favorite hair product is EVO from Australia for my western clients; they have lots of product choice that just works brilliantly. I have to say as I also work on Asian clients there are a few Japanese and Korean products I also like to recommend.
A Beauty Feature: Do you have any advice for keeping your hair in good condition?
Rex: Always think about being healthy and try to keep active, you may not think this is linked to a glossy head of hair, but what is good on the inside reflects on the outside. Then when you have a hair treatment, it all comes together.
A Beauty Feature: Who is your favorite Asian Stylist?
Rex: My favorite Asian Stylist is Herbert, he is a really good listener, and so willing to experiment with new techniques, I think this is one of the most important things in this industry, to be brave and out there for your clients.
A Beauty Feature: What do you think of hair styling in China or across Asia?
Rex: I still view it as having not yet come into its own space. The Styling industry in Asia is developing so fast, but I notice that most of the Asian stylists just copy the style from overseas, they never dare to try new things, and so some times it's hard to find a trend setter. We need to innovate in a big way and that's where I feel I can excel at Hollywood Hair, Rennie Fensham never stops innovating with style, cut, color and product it's important to be with those influences in a salon.
To book an appointment with Rex Wong at Hollywood Hair 23/floor, No 1 Duddell Street, Central, Hong Kong. Tel: 852 2861 9830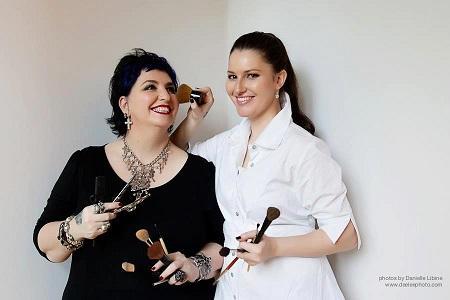 Rennie & Yentl – Hollywood Hair & Makeup