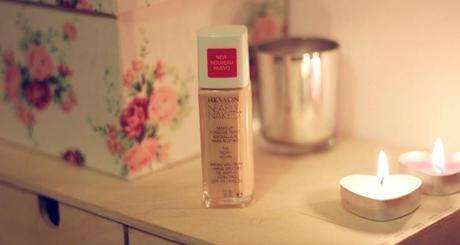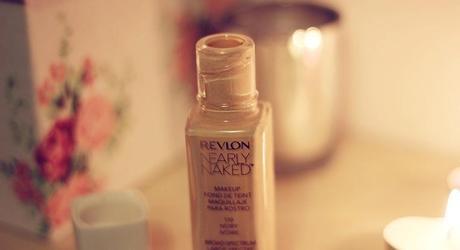 "Makeup so refreshingly light, it melts right in, creating a fresh even look. So the only one that knows you are wearing makeup is you. Blends seamlessly, buildable coverage."


This was a new release that definitely had me excited, so much so that I headed straight to Superdrug on the day it was released and had to pick up a bottle. I've recently used up a few bottles of foundation (but still not parted with the bottles for some reason) and it was the perfect time to be trying something new, so Revlon's Nearly Naked was just what I needed. It's usually difficult for me to find a good color match for my skin as it is so pale, but Revlon certainly pulled it out of the bag with this one as the lightest shade Ivory (#110) is a perfect match which doesn't look too dark or orange on me. One of the first things that I noticed was just how dinky and miniature the bottle is, but surprisingly it contains the standard 30ml of product so I really can't be complaining (especially with it being easier to fit in a makeup bag).
I have been loving the consistency of the foundation as it is very easy to apply and leaves a lovely flawless finish on the skin. I'm convinced that the Nearly Naked and Real Techniques Buffing Brush were a match made in makeup heaven! I'd say that this foundation provides light to medium coverage and is definitely buildable if you need extra coverage on any problem areas. It also leaves a nice dewy finish which isn't too shiny, making this a great spring/summer foundation in my opinion. My favorite thing about this foundation is that it feels so incredibly light on the skin, almost like you aren't wearing any foundation at all, and definitely doesn't look cakey or patchy on my skin. This product also has fantastic lasting power as it still manages to stay in tact by the end of the day, with no dry patches being clinged to or oily areas shining through.
My only gripe about this product is of course that the bottle doesn't include a pump. Why Revlon, why? I know it doesn't really add too much extra hassle when applying makeup but I tend to pour out more than is needed and then try to carefully put it back into the bottle which isn't always an easy task. Apart from this little niggle I have been loving the foundation very much and definitely think that Revlon have done themselves proud with Nearly Naked. A natural looking foundation that still covers any bad areas and lasts all day is a great one in my eyes and one that will be getting plenty of wear from now on. You can find Revlon Nearly Naked in Boots and Superdrug, with Superdrug currently offering the foundation at £6.99 (normal price is £8.99).