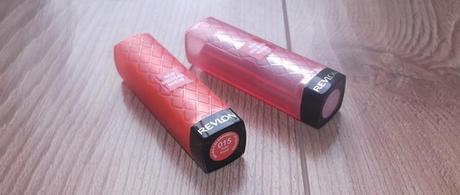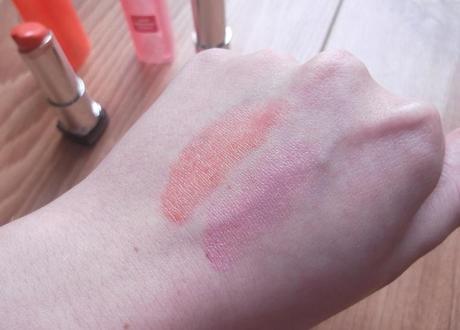 L-R: Tutti Frutti & Strawberry Shortcake
Yes yes, I'm so incredibly late on this one but I'm finally here with my thoughts on the very popular Revlon ColorBurst Lip Butters which took over the blogging world months ago. The big hooha was because these beauties were formulated as more moisturising than your average lipstick while still giving you lovely color payoff and it's safe to say that I have now been converted to lip butters. Back when they were released I had been eyeing up the shade Peach Parfait as I was going through a massive peach phase and thought that I needed it in my life but after seeing that it had some glitter in it I decided not to bother. Fast forward a few months and I managed to snap these two lovely shades up in blog sales and I'm so glad that I did!
My first lip butter experience came when I got my hands on Tutti Frutti near the end of summer and it quickly became my go-to product when I was going for a bright lip as it is an orange shade, and a lovely one at that. I was always a bit scared about going near anything orange for my lips but this shade turned out to be so wearable and as the lip butters take a bit of building up to achieve a full color it is great for a slight wash of orange. The other shade that I have is Strawberry Shortcake which is a pretty bubblegum pink which again can be used for a hint of color or built up for a more obvious bight pink look. I am a huge fan of the consistency of them both as they are creamy and don't cling to any cracked or dry patches on the lips (hello winter lips) which is great as you don't need to keep relying on a lip balm or treatment to keep lips moisturised. The lip butters don't have amazing staying power but then again I wasn't expecting them to, and I don't mind re-applying during the day so it's fine for me.
All in all I'm very happy to have finally dabbled in the world of lip butters and am a huge fan of the shades I own, although I'm not sure I would pay £7.99 for another one as I think they're a bit overpriced for what they really are. Sorry Revlon, but I'll still be enjoying my bargain lip butters for the time being! You can find the Revlon Lip Butters in Boots, Superdrug and anywhere else that stocks Revlon and are currently priced at £7.99. Are you a fan of the lip butters?