Once the powerhouse of Social Media, Myspace, LLC must now fight for its ranks again in order not to find itself eventually out of business. Myspace clearly states on their website that the company caters to Generation Y with their use of embedded videos,live steaming, celebrity connections, televisions broadcasts, movies and an unending amount of games.
"
Myspace is also the home of Myspace Music, which offers an ever-growing catalog of freely streamable audio and video content to users and provides major, independent, and unsigned artists alike with the tools to reach new audiences. The company is headquartered in Beverly Hills, CA and is a subsidiary of Specific Media."(myspace.com, 2012). At the present moment a majority of the sales generated by Myspace comes in form of advertisements from media related organizations. However, due to the nature of social media website,s it is highly likely that in the very near future other social networking websites will adjust their platforms to offer a similar experience as Myspace... leaving them out in the cold. While distribution on Myspace services is undoubtedly the internet, the advertisements on each page seem to offer a much more customizable experience. This may be a positive situation for marketers but not as much  for Myspace users.
Trends and taste are changing and the younger generations are getting older. They are tiring of the chaotic and music based environment offered by Myspace. So, how do we address these issues? The next step in the process is to figure out the strengths, weaknesses, opportunities and threats of the company...otherwise known as SWOT Analysis.
In the my previous blog post (Can Myspace be Revived?) I spoke briefly about research. Research, as most writers will tell you, is the bread and butter to any good writing. Is some of it subjective? Depends. If I'm writing about a company I may offer my opinions but those opinions would be based on the factual information obtained...such as in this blog. Yet, the information I present will count for absolutely nothing unless I can "back up" my stance with the research I've presented. With that said, I am offering a SWOT Analysis...this gives us a clear understanding of how Myspace stands based on internal and external factors. While those items listed are not exhaustive...they are the items which turned up frequently in my research.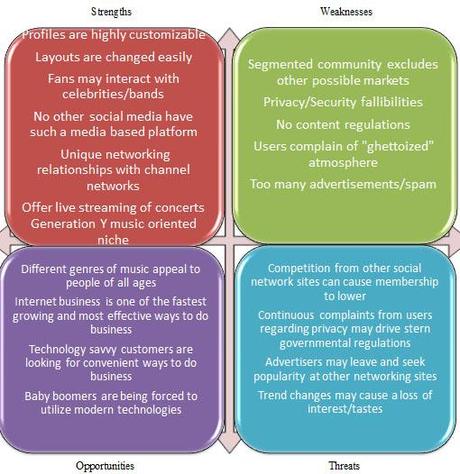 Marketing is no longer about the stuff that you make, but about the stories you tell.


  

~Seth Godin, sethgodin.typepad.com Long gone are the days when the primary means of communication consisted of a letter across the ways or a simple call from the home telephone. Today, there exist a phenomenon that has captured the obsession of the old and the young alike. When answering the question: what is social medial, Safko (2010) states, "Social media is the media we use to be social. That's it." (p. 3). Social networking is no longer a means of simply sharing photos and letting people know about the latest trends but it is a complete form of communication. From video conferences and on-line gaming to market advertising and special cause advocacy…social networking possesses it all. "Social media marketing is like going to a networking event, a party, a trade show, sporting event, church, or anywhere that large groups of people gather." (p.5). It provides a means for two way communication and is the primary reason as to why it has boost in popularity and effectiveness.
The rise of social network sites (SNSs) from obscurity in 2003 to among the world's most popular Web sites by 2006 has been remarkable, even for an Internet phenomenon. In February 2010, according to Alexa (2010a), the top-20 most visited websites included Facebook (No. 2), YouTube (No. 3, SNS features, but predominantly for video sharing), Twitter (No. 12, micro blogging site with SNS features), and MySpace (No. 17, but No. 6 in the United States). (Wilkinson & Thelwall, 2010, p. 2323)
MySpace lost its prominence in 2008 to Facebook although the company once was the gentle giant of social networking. Unlike Facebook, MySpace focuses much of its attention on young audiences with its music/video imbedding capabilities, its highly customizable profile pages and its encouragement of musical artist/fan base connections. It also includes blogs, groups, bulletins, widgets, and instant messaging as well as online advertising called MyAds. (Safko, 2010). This is perhaps why, although it is ranked 6th in the United States, MySpace still attracts international users including notable organizations such as Operation Blessing International and Planet Aid. Even the current President of the United States, Barack Obama utilized MySpace as a highly functional campaign tool. According to Wilkinson and Thelwall (2010), "Among U.S. teens in 2007, the articulated reason for choosing either Facebook or MySpace was based on a perception of Facebook's greater maturity/dullness" (p.2313). Tom Anderson, former president of MySpace, sold the company and now has his own Facebook account. However, this has not deterred the remaining creators of MySpace such as Brad Greenspan (founder of eUniverse), Chris DeWolfe (DE), Josh Berman and a team of programmers from blatantly describing to whom the company caters to....Generation Y.
Additional factors which caused Myspace users to seek refuge at Facebook are a concern over privacy and security and a dislike for the urban environment Myspace began to possess. This may continue to be a problem in the future if not addressed adequately. Myspace must also keep in mind that because its method of advertisement and communication resides on the internet the company must look into expanding its market otherwise it may fall short to additional online social media sites such as Friendster, Bebo, Fastpitch, Gather, KickApps, LinkedIn, MOLI, Orkut and now the growing Google Plus; each of which can easily adjust its platform to serve the needs of the same niche.
 What additional factors do you think you could come up with for each category?
Now, you are probably wondering again, "WTH does any of this have to do with writing?" Well, think of it this way. Suppose as a young child you have always loved dinosaurs. I don't mean just simply think they were cute...I mean really really loved dinosaurs and you spent most of your days reading about all the dinorsaurs you could think of. Now you are an adult and your love of dinosaurs is still as passionate as ever so you decide you want to write a book about dinosaurs. However, only about a month ago there was an explosion of dinosaur related books and it seems as if that subject is just over-saturated. So, do you just give up on your childhood dream and call it a night? Not necessarily. Research and SWOT analysis will provide you with the information you need to make a clear decision. By focusing on the the Strengths, Weaknesses, Opportunities, and Threats of the current books written on this subject you can determine the angle you wish (if you decide to write it at all) to take; this includes what genre and age market to write for. You may find out that the current books deal more with fictional stories of dinosaurs or stories related to their living habits. However, after much research and a SWOT of the market you realize the opportunity lies in crossing subjects matters...perhaps you decide to write a book that focuses on the relational habits of dinosaurs and how physiological needs determine our continued existence. Yet, making this work is highly dependent on your skills as a writer. My point? Know your market and figure out the strengths, weaknesses, opportunities and threats in your story telling.