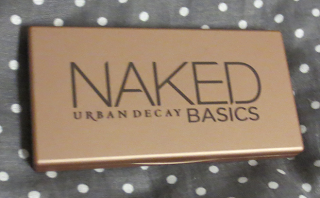 I had the pleasure of finding the Urban Decay Naked Basics Palette under my tree this past Christmas. This little palette was Urban Decay's answer to the many cries for more matte choices in the Naked palette series.
For some reason, I have always been somewhat afraid of matte eye shadows. I always thought they would be difficult to blend and that they would just look bad on me. Well this palette has reinforced something I have heard many times in my life: don't make assumptions because you will be proven wrong at some point.
The Urban Decay Naked Basics palette features six eye shadows that either have a matte or satin finish.

The colors in this palette are: Venus (satin vanilla), Foxy (matte cream), W.O.S. or Walk of Shame (matte beige), Naked 2 (matte brownish taupe), Faint (matte medium brown with some warmth), and Crave (matte black).
I think this palette is perfect for somebody concerned about wearing work-appropriate makeup (however, not all places of employment are equal, so what is acceptable in one place will be unacceptable in another). I also recommend this if you need something to just carry in your makeup bag. It's a great size and has most of the colors I would absolutely need. I will say that for the sake of variety, I'd still probably take other palettes with me, but for the bare minimum, this is great.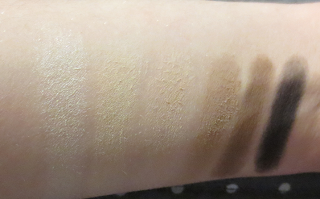 To the left are some swatches of each color (Venus, Foxy, Walk of Shame, Naked 2, Faint, and then Crave).
The bottom line is that I highly recommend this palette. I don't think everybody will see it as a necessary addition to their collection, but I am pleased to have it since I can throw it in my bag if I need to do my makeup on the go (the Naked 1 and Naked 2 palettes would be great for travel, but they are way bigger than the bags I typically carry). The colors of the eye shadows work well together  If you're worried, I would suggest looking at it in person.
You can buy this for $27 anywhere Urban Decay is sold.
Is this a must-have or optional for you?
(Edit: it's my 100th blog post! How exciting is that?)